DePaul's improbable final-minute, Ongenda's game-winning block stuns Seton Hall at Garden
In a season full of heartbreaks and underachievements, DePaul pulled off one of its most dramatic victories of the season, upsetting Seton Hall 66-65 at Madison Square Garden in the opening round of the Big East Tournament. 
Against the odds in the final minute, a wave of improbable plays kept the Demons' season alive.
"They easily could've given up a couple of times during the course of the game," head coach Tony Stubblefield said. "These guys really stuck with it and put their heads down and our motto has always been 'find a way.' These guys were able to get the job done tonight."
Wednesday night's wild victory ended DePaul's 12-game losing streak and advanced the team to the second round of the tournament where No. 2 seed Xavier awaits Thursday night.
DePaul set multiple program Big East Tournament records, including the most blocked shots in a tournament game (six) and team three-point percentage (50%).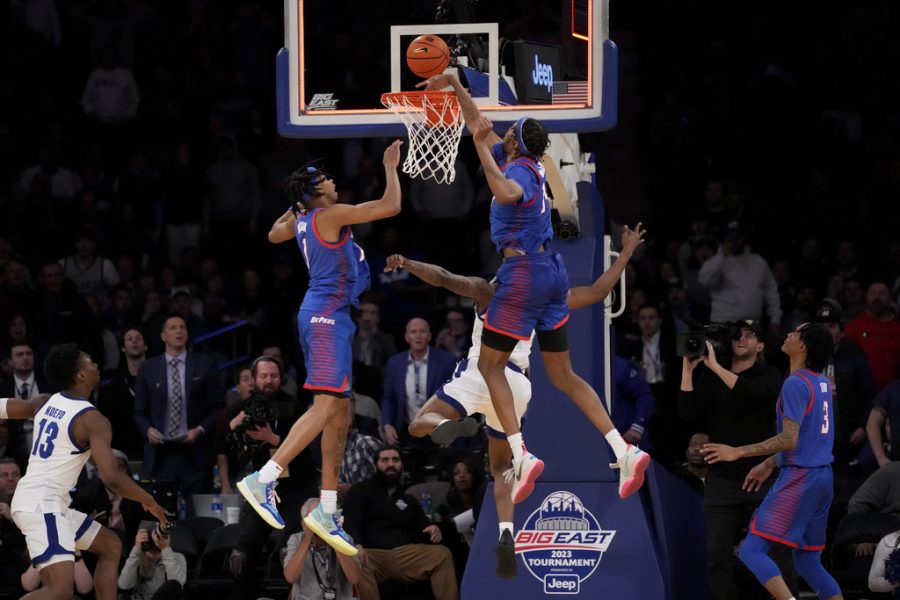 The final minute of the game is where the chaos started. The Blue Demons trailed the Pirates 63-58, when junior guard Jalen Terry connected with a deep, somewhat desperate three-pointer near the logo at the 41.9 mark, narrowing Seton Hall's 63-61 lead.
Moments later, Seton Hall senior guard Al-Amir Dawes lost the ball while dribbling up court and bounced it off DePaul junior guard Caleb Murphy. The Blue Demons gained possession and as they stormed down court, senior guard Umoja Gibson lobbed an alley-oop to senior Nick Ongenda, but the center couldn't convert.
Still in DePaul's possession, Terry inbounded the ball looking for an open man and found junior Da'Sean Nelson, but Nelson missed a hook shot and Seton Hall gained possession with 18.8 seconds left. Stubblefield elected to foul and Seton Hall converted both free throws to make it a four-point game at 65-61.
Down four with 7.2 seconds left, Gibson caught the inbound pass and dished it down low to Terry who made a layup to bring DePaul's deficit back to two points with six seconds left. 
As Seton Hall looked to inbound, Terry made his third – and most improbable – big-time play of the final minute. 
The Flint, Michigan native stole the inbound pass and dished it back to Gibson, who then threw up a three-pointer. Gibson missed, but a hard foul was called on the play and Gibson was heading to the free throw line with 3.9 seconds remaining. Gibson, calm as could be, connected with all three free throws at the line, giving DePaul a one-point, 66-65 lead. 
After Gibson's free throws, Seton Hall inbounded the ball and raced down court for a final attempt. Pirates' guard Femi Odukale blew past defenders for a seemingly easy layup to give Seton Hall the win, but Ongenda chased him down and heroically blocked the game-winning shot at the rim as time expired to give DePaul the win. 
It was initially called goaltending, but upon review, officials stated it was a clean block and DePaul had taken down Seton Hall.
"I knew it was a block," Ongenda said with confidence. "They made great plays, but that's what I do, I block. I block everything, that's my specialty."
Ongenda ended the night with four blocks, which moved into fourth place all-time at DePaul with 132 career blocks.
DePaul started the game off strong on the defensive side of the ball, holding Seton Hall to just one point and zero made field goals for nearly four minutes to open the game. The Blue Demons controlled the matchup for the majority of the first half, heading into halftime with a 32-28 lead.
The start of the second half is where Seton Hall started to put things together, going on a 8-0 run after trailing, 35-30. Stubblefield's defense struggled to stop senior big man Tyrese Samuel as he continuously secured second-chance points attempts for the Pirates, keeping possessions alive with his rebounding efforts.
Samuel ended the night recording 16-points, 12 rebounds, two steals and a block, while shooting 5-of-9 from the field and 6-for-11 at the free throw line.
During the second half, Seton Hall held DePaul without a field goal for nearly nine minutes straight, but graduate senior Javan Johnson went on a 8-2 run by himself, putting the offense on his back, and ending DePaul's offensive struggles.
Johnson led the team in scoring with 19 points and added four rebounds, three assists and two steals. Johnson played the entire 40 minutes of action and connected on five three pointers, single-handedly keeping DePaul's chances at victory alive. 
Johnson's five made three-pointers tied for the second most all-time from a DePaul player in the Big East Tournament.
No. 10 seed DePaul will face No. 2 seed Xavier in the Big East Quarterfinals. Tip off is scheduled for 6 p.m. CST on Thursday at Madison Square Garden. The game will be broadcast on FS1.