Loop Public Safety Town Hall sparks tension between Public Safety, students
"So just to clarify, your implementation is for individual students to have their own personal plan on being shot at in their classroom?" Katelyn Laraia, first year College of Law student, responded to Public Safety Director Robert Wachowski after asking what the protocol is for school shootings on campus.
The room filled with widened eyes from students, looking from Laraia to Wachowski. 
Wachowski immediately responded by saying no.
"I'm saying that's one thing we need to do to be prepared," he said, mentioning that the university does take measures in case a situation like that breaks out. "We cannot be everywhere, every time in the day, in every place."
Haley Pennington, Student Government Association (SGA) Senator for the College of Law and second year law student, hosted the Loop Public Safety Town Hall on March 8, which was put on by SGA and the Student Bar Association (SBA).
Pennington lifted up concerns relating to safety in the College of Law and for students commuting to campus since her appointment as senator for the College of Law on Nov. 10, 2022. Her goal for this town hall was to bring together law students and anyone else who wanted to speak on public safety at DePaul to give them an opportunity to speak with safety experts, both DePaul-affiliated and not, about their questions regarding safety on public transportation, in the city and on campus.
The panel of speakers at the town hall consisted of Kevin Ryan, the vice president of security for the Chicago Transit Authority (CTA); Sean Fleming, the sergeant for the first district for the Chicago Police Department; Wachowski; and Kevin Connolly, the Assistant Director for DePaul Public Safety.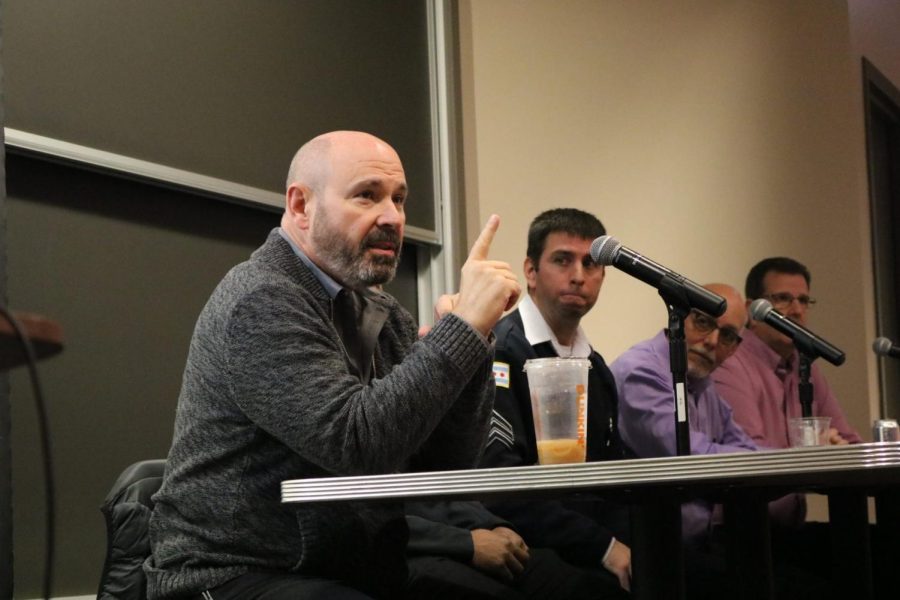 CTA Concerns
Most of the questions were addressed to Ryan, considering many of the attendees' concerns regarding riding the CTA at night with the heightened level of crime in the city. Many students asked questions of if there could be a car designated to students or if there was a route on the CTA that was the safest. But Ryan said that the CTA is safe, especially after the installment of security and police officers among various stops like the Jackson and Fullerton stops. 
"Usually, like 5% of the people are responsible for 90% of the crime," Ryan said. "So we target the right people at the right places at the right time. We eliminate the problem." 
Ryan said the Jackson red and blue stop is staffed 24/7, and sometimes with canines, because that stop tends to be a "crime spot."
In terms of how students can be safer on the CTA, Ryan said students should be alert of their surroundings and make sure to report anything on the OEMC app or portal that is suspicious or criminal activity. 
DePaul Public Safety
Wachowski said students should communicate with the public safety officers who are at their designated posts in each building in the downtown campus buildings if they have concerns or something that needs to be addressed by the officers. He said these officers can help with writing reports or giving people resources that pertain to each situation. 
He said some situations, like one he experienced last year where a woman who was screaming at herself in a mirror and taking a bath in the sink, are situations where students should go to public safety officers. Wachowski said that if someone is posing a threat to the DePaul community or is not abiding by the safety guidelines for the campus, they can be permanently banned from campus.
While some students were satisfied with this, others mentioned that public safety officers can frequently be seen sleeping at their posts or saying they cannot help with removing people from the buildings because it "isn't in their power." Because of this, some students noted they lack trust in the public safety officers. 
To this, Wachowski said some of the responsibility does fall on students to be alert, both in classrooms and on their way to classes, but he did acknowledge that the officers should be doing their jobs correctly. 
Some students expressed that an easy way of controlling who is allowed to be in public buildings would be installing card readers on the downtown buildings to ensure that only DePaul community members are in the buildings. 
Wachowski said this is a good idea, but it cannot be done because the College of Law's library includes federal documents, which means it must be open to the public if it is to keep those documents. 
Shuttle Bus Updates
Ultimately, while there is still hope from SGA about the shuttle buses adding stops at Metra stations, Pennington said the university leaders were close to implementing the pilot program but are now backing off. University leaders told Kellen Brown, the SGA Chief of Staff and senior, that they are unable to allow the pilot program at this time because of scheduling and budget constraints. 
Pennington and Brown have voiced that SGA will not be backing down from this and is continuing to make this a priority, as law students have been wanting this resource for an extensive amount of time.
Brown said the way to push the pilot program forward faster, students should reach out to SGA senators so they can take the increased interest to university leaders to gain more support for sooner implementation. 
Brown and Kevin Holechko, SGA President and senior, can be reached at [email protected] and [email protected].