Former White Sox outfielder Charlie Tilson pursues degree at DePaul
After an arduous professional baseball career derailed by injuries, former White Sox outfielder and Chicago native, Charlie Tilson opted towards a new path, pursuing a psychology degree at DePaul.
"It's been really good," Tilson said of his time at DePaul. "Growing up, I wasn't really interested in school because I was focused on baseball … I feel like now that I'm older, it's sort of allowed me to slow down a little bit and just read the directions and listen to the lectures.
Tilson admitted that he was not the best student in high school but acknowledged many [former athletes] have success in the classroom later on in life. He has enjoyed his time at DePaul, being back in the classroom and meeting new people.
When an athlete is drafted out of high school to Major League Baseball (MLB), their contract provides a College Scholarship Plan (CSP) or Continuing Education Program (CEP) that uses funds for attending an institution that offers training for personal and professional development. A CSP provision allows players to attend a university or college, as long as their studies are in pursuit of an undergraduate degree.
"They [MLB] will pay for you to go to school if you go back full-time within two years after getting released," Tilson said. "I felt inspired being around some of the guys and I took some continuing studies classes at Northwestern initially, and I liked it."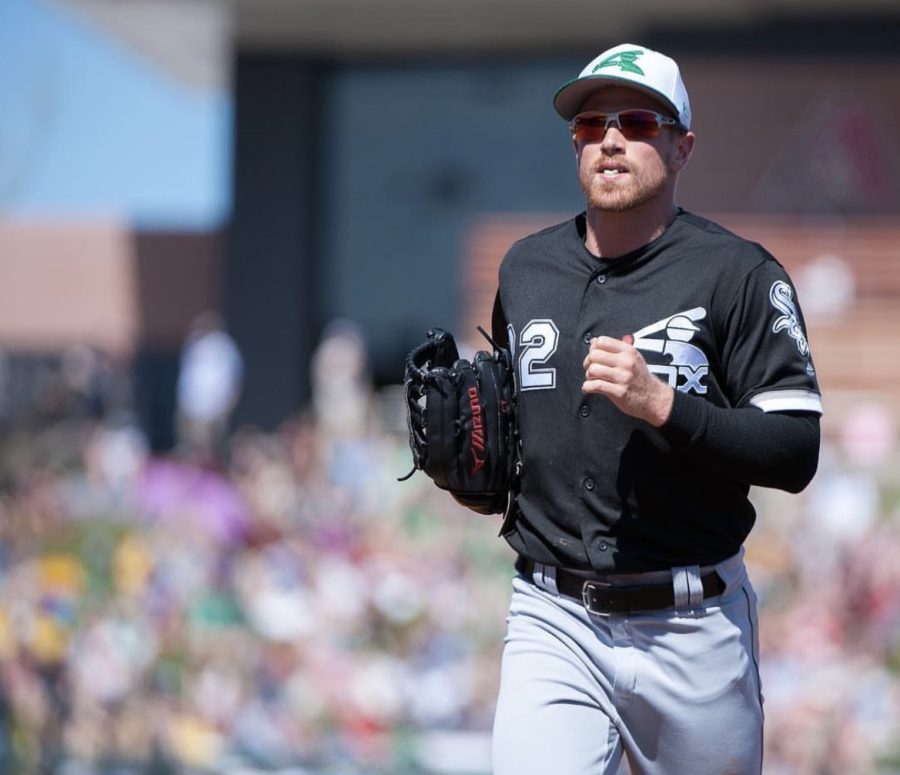 Tilson is taking Sports Reporting, taught by former Chicago Tribune Sports columnist Fred B. Mitchell, who is familiar with Tilson from his time with the White Sox. Students in Tilson's class still cannot believe a former player is in their class.
"When I enrolled at DePaul for sports journalism, I did not expect to be peers with a professional athlete, let alone one that played for my favorite sports team on the planet," DePaul senior Ethan Baca said. "I'm really glad to see he's flipped the script for post-playing careers. From what I've seen in our class, he will have a seamless transition between professions."
Transitioning from the diamond to the classroom has been fun for Tilson, especially since he is back home in Chicago and everyone knows who he is. A lot of students in his classes have seen him on TV or are aware of his background in baseball.
"I think it's really fun for me because for the most part, athletes want to be able to share their opinions and not get special treatment," Tilson said. "It's been really cool for me to interact with people who are big fans of baseball and seen major league baseball from a different perspective than I have over the last 10 years."
Tilson, now 30, from New Trier high school was a 2011 second round pick, No. 79 overall of the St. Louis Cardinals. Once his high school career ended, Tilson had to make a choice between entering the MLB Draft or officially committing to a four-year scholarship to play at the University of Illinois.
The decision was simple for Tilson. He was going pro.
"In my mind, not close," Tilson said.. "I was just preparing my case to my mom and dad because if I got drafted in the first five rounds, I was going to get enough of an opportunity where I would find out if I was good enough to play in the big leagues."
Tilson felt that college baseball's exposure to being around great players was limited, especially in the Big Ten Conference, and from his perspective, going into the MLB Draft was a no-brainer. 
He still wanted to remain loyal to his commitment and ended up seeking outside advice from an agent. His agent negotiated with teams and established a certain number financially that it would take for him to sign with them instead of going to play at Illinois.
"At the advice of my agent, he told me to sit out the entire summer until the last day," Tilson said. "He was certain, like we told them in order to forgo a scholarship we want to do this, and in my mind, the moment I was drafted, it's like dude just get me there, I want to make a positive impact."
On July 31, 2016, the St. Louis Cardinals traded Tilson to the Chicago White Sox for left-handed pitcher Zach Duke. Not only was Tilson traded to his childhood favorite team, but he also was called up to make his debut with the club.
"It was my dream," Tilson said. "I got a call from Rick Hahn, and he said I got you a plane ticket and you're going to meet the team in Detroit. It was perfect and a lot of friends and family really understood my affiliation with the team and it was cool to share that."
Tilson was expected to contribute immediately in the outfield, taking over for J.B. Shuck, and during his debut, he hit a single in his very first at bat against Tigers starter Aníbal Sánchez. Unfortunately, Tilson strained his left hamstring chasing down a fly ball in the outfield, which resulted in season-ending surgery two days later.
In 2017, Tilson was set to be an everyday starter for the White Sox, but another injury set him back. This time around, he suffered a stress reaction in the same foot, the second time he experienced the injury. He missed the entire 2017 season, his second-straight that resulted in a season-ending injury.
Tilson's best moment in professional baseball came in 2019, when he hit a grand slam against the Houston Astros off Josh James to deep right field, his first and only career home run.
"I'll never forget that moment because I knew it was coming," Tilson said. "It was awesome and it really helped us win. That lineup was lethal and I had great teammates and they knew that I wasn't going to have a lot of them, so we celebrated it."
Later that season, Tilson was designated for assignment and sent down to the minors to play for the Charlotte Knights, but instead asked for release from the team. Since his release, Tilson has played with the Pittsburgh Pirates, the Mexican league team the Acereros de Monclova, the independent team the Long Island Ducks, the Philadelphia Phillies and most recently another independent club, the Chicago Dogs. 
Last season, Tilson appeared in 92 games for the Chicago Dogs, hitting for a .286 average with 5 home runs, 32 RBI and 20 stolen bases. He was released from the team on Feb. 3, 2023.
"He was our lead-off guy and center fielder," team manager Butch Hobson said. "Love Charlie Tilson, he's a class act and has a beautiful baby girl now. Really enjoyed my time with him and we were sorry to see him retire. That's a tough decision to make when you're a professional athlete, just to accept the fact that it's over, but that's part of the game."
Hobson will forever admire and appreciate Tilson's time with the ball club and will always be a fan of his.
"That man's going to do well, whatever he does," Hobson said. "He's very smart and serious about his work. He's a guy that's played in the big leagues and independent ball. He's worked his ass off because he wants to get picked up and try to get back into the big leagues."
After retiring from professional baseball, Tilson spent time coaching with Northwestern's team, and he has considered pursuing a career in coaching someday. It is required for most school's at the Division I level to have a degree if they want to become a manager.
"My undergraduate degree is psychology, and my thought behind that initially was to use it to support coaching," Tilson said. Now I'm considering doing a joint degree between psychology and communications. I want to stay in the realm of sports just because it's second nature to me and I love it."
Tilson will not close the door on a return to playing professional baseball, but for now, his focus is to be the best father and husband he can be and earn a degree at DePaul.
"If I get a phone call, I'll go play [in the MLB] for sure," Tilson said. "Unfortunately, I am retired from independent ball and I think it kind of goes back to wages and being away from my wife and family and not being able to make really any income, it's just not possible."