Students respond, act on behalf of faculty and staff ahead of budget cuts
Jessica Patrick, a DePaul junior, decided to take action when she learned that impending budget cuts would impact adjunct and term faculty today. 
Patrick and others took immediate measures by starting a petition and planning a protest outside at noon today at the Student Center. As of publishing, 749 people have signed in six days. They are asking President Robert Manuel and the Board of Trustees to protect at-risk faculty. 
"Religious organization professors can't unionize," Patrick said. "They can't protect themselves, which means that it's our responsibility to do so."
DePaul leaders project a $56.5 million budget gap for the 2023-24 academic year. The Strategic Resource Allocation Committee (SRAC), a group comprised of appointed members by the president, informed faculty before spring break that in order to make up for the difference, they would have to lay off term faculty throughout various colleges. 
Adjunct (part-time faculty) and term faculty are hired on a contract basis and do not have the same protections as tenured faculty. 
Patrick and fellow students Megan Galarza, Jessica Patrick, Gracie Crone and Katie Wiemeler realized an urgency to organize after hearing about impending cuts. Since Monday, April 3, they created a petition and started a Discord to connect with students. Paper QR codes linking to their petition were passed out across classrooms all last week.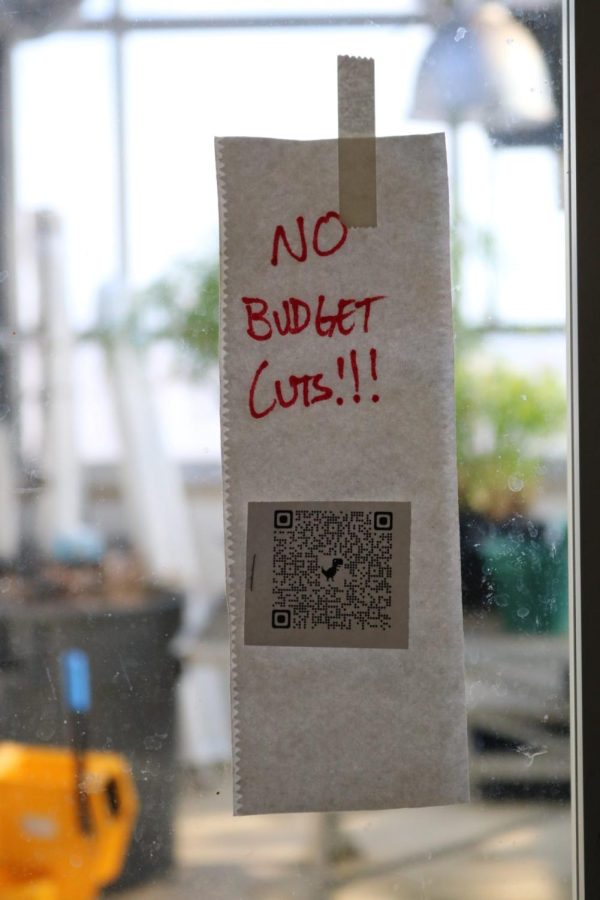 The group said they were concerned that the job security of adjuncts and term faculty throughout the university could potentially be in jeopardy. 
"Some of my favorite professors have been adjuncts," Patrick said. "I do think it's basically like abusing contract workers, the way that universities treat adjunct professors."
Clarissa Worcester, a DePaul women and gender studies (WGS) student, became involved because they believe adjunct professors in the WGS program are "going above and beyond." 
"All of them hold parts of the program that have increased the quality beyond the base curriculum of a general women's studies program, they hold the queer theory, they hold the disability justice programs," they said. 
However, if laid off, these programs would cease to exist without faculty to continue these certificates, according to Winnifred Curran, a geography professor in DePaul's college of Liberal Arts and Social Sciences. 
"If you lose, you know, the one person who does blank, then that's it," she said. "No one else is a specialist in that thing. You can't tell a historian of Latin America to teach Chinese history right. That is going to affect [the] student experience."
Within the English department, adjunct and term faculty are teaching classes focused on marginalized voices, which Patrick does not want to see disappear from the curriculum. 
"Several of the professors that are doing the hard work of teaching Queer stories or teaching African American literature in the English department will qualify for the layoff program, so we could lose those professors either way," she said. 
Student Government Association (SGA) president Kevin Holechko serves as a representative on SRAC. Due to cuts being spread across two years, Holechko said this decision would minimize any potential impact on the student experience. 
"If they had done it in one year, that would have affected the student experience," Holechko. "They're spreading out across two years to make sure there's no disruption to a student's academic experience." 
However, there is no "guarantee" that the cuts will not affect students, according to Holechko. Students will most likely notice staff cuts in the next academic year.
"If there will be a noticeable effect, it may be in morale across the university," Holechko said. "But where students will see potential physical differences are people in an office anymore."
Holechko also addressed what he calls "misinformation" about budget cuts being spread across the university and says faculty and staff do not fully understand the context of the issue.
"The faculty and staff are also just not fully aware of the budgeting process, and that is really to no fault of their own," Holechko said. "People [need to] start explaining to students, staff and faculty that's not necessarily true. That's the responsibility of the leadership team to be transparent."
According to Worcester, the only present accuracy issues regarding information lie in a lack of transparency from the administration based on a timeline.
"It's just not possible that it needed to be this urgent and surprising," Worcester said. "This isn't a crisis that appears overnight in a budget." 
A source in LAS wrote in a statement that faculty are being left in the dark as well. 
"Of many concerning things in this current round of budget cuts is that these moves to make cuts are happening very quickly, and there is little transparency as to where the 'hemorrhaging' is coming from, and why," the source wrote. 
Curran echoed that attitudes about the budgets switched quickly from "not great" to "impending doom" around spring break. 
Throughout all the chaos of the last week, adjuncts and term faculty continued to grade papers and teach classes through anxiety centered on uncertain job security come Monday. 
"To be told that you're potentially losing your job while you are doing all of that is really soul-destroying," Curran said. "Because of this deadline, they're kind of the ones who have been sacrificed first."
Holechko said he recognizes staff will be hit the hardest by these cuts. 
"My heart goes out to them because they don't have the same protections that a faculty member does," Holechko said. "[SRAC believes] in the best interest of the institution, this is the pathway forward."
Zayne Humphrey-Taylor, a WGS graduate student, wants to remind the community of the significance of adjuncts and term faculty in the DePaul academic community. 
"They might read your papers, but they are our mentors, they are our advisors," Humphrey-Taylor said. "They are sometimes the people that we want to emulate in the future." 
The LAS source said that DePaul has to reflect on being a religious institution. 
"As a Catholic University, an ethical and moral question regarding the Endowment is necessary," the source wrote. "The U.S. government requires a certain percentage of university endowments to be spent legally; but this is a long story and the percentages that meet the requirement of the law have not changed in years."
Humphrey-Taylor is motivated to act on behalf of DePaul's core values. 
"It completely goes against the Vincentian question of what must be done," Humphrey- Taylor said. "None of this has to be done. They know their budget, we would like to see their budgets. Those of us opposing these cuts know what actually must be done."
Editor's note: A sentence in an earlier version of this story mischaracterized term faculty. It has since been corrected for the sake of accuracy.