Review: High school-centric film 'The Duff'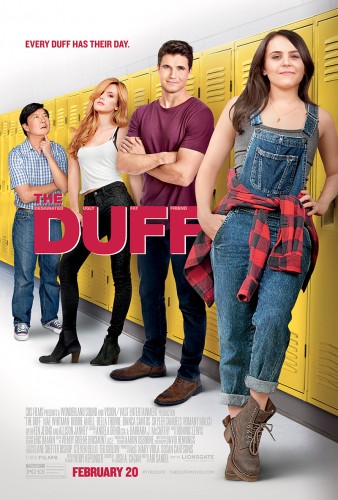 Boy meets girl. Boy and girl fall in love. Something complicates them being together. They get over it eventually and end the movie together. This is the premise for almost every high school movie. As much as it tries to be, The DUFF is not different.
The film is based on the book The DUFF by Kody Keplinger, who wrote it when she was 17.
Bianca Piper (Mae Whitman) is the DUFF, designated ugly fat friend, of her friend group, which is pointed out to her insensitively by her neighbor and childhood friend, Wesley (Robbie Amell). The film follows her as she goes through a makeover supervised by Wesley, so she can break out of her DUFF shell, and win the attention of her crush.
Bianca spends most of the film trying to come out from under the shadow of her two best friends, Casey and Jess. A drawback to this movie, and to a lot of high-school movies, is how one-dimensional these characters are. Casey is good looking and athletic, and Jess is good looking and fashionable. That's really all you get from their characters.
This is the same problem with the antagonist of the film, Madison (Bella Thorne). There is no substance to her character, she's only mean. There's no reason for why she is so mean, either. Regina George was spoiled and Heather Chandler was reassured through her friends that she was always in the right. Memorable 'mean girls' had back stories and were developed. Madison's irrational cruelness is forgettable.
Thorne comments on this in a conference call interview with The DePaulia.
When she mentions her inspiration for her role in the film, Thorne said "I'm just being mean, so…", and she also watched the film Jennifer's Body, a film about a teenage girl whose body is taken over by a demonic spirit.
The real highlight of this movie was Allison Janney's performance as Bianca's nameless mother, who signs up for JDate, because as a non-Jew, she's "exotic." Janney's performance stood out within the movie as memorable and genuine while other comedic moments felt forced.
The DUFF tackles the task of teaching teen viewers to be more confident and that they shouldn't change who they are to be liked. This is a difficult goal as social media constantly bombards today's youth with messages constructing a false reality of what "beautiful," "popular," or "normal" means.
Other films have attempted to teach this same message, including She's All That, John Tucker Must Die, and ABC Family Original Movie Picture This (also starring Robbie Amell as the male lead). In each of these films, the protagonist is an unpopular high school girl who changes herself to catch the attention of a popular guy, only to realize that she liked herself better when she wasn't pretending to be someone she's not. The DUFF follows this same formula, which proves successful in creating a witty, feel-good movie.
"I think it's a really special opportunity to encourage everybody to be your different wonderful self and feel really good about that," Mae Whitman said in an interview with The DePaulia. "And that's the best thing you can possibly do."
The DUFF's attempt to fight the stereotyping of "designated ugly fat friends" might drive teens to point fingers at what are actually genuine friendships.