DePaul dominates Creighton in Omaha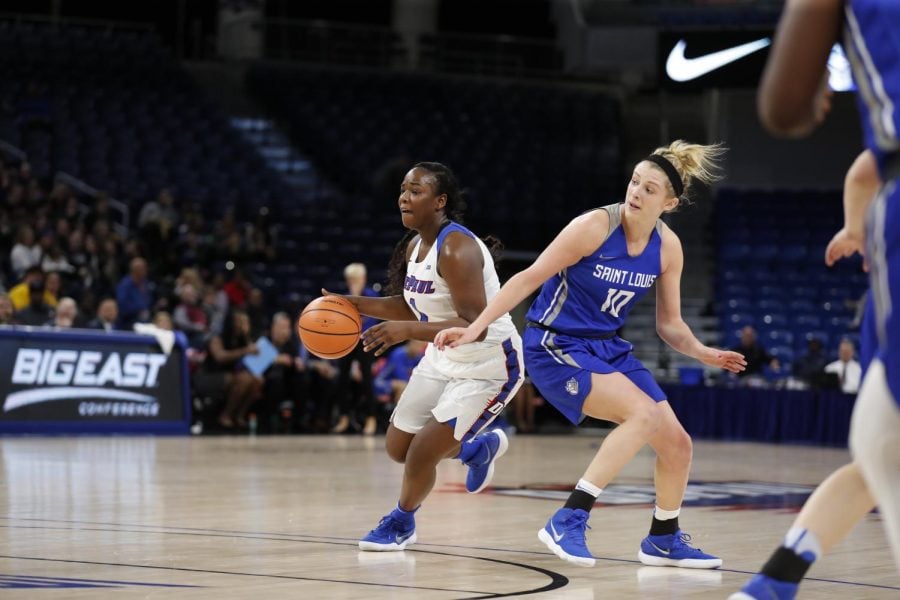 A matchup between two teams in the upper echelon of the Big East Conference wasn't nearly as competitive as expected.
The DePaul Blue Demons (12-5; 4-1 Big East) grabbed a quick 18-8 lead after the first quarter and made ten of their first 13 attempts from 3-point land to roll the rest of the way and slay the Creighton Bluejays (9-7; 3-3 Big East) 82-54 at D.J. Sokol Arena in Omaha, Ne. on Wednesday evening.  
The Blue Demons spread the scoring around as five players finished in double-digits led by junior guard Ashton Millender who notched 13 points on 5-for-9 from the field and sniped 3-for-6 from behind the 3-point line. The Blue Demons shot 50.8 percent from the field and 53.8 percent (14-for-26) from 3-point land to run away with a road win against a tough conference opponent.
The Blue Demons held the Bluejays to eight points in the first quarter and five points in the third quarter to establish a lead early and then extended that lead in the later stages of the game. The five points in the first quarter was the lowest number of points the Blue Demons have surrendered in a single quarter this season. The Blue Demons also outscored the Bluejays 15-4 in fast-break points.
Sophomore guard Kelly Campbell stuffed the stat sheet again, draining 12 points, grabbing a game-high 11 rebounds, and dishing out five assists. Campbell also had one of her better shooting nights, going 4-for-7 from the field and 2-for-3 from behind the 3-point arc. Tonight marked her fourth double-double of the season.
Junior forward Mart'e Grays, fresh off her Big East Conference Weekly Honor Roll designation last week, scored 11 points in the contest although she needed 11 shots to do it. Grays has scored in double-digits in the Blue Demons last five games.
With the win tonight, the Blue Demons remain in sole possession of second place in the Big East Conference behind the Marquette Golden Eagles who are a perfect 5-0 in conference play this season.
The Blue Demon women return to action on Friday when they battle the Xavier Musketeers at Wintrust Arena at 4:30 p.m. in the first game of a double header at Wintrust that also includes a Blue Demon men's basketball matchup against the Providence Friars at 7:30 p.m.