Standout DePaul freshman seeks to carry success into NCAA Regional
When Henry Larkin first came to DePaul from Oakland, California, to be on the track and field team under head coach Dave Dopek, he had no idea how well he would perform in his first season in a completely new environment.
The freshman sprinter won all six of his 400-meter races this season, including his time of 47.67 seconds at the Big East Outdoor Conference Championships from May 11-12 in Randall's Island, New York. Larkin, alongside Brendan van Voorhis and Isaac Walker, qualified for the finals at the conference tournament.
Not to mention, Larkin was a part of both the 4×100-meter dash and 4×400-meter relay races that edged Georgetown and Villanova to earn gold at the league competition. As a result, Larkin will represent DePaul at the 2019 NCAA Division I Men's and Women's Outdoor Track and Field West Preliminary Championships in Sacramento, California, from May 23-25.
"It's been pretty incredible," Larkin said regarding his early success. "It's a special kind of feeling. When you finish those races and you have those kind of times, those kind of [personal records], it's hard to describe how special it feels."
On the second and final day of the Lenny Lyles/Clark Wood Invitational that Louisville hosted on April 27, Larkin set a 46.46 personal record in a 400-meter dash that was good for gold. His time tied the current record that was set by Dopek, the greatest sprinter in DePaul history, when he ran track for the Blue Demons.
"I was probably more excited than he was when he tied my school record at that Louisville meet because I've been waiting for that for a very long time, and I've had a lot of people that had the ability to do so and for one reason or another didn't," Dopek said. "So, it was nice to see him believe in not only himself and in the training but also in the race tactics that I was giving him."
Larkin credits Dopek's system for a lot of his success as a freshman. Dopek spoke about rest and recovery; his system is less about the actual training methodology and has more to do with his athletes trying to prepare themselves Monday through Friday to have the best opportunity to take advantage of their competition come Saturday.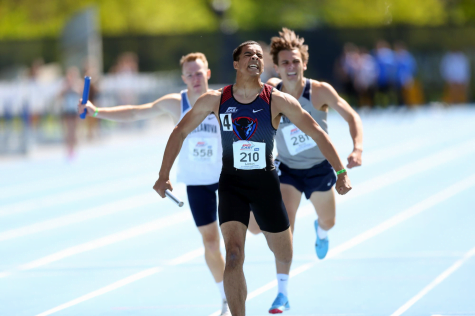 "It's intense, but Dopek's personality or his presence is pretty perfect as a coach," Larkin said. "He's just nice enough that you feel comfortable around him but he's not like your friend. He's still your coach pretty much, but his training system does a really good job of keeping us conditioned throughout the preseason."
Track, though, has not always been Larkin's main sport. Larkin grew up playing soccer from kindergarten through the eighth grade before his mother recommended that he try track because he was not a particularly great soccer player.
"I was terrible at it," Larkin said. "I was fast, but I couldn't dribble, couldn't shoot very accurately. I was pretty bad; I got crossed up a lot."
His mother's side of the family is relatively big on track. Larkin's grandfather professionally ran the 800-meter, and one of uncles ran collegiate track at Louisiana State University. Another of Larkin's uncles made the U.S. Olympics roster in 1980 but did not participate in the Olympic Games in Moscow because the U.S. led a boycott of the event.
Arguably the most prominent characteristic that Larkin brings to the table is his ability to remain focused under pressure. Dopek believes that Larkin has a good head on his shoulders with solid goals while also understanding that track is a year-by-year process.
"Probably the biggest thing about Henry is his mindset," Dopek said. "His mindset is more mature than most quarter-milers that I've worked with in terms of having a real understanding for work, rest, attention to detail, which is really important when you're out there running a race that has just a little bit of strategy to it."
Being from the West Coast, Larkin hadn't really heard much about DePaul before assistant coach Stephanie Townson emailed him in high school. But as soon as Larkin visited DePaul to see what being a student athlete in Lincoln Park would be like, he immediately felt comfortable.
"It was definitely a mix of different factors," Larkin said. "Obviously, I spent a lot of time with the athletes on my visit here, but just walking around the campus and visiting the classrooms and sitting in on classes, I could just tell this place could feel like another home for me. I like living in big cities. I've always lived in cities, so Chicago felt perfect. My parents have lived here before, so they loved it. And then on my orientation visit I met a bunch of kids who weren't athletes and I'm still friends with a lot of them, so DePaul was a pretty perfect fit for me."
With three years left in his DePaul tenure, Larkin said there's many things he can improve on, such as getting more sleep and finding a better balance between academics and athletics. Larkin is double majoring in political science with a concentration in international politics and philosophy.
"Philosophy's more of my bag. I really, really like that stuff," Larkin said. "It's fun, but political science has always been something that I'm good at and always been something I've enjoyed, so I couldn't really [choose] between the two, so I decided both."