Though festival season may be over for most music lovers, VIA Festival 2014 brought a host of rare experiences that made standing in line in the bitter cold well worth the wait. Unlike typical festival structures, VIA Festival 2014 is a collaborative effort from several local and national sponsors that seeks to explore upcoming trends in art and media through live performances, lectures, and exhibitions.The five-day festival lineup consisted of dozens of visual artists and performers showcasing their work at secret locations in Wicker Park and Pilsen.
Anamanaguchi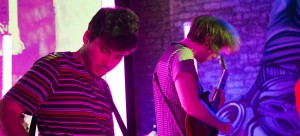 Even those who have not played with a joystick in years can be transported back to simpler times of joy through the opening 8-bit chimes of the Super Mario Bros. theme.
There is certainly a connection between gaming and music, even discounting the easy connection of music within video games. Marko Stalin Flores, who produces under the name Seablaze and opened the evening, said he was initially enamored by games after delving into the world of Final Fantasy VII as a child. Today, his music feels otherworldly: strange and fantastical, without sacrificing its dance music core.
"Gaming, anime, art in general, (and) music — of course music  — are (all) a bridge to dreams," he said via email. "It's the artist (or) performer's duty to bring your dreams down to earth. I never judge an artist based on the genre of music but more of his or her effort to create a dream and of course his or her intent."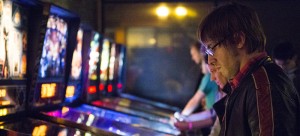 And so it would seem that VIA Fest had done something correctly by booking Anamanaguchi as a headliner at Emporium Beercade for the opening night of their inaugural festival. The group is known for creating hyper electro pop and chiptune music with both traditional instruments and a hacked Nintendo Entertainment System, and pl+acing them on a stage between pinball machines and retro games should have made for a perfect connection.
The evening began with not one, but three DJ/producers, each of whom were afforded nearly hour-long sets. This created a logistical issue. DJs do not require undivided, forward-facing attention. But the audience packed into the narrow space near the stage to wait for the headliner, and most didn't dance.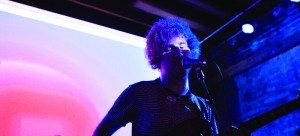 That is not to discount the talent of locals Seablaze and Romance, and NY-based Machine Girl, but to say that all of them deserved a better environment. Seablaze opened while ticket holders were still waiting outside for the doorman to let them in. While Romance and Machine Girl were both met with a packed crowd, there was little engagement besides the crowd watching an array of stunning and warping visuals. VIA promoters assumed that fans of these artists would be fans of Anamanaguchi, and vice-versa, but this didn't seem to be the case.
Anamanaguchi finally took the stage nearly three hours after the show began and were immediately hindered by technical issues. Guitarist Peter Berkman noted early on that their monitors were not loud enough, a problem which persisted throughout the show. As they charged into their opening song, "Meow," the high-pitched cartoon kitty noises were too loud. Largely, the 8-bit backing track – a substitute for the famed "hacked NES" they work with – overpowered every other instrument. Worse yet, the band appeared visibly bummed out by these issues.
The opening night of VIA Fest seemed like it could have a stand out position in the slew of Chicago festivals. Slotting Anamanaguchi in an arcade seemed like a perfect match, and these persisting problems could have been avoided had organizers understood both the fanbases of the artists and the limited specs of the venue. – Kirsten Onsgard
---
Cakes Da Killa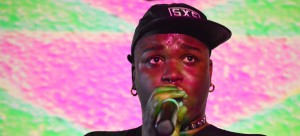 Cakes da Killa and Mykki Blanco brought with them to Chicago a taste of East Coast nightlife.
Performing at Canvas, a hole-in-the-wall multipurpose space located in Wicker Park, Cakes da Killa kept things very intimate during his hourlong set on Oct. 3. After releasing his first mixtape, "Easy Bake Oven, Vol. 1," in 2011, Cakes da Killa went from merely uploading playful rhymes on the Internet to headlining shows in Europe. Sporting a black Nike top paired with a mini skirt, his goal for the night was to reveal much more than his aggressive delivery. "Goodies" and "Get 2 Werk" were some his starting songs, which garnered a cheerful response from the crowd as they mouthed lyrics back at the New Jersey native.
Seductively crawling across the table with DJ equipment and marking his territory on top of a large speaker, Cakes da Killa utilized almost every area of the packed venue. The crowd willingly made a path for him to maneuver through as he danced with fans on the floor, creating an almost rave-like atmosphere.  Cakes da Killa ultimately exuded an unbridled energy that could be felt from the pulsating floorboard beneath the crowd's feet.  -Kevin Quin
---
Mykki Blanco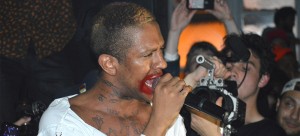 The next night, Mykki Blanco exhibited a more complicated performance at a DIY-style warehouse in Pilsen. Hailing from New York, Mykki Blanco has dabbled in many art forms including poetry and literature, though music is how most of fans know him best. Using this art, Mykki Blanco aims to disrupt gender norms by sometimes appearing more masculine or feminine in appearance. A prime example of Mykki Blanco's gender identity shift could be seen tonight as he wore a long white shirt, baggy jeans and boots, and a choker and lipstick as accessories to his eccentric aesthetic.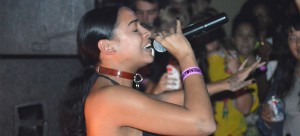 Demanding the crowd form a circle around him, Mykki Blanco had complete control over the night's events. He spun between audience members while they trailed behind him, causing massive, messy crowd shifts from one side of the room to another.  "Haze Boogie Life" prompted deafening screams that filled the room with noise in combination with the pounding bass from surrounding speakers. The crowd even transformed into a mosh pit at one point in which he encouraged them to lose all inhibitions.
Mykki Blanco's set did include some milder moments, especially in between songs when he would deliver rhymes at a slower pace that reminded everyone his words were not just songs but also poems. Mykki set came to an abrupt end as he disappeared into a thick cloud of smoke, leaving fans confused but still energetic nonetheless. -Kevin Quin