Short-handed offense dooms DePaul men's soccer season
It was an up-and-down season for the men's soccer team. Head coach Mark Plotkin's squad couldn't find a groove, and even with flashes of positive things to come, injuries and lack of offense held the Blue Demons back this season. DePaul finished their 2019 campaign with a record of 5-9-3 while going 1-5-3 in the Big East conference, missing out on the Big East tournament.
This was another year that the team couldn't place in the top six of the conference, and capped off a decade where the program didn't have a winning record once. Only one conference win was produced this year, coming as a 2-0 victory over Providence on Oct. 19.
Struggles came primarily on the offensive side of the ball. The team was without newcomer and goal scorer freshman David Gripman for most of the season following his ACL injury in September, as well as Issac Friendt who underwent surgery in Minnesota. With injuries to key attacking players, DePaul's offense wasn't able to consistently get chances at goal, managing only 7.9 shots per game to their opponents' 15.6.
"I think we have a lot of rebuilding to do," goalkeeper Drew Nuelle said. "I know [head coach Mark] Plotkin, this is only his second year, so I think he's done a good job so far of bringing in some players, some key players. This year, it's hard to say what would have been different with our attacking guys, Issac Friendt, David Gripman and Zach El-Shafei, if we would have had all three of those guys healthy and ready to go every game, who knows how we would have finished the season."
This year was another transition year for the team. Yet there were some standout points in the season, including a 0-0 draw in a mighty effort against the No. 3 team in the country, Georgetown.
The two biggest downsides of the season sandwiched the Georgetown game, losing the battle of Chicago to Loyola and UIC before ending the season on a four-game losing streak.
On Sept. 13, the team traveled to Loyola and lost 4-2 in a crushing defeat. Then, a few days later, they traveled to the University of Illinois Chicago and lost 4-1. The two losses illustrated some of the team's most significant flaws. It also added to the disappointing season and proved that the program isn't at the elite level they want to be at.
Then, to end the season, the Blue Demons went on a four-game conference skid, dropping to last place in the Big East. The losses came against Creighton, Xavier, St. John's and Marquette, three of which placed outside of the top four in the conference, with DePaul losing each of those games 1-0.
That showed the lack of firepower on offense that the team has dealt with for the majority of the season. This is the second straight season with the same major problem, in each season, the Blue Demons have scored only 17 goals. This, coupled with their identical records, shows the team's lack of growth from the previous season.
Yet things can seem closer than they appear.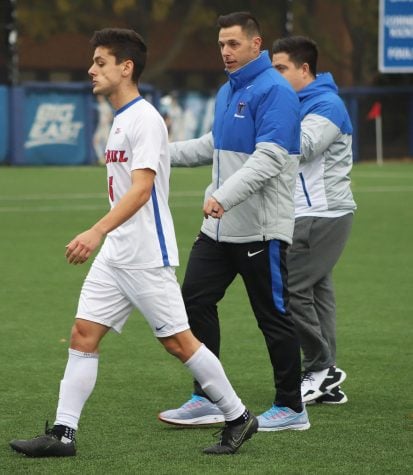 DePaul played in a lot of close games this season. Twelve of their 17 games were decided by one goal or ended in a draw. They were shut out seven times this season, with four of those instances in conference play. In a tough Big East, DePaul couldn't consistently score goals to keep themselves in control of games, even when the defense was delivering.
The Blue Demons conceded 22 goals in 17 games, the same mark as last year, yet this year, there were three games where the opponent put four through. Excluding those games, the defense allowed a solid 10 goals in 14 games. The defense is led by senior and captain Max De Bruijne, who not only held down the defense but scored three goals as well.
Additionally, DePaul's defense was much stronger at home. Both soccer teams at DePaul pride themselves on defending Wish Field, and their records there reflect it. None of the three games DePaul allowed four goal.
"This year, I think we set the standard for not allowing goals at home and I would really like to continue that for next year," Nuelle said. Nuelle played a solid season while facing tons of pressure. He tied for first in saves in the conference with 78.
Two seniors who played heavy minutes, Max De Bruijne and Zach El-Shafei, laced up for the last time Wednesday. The two were some of the most important players on the field, but they are leaving the team in good hands. Four freshmen appeared in 14 or more contests this year, including midfielder Michael Anderson, who played in all 17 games.
"I'm looking forward to my next three years here," Anderson said. "Obviously, we're losing Max [De Bruijne], but besides him, we have a great team, and everyone's coming back next year so I think we're going to have a great opportunity."
As far as the offseason goes, the next season is too far away to make any grand assumptions about how the team will play.
"I mean we'll kind of see, we didn't project ourselves to play a 3-4-3 last offseason but once everything kind of came together in the fall and preseason we saw that that would be the best thing for us," Plotkin said.
Looking forward to the future is important for the young team, who are trying to find some success after an underwhelming couple of years. This season, although the record was the same as the prior season, left the team with some hope.
"If you look at RPI-wise we were higher than last year, I think results-wise like tying Georgetown, the number one team in the country, playing against some top teams," Plotkin said.
"I think, our performance was definitely a step in the right direction, I thought we were better this year than we were last year. And I think the guys can feel it and are excited about what we have to go for next year."