DePaul men's soccer season ends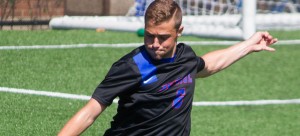 Men's soccer will miss the Big East tournament once again after finishing ninth in the conference.
The Blue Demons finished 1-6-2 on the year, ending their season with a 4-0 drubbing at Marquette University. This was a slight improvement over their 2013 conference total in which they went 1-7-1.
They did not have a win after Sept. 27 and had a five-game scoreless streak from Oct. 1 through 18.
Overall, DePaul went 4-10-4 on the year a slight dip from their 5-11-2 record the previous season.
They will lose six seniors to graduation before next year, including forward Art Garza and defenders Jake Douglas and Koray Yesilli.
They will return their leading goal-scorer in sophomore Simon Megally with five and their leader in assists in freshman Hans Wustling. Jalen Harvey, a fixture of the defense who also contributed four goals, will also return for the 2015 season.