DPAM exhibitions in conversation with Krista Franklin and Ionit Behar
For artist Krista Franklin, surrealism is more than an artistic movement. It is a way of seeing the world, a way of living life.
Rather than creating surrealist art, Franklin weaves the surrealist lifestyle into her books, poetry, collages, murals, performances and other creations.
"It's not necessarily always like, 'I'm going to set out to make this thing that's surrealist,' you know," Franklin said. " It's more like, 'I'm going to live my life in a way that completely resists any forces that seek to destroy, or undermine, oppress.'"
The DePaul Art Museum (DPAM), located just off of the Fullerton Station, is hosting two exhibitions that showcase the liberating themes of surrealism: "Solo(s)," Franklin's first solo museum exhibition, and "A Natural Turn" featuring artists María Berrío, Joiri Minaya, Rosana Paulino and Kelly Sinnapah Mary.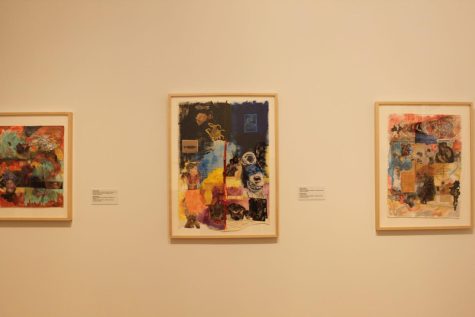 "The two exhibitions are really in conversation with each other," said Ionit Behar, the associate curator of DPAM and curator of the two exhibitions. "Questioning these ideas of stereotypes and identities and communicating a message that's not necessarily direct, but leaves room for people to have their own perspective on what they're actually seeing as opposed to being assigned with a particular point of view."
Franklin said that the exhibitions showcase a different side of surrealism.
"I feel like there's a lot of work being done in both exhibitions around recovery and around speaking the things that cannot be said," Franklin said.
DPAM's current exhibitions feature Latinx and BIPOC artists, showcasing surrealism that is not often shown in the art world, despite its long tradition and cultural history.
"When people show you surrealism in books, they don't show you Black surrealism, you don't see African surrealism," Franklin said. "You see, for the most part, European surrealism, French surrealism. And so I'm very excited about that exhibition, also, because I feel like it ties in that love that I have for African Diasporic and the international reach [of surrealism] that transcends and precedes Europe."
Museum-goers are invited into a visceral experience when walking into the exhibitions.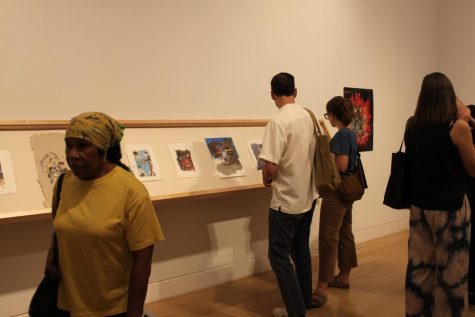 "I love that about both of these shows, that you go into these rooms, and you become a part of these worlds that are being built," Franklin said. "You are suddenly immersed."
When walking into Franklin's exhibition, "Solo(s)," viewers are greeted with walls filled with collages. A mixtape of audio recordings featuring writers and artists reading their favorite passages and poems on love fills the room. In the corner, the installation "Library of Love" invites visitors to write love letters or read through a collection of books on love in a time when we need more.
There is an overwhelming amount and breadth of work in "Solo(s)." The artist's two favorite pieces, however, were installations that were collaborative and new.
Franklin described "Lift Off" in collaboration with Gloria "Gloe" Talamantes and the sculpture "In the Dream I was Introduced to Myself," in partnership with Marcos Mercado and Flor del Monte as her favorite pieces.
"My two favorite pieces right now are definitely the sculpture, as well as the mural, because they're new," Franklin said. "They're new babies. Of course, when you have a new baby, you're like, 'Yay, it's a new baby.' You want to hold it up to everybody and show it off."
In addition to the exhibition, Franklin and DPAM Associate Curator Ionit Behar co-curated four public events in conjunction with "Solo(s)." The events, beginning with an online conversation on Wednesday, Sept. 28, explore nuanced aspects of the show.
"For both Krista and I, programs are so important," Behar said. "It's not an afterthought in terms of first exhibition, then programs. They both really inform each other and are part of ongoing discoveries. It's almost like research. It reveals nuances, conversations that are throughout the exhibition, but it's an opportunity to kind of dig deeper."
Franklin said that the events are an opportunity to open up a new side of herself to the public.
"I'm very excited about all of [the events] because, for the most part, these are people that I haven't had public conversations with yet, although our relationships go far back," Franklin said.
"So I think for me, it's an opportunity to share with other people parts of my life that had been fairly private."
DPAM's new exhibits and events celebrate the freedom and liberation associated with surrealism. Franklin urges everyone who is able to come visit "Solo(s)" and "A Natural Turn."
"Come to these exhibitions," Franklin said. "Experience them, sit in them, come back again and again. I really think about both of these exhibitions being highly poetic shows and I feel like with any good poem, you want to keep coming back, you want to re-enter it."
Connect with Lily Lowndes: @LilyILowndes | [email protected]