Demons sweep Northern Illinois with ease, improve to 4-0
DePaul men's hockey proved to everyone that they are legit this past weekend after taking care of Northern Illinois with a clean two-game sweep to improve to 4-0 on the season. 
"We've been talking this whole year about having high expectations for our team," said head coach Dan Wood. "Last year was a good stepping stone, but last year's not good enough. . . We got a lot of new guys that are coming in and contributing and we have a lot of guys that have been here for a long time helping grow the program."
The Blue Demons picked up the win Friday night at Northern Illinois in DeKalb, making a statement on the road and winning by a lopsided score of 8-2.
DePaul's offense, similar to their opening weekend series, exploded for 18 total goals and outscored the Huskies 18-5. DePaul picked up their fourth win of the season on Saturday finishing the sweep, winning 10-3 led by sophomore winger Danny Mannarino and graduate student winger Brock Ash, scoring two goals each on Saturday.
"Today was great," Wood said. "It was a weird kind of game, we couldn't get into a flow from the second period on, there were a lot of penalties, but we were able to take advantage of their penalties and kill off our own."
The Blue Demons offense picked up right where they left off on Friday night, scoring four goals by three different players in the first period.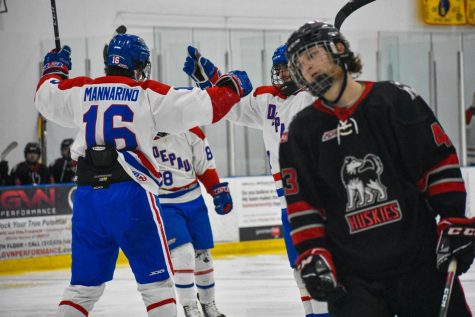 The first goal of the game was scored by sophomore Zander Plotkin in the left corner of the net, followed moments later by Mannarino in the same spot. The last two goals for DePaul came from Ash, with his first coming off a slap shot at the 11:53 minute and his second at the 2:58 minute. 
"It was honestly all on my linemates," Ash said. "They just threw it over to me, and I just tapped it in."
DePaul only allowed a goal off a power play and left the first period with a 4-1 lead.
The Blue Demons offense controlled the entire second period, scoring three goals by three different players. DePaul scored all three of their goals within a five-minute span, which were recorded by senior center Jackson Leptish (19:00), junior defenseman Josh Maloney (17:42) and sophomore winger Matt Newton (14:04).
"Our offense is our depth," Wood said. "We've got four lines that can score and we just wear teams down, play fast, and get the puck in. Today, we were missing our leading scorer and still put up 10 [goals], so it just shows you our depth."
Similar to the first two periods, DePaul controlled the entire third, scoring three goals which were recorded by senior winger Marco Presta (17:52), freshman forward Tyler Marcelletti (13:44) and Danny Mannarino (13:38.) 
Similar to last week, senior goalie A.J. Grzbek played exceptionally well, only allowing three goals on the day and stayed strong under duress on multiple power plays.
"I'm just doing my job," Grzbek said. "It's a team effort, guys are blocking shots every single period, it was awesome to see. They made my job easy for most of the game, making big saves is all I have to do, it doesn't matter if it's 10-3 or 1-1."
DePaul (4-0) will be back in action on Friday, Sept. 30 for a road matchup against University of Wisconsin-Madison at the Ponds of Brookfield Ice Arena with faceoff scheduled for 8:00 PM.
"It shows we're legit this year," said Ash. "A lot of confidence comes through that, we didn't just beat them, we put 10 goals on them. It clearly shows that we're no joke here and we're ready to go and make a run at Nationals."
Connect with Tom Gorski: @ThomasGorski33 | [email protected]