A student's guide to midterm elections
With midterm elections approaching in three weeks, more and more information has been thrown around online. The DePaulia thought it would be helpful for students to have a guide to follow that breaks down important pieces of advice for everyone to make the best decision. 
Piece of advice #1: Decide where your vote counts
While this seems explanatory, it is important for students to decide where they should use their vote. Do the policies happening in your hometown matter more to you then voting on what happens to Lincoln Park while you are living here? There is no right answer but it is important to think about if you plan to go back home after college or stay. 
Chicago GOP Jeff Fieldler's advises students to make a decision where they should use their vote.
"So, the first thing they have to do is to figure out whether they are going to be registered to vote, where they're from, or where they're at for the next 2 to 4 years," Fielder said. "Politics at a local level is much more interactive with people who live in the neighborhood of politics at a national level." 
Piece of advice #2:  Find out if you're registered and where your polling station is
It seems stressful, but it is very accessible checking to make sure you are registered to vote in your area as well as where you can go Nov. 8. Your voter registration doesn't automatically change when you move districts, but there is still time to update.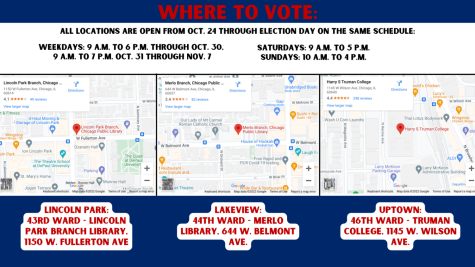 Emily Long, a Junior majoring in political science at DePaul believes one of the biggest pieces of advice is planning out beforehand where you are voting and that you are officially registered. 
"I have so many friends who just assumed it would be registered and that was so easy but ended up not being able to vote because they didn't check," Long said. "There's also a lack of accessible polling spots for disabled people, it's better to make sure beforehand because it's surprisingly not most of them."
Piece of advice #3:  Look up candidates on Ballotpedia 
While there are multiple new sources you can trust for information, a great resource for none biased election information is Ballotpedia. Ryan Williams, President of DePaul's College Republicans believes students should focus on fact checking and researching for themselves instead of relying on outside information.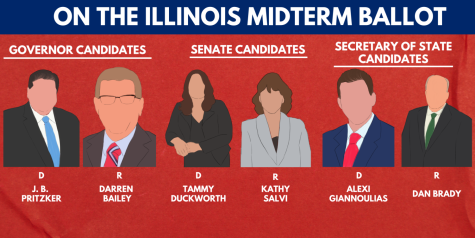 "The biggest thing is just for people to know what's going to be on the ballot and who they're voting for. There's a website called ballot pedia.org and you can type in your voting address," Williams said. "And it will show you everyone who's going to be on your ballot, what they're running for. That's just that's a great resource just to know ahead of time like, what you're going to be voting for."
Piece of advice #4: Focus on local politics 
A main piece of advice is paying attention to local politics. From aldermen to the County Board of Commissioners, these candidates affect the most of students' everyday life. 
"They know there's a president, they know there's the Senate and governors but they don't have any idea about the guy down the street that's running for the Illinois House or the Senate or the County Board of Commissioners," Fielder said. "Those are people that make decisions that impact their day to day life living at DePaul."
Injustice Watch recently created a Cook County Judicial Election guide to help Chicagoans make a more informed decision on the 61 judges who are running for retention. Included in the guide is researched information covering past controversies, notable reversals, ratings and if a judge was a former prosecutor or public defender. 
Jonah Newman, the managing editor for Injustice Watch thinks students should focus on the policies that affect them locally, like circuit court judges. 
"We like to say that judges are the elected officials that people are most likely to come into contact with whether that's because you got a traffic ticket, and you're contesting it or maybe going through a divorce or settling the estate of someone who has passed away, and there's all kinds of ways of facing eviction or foreclosure," Newman said. "There's all kinds of ways that judges come into our lives and their decisions affect people's lives. And so we just want to make sure that people are making choices about who sits in this position."

Piece of advice #5: Pay attention to the Policies instead of Politicians 
Voting on a politician's values is an important way to find out who to vote for if having difficulty with deciding. 
"It's not about voting republican or democrat, it's better to focus on what policies are going to affect you and what you vote for now will change how we live five-ten years from now," Fielder said. "We are seeing that now with programs in the state of Illinois and from a financial standpoint that we can't ignore the money they're spending now and what's going to cost us."
Newman also wanted to include focusing on what the politicians stand for is key to deciding who to vote for. 
"I think that's true of how [elections] get covered in the US, but there's a lot of that like the horse race result was down. Who made this comment, who said the wrong thing, rather than really looking at all of the positions the candidates have on issues," Newman said.  "So I think that's what I would suggest is looking for voter information that really focuses on that candidate's policy.I think in the governor's race, policy divisions are pretty stark and obvious and so being informed about where the candidates fall on issues that matter to you, I think is really important."