'The Image Disappears': Chicago Art Institutes's latest exhibit explores the dichotomy of Salvador Dalí
Oozing pianos, furry fruit and mink tufts on marble captivate those who enter gallery 289 at the Chicago Art Institute. 
Bringing together over 30 paintings, sculptures and drawings, "The Image Disappears," which opened in February, is the Art Institute's first-ever solo exhibition of Salvador Dalí's work. Best known for his surrealist style and zany personality, Dalí's dreamlike imagery and optical illusions have redefined the genre of surrealism.
Characterized by its fluidity in its user's medium, surrealism aims to balance a lucid depiction of life with one that affirms the power of the subconscious and dreams.
Primarily featuring work from the 1930s following Dalí's rise in the surrealist movement, "The Image Disappears" highlights the Spanish artist's simultaneous desire to be seen and urge to disappear. 
"His work is very unique and very unusual," attendee Lina Harwell said. "There of course were other surrealist painters, but I think Dalí stood alone in his vision and creativity and execution."  
Born in 1904 in Figueres, Spain, Dalí was encouraged by his parents to pursue his artistic talent and quickly embraced themes of human sensation, sex and ideographic symbols within his work. By 1929, Dalí fully adopted surrealist principles, seeking to explore the unconscious mind through art, resulting in dreamlike and unsettling imagery.
Although a relatively small collection, some of Dalí's most famous works like "Soft Construction with Boiled Beans (Premonition of Civil War)" and "Mae West's Face which May be Used as a Surrealist Apartment" are housed in the gallery.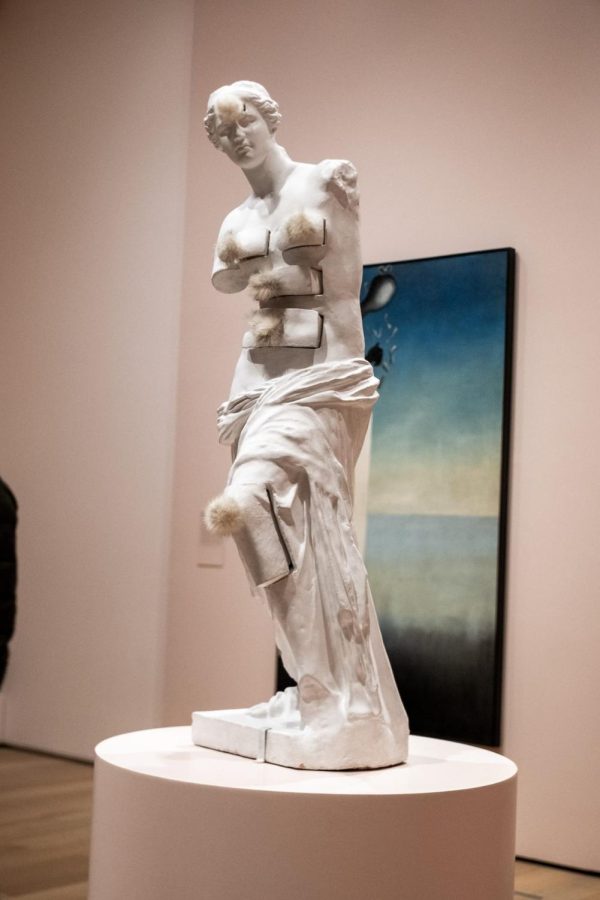 "I really liked 'Apparition of Face and Fruit Dish on a Beach,'" School of the Art Institute of Chicago alumni Mia Wickman said. "It has just got so much going on and just so imaginative and makes you think about everyday life in a different kind of way."
Painted on the heels of Dalí's rise to fame in 1934, "Apparitions of Face and Fruit Dish on a Beach" features the painter's original paranoiac-critical method. This approach allowed users to perceive multiple images within a single configuration, such as a human face, a dog on a beach and a bowl of fruit.
"I've lived in Chicago a long time and just love to come to the museum," Wickman said. "Dalí is in one of my favorite time periods of art, which is the Dada surrealist period, which is one of my top favorite periods overall, so I knew I had to come to the exhibition."
First acquiring a Dalí painting in 1933, the Art Institute was one of the only cultural organizations to display the budding artist's whimsical yet unsettling imagery. Currently, the Institute holds more than three dozen of Dalí's creations.
For DePaul French professor Clara Orban, "The Image Disappears" goes beyond Dalí's artistic ability as it also captures his goading personality.
"He was also a provocateur, I mean all of the surrealists were, but he sexualized his work and brough the sexual underpinnings of a lot of surrealism and made it part of his work," Orban said.
While the Art Institute's collection is relatively tame, void of the artist's more taboo pieces like "The Great Masturbator" and "The Spectre of Sex Appeal," Dalí's fascination with unconventional themes permeate the exhibit. 
However, like many artists from the 20th century, Dalí's legacy is not without controversy. 
"He was always kind of on the wrong side of politics in the 20th century,"  said Mark Pohlad, a DePaul Art History professor. "During the Spanish Civil War, he was on the side of the Francoists rather than on the side of the Republicans and the Freedom Fighters."
In addition to supporting Franco's authoritarian regime, Dalí was also captivated by Adolf Hitler, dedicating three paintings to the dictator over four decades.
"Even André Breton who was the leader of the surrealists more or less excommunicated him from the group because he was getting too commercial and he also made some kind of flattering remarks about Hitler," Pohlad said. 
Following Dalí's exile from the surrealist group in 1939 due to his fascination with Hitler, he settled in New York before moving to California, where his paintings focused on religious and supernatural elements. 
"It has taken 75 years for us to acknowledge Dalí's past, but on the other hand we don't dare go down the road of Frank Lloyd Wright and Woody Allen, who is a monster," Pohlad said. "My hope [for the exhibit] is that it acknowledges the misogyny of the surrealist art."
"The Image Disappears" will be available for viewing at the Chicago Art Institute until June 12.