Chicago native Yari Vargas is no stranger to the city's dense network of dining options. Born and raised in a household with Puerto Rican and Honduran roots, she did not have to look far for authentic flavors.
In 2013 she opened Casa Yari on 3268 W Fullerton Ave, promoting Latin fusion fare with a menu that included grilled meats to vegetarian dishes. A cozy interior with a lively presence, her background would be the deciding difference between other culinary alternatives.
"Chicago is known for so many amazing restaurants, and sometimes it's hard to be visible and compete with all these other options," Vargas said. "But above everything, staying true to myself has been the key to Casa [Yari]'s success."
A decade later and Casa Yari continues to promote Yari's homegrown roots by blending family recipes with Chicago influences to make an experience as distinct as it is personal. 
As Yari's restaurant continues to grow, her efforts reflect the intimate side of dining amid Chicago's sprawling grid of culinary offerings. This tone is shared among few other establishments in the city, as each promotes a personal narrative through their own cultures.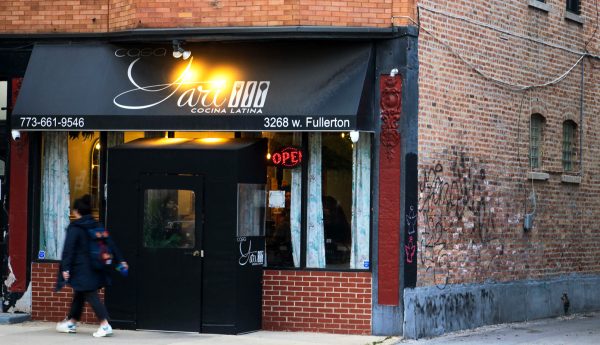 For Michael Campo, co-owner of Mart Anthony's Italian Restaurant on 1200 W Hubbard St. dishing up Italian tastes would take an entire childhood to master. While growing up alongside the business, his grandpa and the spaces' founder, Martin Campo, set a family standard.
"I think the most important part is making people feel comfortable, making them feel welcome," Campo said. 
On the walls of Mart Anthony's lies a rustic coating of family memorabilia, as pictures of Michael, his grandfather and the remaining Campo family speak to three generations of restaurant enterprise. With walls painted by a crimson red that are blended between door frames and baseboards of aged oak,  every item inside Mart Anthony's holds its own history. 
Upon entry customers are welcomed by a row of chairs lined across a bar rail. These seats reflect the same walls that surround them, in both design as well as history and although one cushion may look like the 20 others around it,  they are all separated by the unique experiences they offer. Countless-nights of banter and casual conversation that no cleaning — no matter how extensive — could wipe away.
"My grandpa, for example, this was his life," Campo said."He spent more time in this chair that you're in right now than he did with my grandma."
Welcoming visitors like family, Chicago citizens come to Mart Anthony's for a night of conversation and across town on 2748 N Lincoln Ave, a breakfast scene gets up early to share this same ideal. 
Founded in 2012 by Tanya and Craig Richardson, Batter and Berries had one mission: to redefine Chicago's brunch scene. Using a color palette of bright yellow and grape purple to draw patron eyes they would first open shop in Lincoln Park. Reeled in by a rich aesthetic, customers would stay for their soul food infused dishes 
Famous for their cheese-crusted hashbrowns and "world-famous French toast flight," a good breakfast is only as good as those who make it. Craig Richardson defined the value they place towards their food and how this focus adds to the brand's image as a whole.
"There are a lot of great places to target," Richardson said. "With good food or customer service, they get a lot of business but they don't have a full product. Product is my teaching. Product is everything."
For independent establishments hoping to grow it's standard like this that are only maintained off the strength of every appetizer, entrée and even the occasional dessert. Each of these spaces representing their histories at large, to them, being genuine, isn't a suggestion. It's a code.  But in all this deliberation on quality, many patrons are turned into lifelong friends along the way. 
"That's how I feel with my regulars," Vargas said. "If I'm adding something new or a special on my menu, I get excited to have them try it and get their opinions. Whenever I see them, I hug them just like family."
Customers welcomed in with open arms, these restaurants reflect more than just dining but a community narrative that continues to grow with each visiter. 
"This is his home, his dining room, his living room, and he invited people in and that's what we've continued doing," Campo said.