DePaul women's tennis serves back early struggles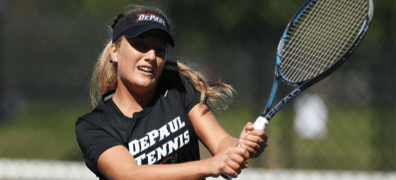 When DePaul women's tennis finished 22-4 and as Big East champions last season, this wasn't the start the No. 46 ranked team was expecting.
Certainly, the Blue Demons never expected an 0-2 start in the first weekend of the season Jan. 24 and Jan. 25 in Nashville, Tennessee.
"It was a very tough weekend, morally and physically," senior Patricia Fargas said. "We said at the beginning of the year we at least wanted to beat Texas and losing 4-3 was really rough."
The No. 46 Blue Demons started off the year with a chance to knock off a ranked team in No. 22 Texas, but they were not able to rally after going down 3-1 and falling 4-3 to the Longhorns. Then they faced off against No. 50 Harvard and fell 4-3 to them as well.
While the Blue Demons did bounce back with a three-win weekend over Toledo, Cleveland State and Case Western this past weekend, the performances from the team's first two matches went against expectations.
"I expect us to win the Big East, to be in the top 40 in the country and to keep getting better," head coach Mark Ardizzone said.
Ardizzone also said that the players set their own goals for the season.
"I'm a senior this year so I have pretty high expectations and there are a few things I know we can accomplish," Fargas said. "We have a really solid team so I want things to flow well and to win the Big East and make NCAAs."
The players also set personal expectations, including reigning Big East player of the year, Fargas.
"I think the pressure is something I put on myself, I don't need others to do it," she said. "Because it is my last season here and I want to end it on a strong note, clearly that's already huge pressure I'm putting on myself."
Ardizzone was not happy with the loss, especially because of the Blue Demons' uncharacterisitc mark of letting a close game slip away. In 2014, DePaul went 3-0 when matches were decided by one game.
"It was disappointing, we had our chances to win but as a coach, I always feel like when you didn't have a chance to win, that's not a good thing," he said. "Both matches we had a chance to win and what I think was great was getting to play such close matches."
The Blue Demons now sit at 3-2, but Ardizzone said DePaul is trying to get past the level they have been at for the last couple of years.
"The expectations are higher for us. We're not satisfied with being a top 50 team anymore," he said. "They have to work now and understand that we have a lot of good things but we have to work for all of them."
Fargas and fellow captain Rebecca Mitrea lead the Blue Demons. They returned junior Ana Vladutu, who became the first DePaul women's tennis player to participate in the NCAA singles tournament.
They also have a new number one singles player in freshman Patricia Lancranjan. She came into the season ranked No. 93 in the ITA singles rankings and, although she lost both of her matches in the opening weekend, Ardizzone looks for her to continue to improve throughout the year.
"At every school the number one is great and she's run into a bunch of them already," he said. "She's learning that you can't let up, you have to play."
The Blue Demons close a four-match road swing on Feb. 7 against Indiana before their home season opener the next day against San Jose State.