Women's basketball freshmen are helping the team win
One-by-one, it feels like, DePaul women's basketball has lost players to injuries.
It started before the season when junior forward Mart'e Grays was ruled out for the season. Then, junior guard Ashton Millender was knocked out in late November with shin splits and hasn't returned. Senior guard Jessica January broke her finger and could be out for the rest of the regular season, and then junior guard Lauren Prochaska, who had stepped into a starting role, picked up an ankle injury and her return timeline is unknown.
"One of the only negative aspects of coaching is seeing your players injured," head coach Doug Bruno said. "It's just tough to watch an athlete get hurt."
From the start of the season, DePaul had to change their probable lineups. Without Grays, DePaul was out a veteran rebounder and switched to a four-guard lineup with senior forward Jacqui Grant as the lone forward.
With the continuation of injuries, however, the role of the freshmen has since grown as the season has gone along. So far, they're helping DePaul win.
"I started off as sixth or seventh man and have had to take a starting role with all the injuries," guard Kelly Campbell said. "It's definitely been difficult as a freshman but I've learned to accept my role and to work hard every day to try and fill it."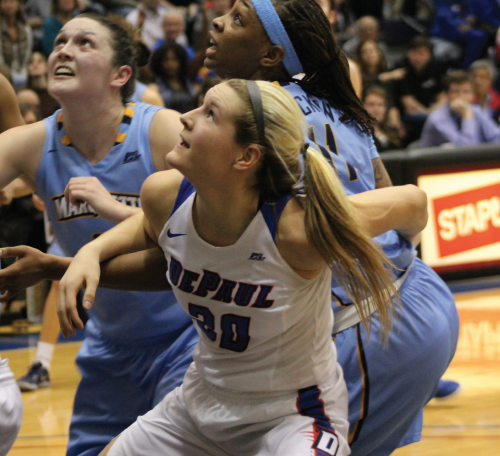 Campbell joined the starting lineup when Millender went down and has averaged 33.2 minutes per game in conference play. This goes along with 6.8 points per game for her.
"It's definitely a great feeling coming into this type of atmosphere," Campbell said. "The big crowds, the big games, it's really been fun coming into this."
Three other freshmen have seen their playing time increase: Deja Cage, Claire McMahon and Chante Stonewall. Stonewall has seen the most minutes of the three at 16.3 minutes per game in conference play, and will likely see even more minutes with the Prochaska injury.
"My emotions are high because it's a new level," Stonewall said. "It's different than high school and just getting out there and getting excited to play."
The injuries came at a bad time for DePaul as they had to play their first eight conference games in 18 days, which meant the bench and young players would be tested immediately.
"The adjustments were on the fly in that 18-day span, we didn't have a lot of time to practice," head coach Doug Bruno said. "It's just a new identity, a new team."
DePaul won the first eight of nine conference games before they lost to Marquette on Jan. 21. With three starters and a crucial bench option turned starter out for an indefinite amount of time, DePaul's run through the Big East has the young players gaining confidence. Campbell said that she has had help from the veterans as she increases her playing time.
"We just try to be really positive and hope they can get back as soon as they can," Campbell said. "Everyone has been very helpful with motivating me and helping me through it all."
It has taken a mental adjustment for some of the freshmen as they've taken on bigger roles sooner than they expected to.
"Just being able to sit down and concentrate," Stonewall said. "Being like, 'I can do this, I know what I'm capable of,' it's definitely a mental thing."