DePaul community 'on heightened alert' after recent crimes in Lincoln Park
The July 18 attack on a recent DePaul graduate near the Lincoln Park campus has shaken some members of the university community.
A 22-year-old woman, who the university confirmed graduated in June with a degree in anthropology, was attacked and slashed in the face and throat while walking home about 3:30 a.m. Chicago police said the incident occurred near the corner of Fullerton Avenue and Halsted Street – near the music school buildings – and that it was believed to be sexually motivated.
The woman was in serious condition as of last Tuesday. Police did not have a more recent update on her condition.
Some students are concerned about their own safety after the incident.
"I thought it was shocking," said Candace Bell-Hayes, a nursing student at DePaul. "Nowadays, you should never walk alone unless it's broad daylight."
Bell-Hayes said she would feel safer on and around campus if there were more emergency phones and cameras around. Though she lives in the suburbs, she spends enough time on campus to be concerned, she said.
"We're on heightened alert," DePaul spokeswoman Carol Hughes told the DePaulia.
The university is working with the Chicago Police Department, which has increased its presence in the area since the attack, police spokesman Anthony Guglielmi said.
"Patrols were increased in the neighborhood and we have been in contact with university authorities," Guglielmi told the DePaulia on Friday. He did not elaborate on how long the extra security presence would be around, and it was not clear how many extra patrols there are compared to before the attack.
DePaul Public Safety does provide its own foot patrols on both the Lincoln Park and Loop campuses, and Chicago police do regularly drive around the area. However, extra patrols are especially important because, unlike most public universities, including the University of Illinois at Chicago, DePaul relies on unsworn, unarmed officers within its Public Safety department for protection, and works with Chicago police to fill in the gaps. Some other private universities in the area, including Northwestern and the University of Chicago, do have armed university police.
Public Safety also offers a safety escort service from 6 p.m. to 6 a.m. every day at the Lincoln Park campus, which can be used to travel between one campus building to another or from buildings to parking lots.
However, the service can only be used on-campus – not to any surrounding buildings or other neighborhoods – is not available on the Loop campus and there "will be times when a student will be informed that officers are in the process of their duties, and students may have to wait for their escort," according to Public Safety's website.
Bell-Hayes said she was "very, very happy" when she learned about the safety escort service, though she said she thinks it should extend past the official boundaries of DePaul's campuses.
This is not the first safety incident in the area this summer. On July 13, a woman was attacked in her garage on the 1800 block of Fremont Street.
"You hear about these things happening in Chicago, but it puts it in perspective about how important it is to be careful," said Joli Daninger, a junior at DePaul who lives on-campus at Lincoln Park.
Though there are fewer students on campus during the summer term, the university still holds Orientation events for new students through August. At Orientation, the Public Safety department provides incoming students with safety tips, Hughes said.
For example, students are encouraged to walk in groups, avoid walking with ear buds in or otherwise avoid being distracted.
"It's a constant reminder to all of us in Chicago and abroad that we need to pay attention," Hughes said.
Still, all that will do is minimize the risk, she said.
Bell-Hayes said she doesn't always feel safe around the Lincoln Park campus and tries to take precautions.
"I try not to think about it and I try to stay low-key," she said. "I try to stay on my phone, talk to people so they know where I am."
"I think that's anywhere, though," she added. "If I were in the Carolinas, I would still be careful."
Daninger also said she takes precautions, like staying on busier streets and avoiding going out alone at night. Overall, she thinks DePaul does a good job helping students stay as safe as possible.
"There's some things that are just hard to avoid," she said.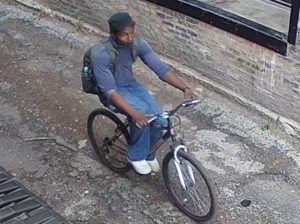 As of publication, Chicago police are still working to identify and question a man who may have been involved in the attack, as well as with a vehicle theft case. The man is "known to frequent" the intersection around Milwaukee Avenue, Grand Avenue and Halsted Street, and Division Street and Orleans Street. Police released clearer images of the man last Thursday.
Anyone with information or who may be a potential witness may contact police at 312-747-8380.