Crime rates up in Lincoln Park, double in Loop
A 35-year-old man was critically wounded after being shot early Sunday morning in the 400 block of West Fullerton Parkway, an area typically considered among the safest in the city. It was the latest in a series of violent crimes near DePaul's Lincoln Park and Loop campuses.
The man was standing on the sidewalk at about 2 a.m. when someone shot him from a red SUV, striking him throughout the body, the Chicago Tribune reported.
No one was in custody at press time and students did not receive a public safety alert about the incident as of 4 p.m. Sunday.
The summer's headlines included a recent graduate slashed in the face, an attempted kidnapping of a 13-year-old girl, a shooting near Theater on the Lake, a string of robberies on the "L" and in the Loop and a stabbing on the Red Line near Wintrust Arena.
All of those incidents occurred near DePaul's Lincoln Park and Loop campuses, which have generally been considered safe neighborhoods.
Crime has increased by about 40 percent this year around Lincoln Park and nearly 108 percent around the Loop campus, according to statistics from the Chicago Data Portal.
The 43rd Ward, where the Lincoln Park campus is located, has seen 2,033 crimes reported to Chicago police between Jan. 1 and Sept. 2 in 2019, compared to 1,452 by that point in 2018.
Meanwhile, the Loop campus' neighborhood, in the 42nd Ward, had seen 11,368 by Sept. 2 this year, compared to 5,470 by that point in 2018.
Though violent crime — which includes homicide, assault, battery, criminal sexual assault and robbery — does not make up the majority of crime in either ward, they have made up a larger percentage of all crimes so far this year in both wards than they had by this time last year.
Violent crime made up about 14 percent of incidents in the 43rd ward by September 2018, and it increased to 18.3 percent by Sept. 2 of this year.
By far, the most common crimes reported near both campuses was theft with 5,940 in the Loop and 902 in Lincoln Park, both by Sept. 2 this year.
Summer 2019 saw several violent incidents that dominated headlines.
A 22-year-old woman, who the university confirmed graduated in June with a degree in anthropology, was attacked and slashed in the face and throat while walking home about 3:30 a.m. on July 18. Chicago police said the incident occurred near the corner of Fullerton Avenue and Halsted Street, near the music school buildings, and that it was believed to be sexually motivated.
A man who may be connected to the incident was arrested in Texas last month, police spokesman Anthony Guglielmi wrote in a Twitter post.
Also in July, police said CTA passengers were being targeted in a string of robberies that occurred on CTA trains and platforms.
The robberies included:
One at the Jackson Blue Line station on July 27
One at the Harrison Red Line station on July 26
One at the Washington Blue Line station on July 24
Two at the Roosevelt Red Line station on July 23 and 28, respectively
Police did not say whether anyone had been arrested in connection with any of the robberies as of Sunday afternoon.
In another July incident, a man was stabbed to death onboard a Red Line train near the Chinatown stop, near DePaul's Wintrust Arena.
Tony Polk, who was recently paroled for armed robbery, was arrested and charged with first-degree murder in the July 13 death of 54-year-old Tony Johnson. Police said Johnson was trying to protect another passenger from being stabbed.
Seven people were hospitalized after a shooting July 20 near Theater on the Lake on Fullerton Avenue and Lake Shore Drive in Lincoln Park. A verbal altercation broke out between the two groups and led to gunfire, "with individuals from both groups firing handguns at one another," according to the Chicago Tribune.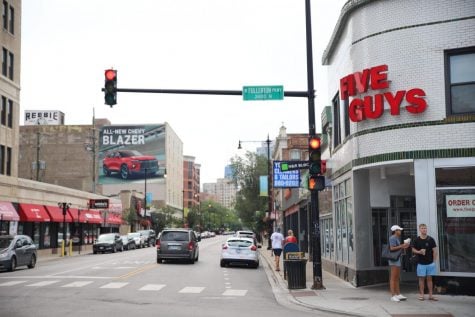 Most recently, a 13-year-old girl was the victim of an attempted kidnapping Sept. 4 in Lincoln Park, according to a community alert from Chicago police.
The girl was walking north along Orchard Street from Lincoln Avenue when a man suddenly came up behind her on a bicycle and "smacked her on the buttocks with his hand," the alert said. He then tried to grab the child's arm, a Chicago police spokeswoman told the Chicago Tribune.
Reactions to these incidents have been mixed from the DePaul community.
New students The DePaulia spoke to said the incident hadn't deterred them from attending the university, some saying that the attack happened late at night.
"It happened at like 3 a.m.," Natalie Lockett, a transfer sophomore at DePaul, said about the attack on the recent graduate. "I would never be out and about at that time."
Lockett said she never felt unsafe while sitting out in the Quad on the Lincoln Park campus, nor elsewhere at DePaul.
Other students, who are from Chicago, said that while there is indeed violence throughout the city, they generally still feel safe overall.
"There's violence in Chicago, but it's exaggerated in the media," Derrick Newton Jr., a first-year graduate student from the city, said.
Newton said he feels "moderately safe" overall, but more so in areas that he is already familiar with.
"This [Lincoln Park] is a new area for me, so I'm still looking at what all will come," he said.
DePaul provides public safety tips to new students during Orientation events over the summer, university spokeswoman Carol Hughes told The DePaulia after the attack in July.
Those tips include walking in groups, not having earbuds in and paying attention to one's surroundings, she said.
Freshman Briseyda Carbajal said she feels particularly safe at DePaul because of the call buttons that can be found in bathrooms on campus and because of staff being found throughout the buildings.
Other students that The DePaulia spoke to after the July incident involving the slashing of the recent graduate were more concerned.
"I thought it was shocking," Candace Bell-Hayes, a nursing student at DePaul, said. "Nowadays, you should never walk alone unless it's broad daylight."
Bell-Hayes said she would feel safer on and around campus if there were more emergency phones and cameras around. Though she lives in the suburbs, she spends enough time on campus to be concerned, she said.
Guglielmi previously told The DePaulia CPD increased its presence  around the Lincoln Park campus after the incident. It wasn't clear how many additional patrols were added or for how long they were in place.
DePaul Public Safety also sends out alerts to students, faculty and staff by email on or near either of the university's campuses. The department most recently sent out an alert during a bomb threat Friday, Sept. 12 at 55 E. Jackson Blvd., which is where DePaul's executive offices, including that of President A. Gabriel Esteban, are located.
—
How to stay safe on campus:
– Avoid walking alone late at night.
Travel in groups whenever possible and stay in well-lit areas. Avoid people on the street who you are concerned may present a problem.
– Be aware of your surroundings and don't leave valuables unattended.
That means keeping your music's volume low enough that you can easily hear what's going on around you, and not leaving your valuables out in the open. When riding public transportation, hold on to your phone or keep it in a closed bag when you're not using it.
– Take advantage of DePaul Public Safety's escort service.
Public Safety provides students, staff and faculty an escort from the department whenever one does not feel safe walking alone between 6 a.m. and 6 p.m. The service can only be used within campus boundaries, which are as follows: Fullerton Avenue to the north including Seton and Lot L, Webster Avenue to the south including Theatre School and Annex, Racine Avenue to the west, and Halsted to the east.
View Comments(1)