OPINION: Don't pity the accused: sexual assault allegations don't hurt men
Contrary to popular belief, sexual assault allegations rarely derail the careers of powerful men. Often, it is the accusers who have their lives uprooted by coming forward.
It's a familiar media narrative: A prominent, powerful man is accused of sexual misconduct. All the major news outlets chase the story, trying to pin down the accuracy of the claims made by the accuser.
Then the skeptics come in. Social media users are suddenly decorated detectives, poking holes in perceived inconsistencies in the recollection of the alleged crime.
The New York Times published an essay in a recent edition of the Sunday Review, featuring an excerpt from "The Education of Brett Kavanaugh: An Investigation," by two reporters, Robin Pogrebin and Kate Kelly. The excerpt details the third sexual misconduct allegation against Supreme Court Justice Brett Kavanaugh from one of his Yale classmates, Deborah Ramirez.
The excerpt alleges that while in college, Kavanaugh thrust his penis in Ramirez's direction while at a dorm party. Kavanaugh was allegedly drunk during this incident. Kavanaugh denied the allegation.
The Times later added an addendum to the story to clarify that Ramirez had declined to be interviewed for the book. To make matters worse, her friends claim that she did not remember the incident.
For the sexual assault deniers of the world, it appeared all was well: Kavanaugh was yet again the victim of a desperate, fame-hungry woman who would go to extreme lengths to smear his name yet again.
What these naysayers fail to realize, however, is that Kavanaugh still sits in a position of extreme privilege and power; while much of the country has written him off as a volatile repeat offender, his resume still reaps the benefits of a patriarchal society – namely, one of the most powerful positions in the country, to which he has a lifelong appointment.
This problem does not begin or end with Kavanaugh. From director Woody Allen to President Donald Trump, powerful men have been able to find continued success in their careers in the face of assault allegations.
"We've had numerous people that are in the public eye [who have been] accused of sexual assault with virtually no consequences," said Sarah Layden, the director of programs and public policy for Resilience, an advocacy group for survivors of sexual violence. "We've had elected officials that have still retained or, you know, won public office positions after being accused. We've had athletes that have continued to thrive in their careers after accusations that we had actors and other famous people that have continued to thrive in their careers afterward"
The act of publicly coming forward as a sexual assault survivor is not one that guarantees fame, wealth or any semblance of glamour. It is not a surefire way to seek revenge on a powerful figure. Oftentimes, those who accuse public figures of sexual misconduct are met with death threats and other forms of harassment from those who doubt their allegations.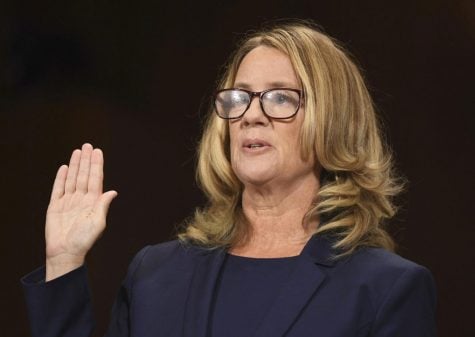 Christine Blasey Ford, who accused Kavanaugh of attempted rape in 2018, faced such severe threats that she and her family had to move houses four times as of November 2018, in addition to hiring a private security detail.
E. Jean Carroll, one of several women who has accused President Trump of sexual assault, faced similar threats, telling news outlets that she began sleeping with a loaded gun for protection.
"People who come forward are blamed or shamed in any number of ways and then completely vilified to the point that they received death threats," said Colleen Cirpa, the founder and executive director  for behavioral health at Cira Center for Behavioral Health. "Many of the people who came forward against Bill Cosby and certainly Dr. Christine Ford [were] absolutely vilified. They had their lives threatened as a result of their willingness to come forward. And so certainly it is not an easy road if you're going to step forward with an accusation of sexual misconduct by somebody in the public eye, and especially somebody who is beloved."
It is very possible that Ramirez truly does not remember the alleged assault that took place while she was in college. It is also very possible that she did not want to face the vitriol that comes with being known publicly as a sexual assault survivor.
"If people recant or say they can't remember, it's typically because they are scared of a backlash that they are receiving or they actually can't remember because the physiological systems at play make it so that their memory is impaired during trauma," Cira said. "None of that is an indicator of the accusations being untrue."
The growing list of allegations against Kavanaugh also establishes a clear pattern of his potential to be an abuser. It is less of a conspiracy to bring him down and more of an attempt to hold him accountable for his alleged transgressions.
"I think that the most recent victim coming forward only adds more fuel to this fire," said Hannah Kornblut, treasurer of Women's March DePaul. "Memory has nothing to do with the fact that this person was sexually assaulted. For me, personally, I think that as more people come forward and speak out, the more power there are to their words."
Additionally, the aforementioned socia media sleuths often chalk up public allegations to the seemingly ever-present false reports of sexual assault. However, false reports are far less common than is often thought.
A 2010 study published in the international journal Violence Against Women found that "the prevalence of false allegations is between 2 percent and 10 percent."
"One of the things that we need to look at is actual statistics and the fact that false reporting of sexual assault is actually one of the lowest false reports out of any violent crimes," said Colleen Zavodny, the coordinator of advocacy and crisis intervention at YWCA Metropolitan Chicago.
The question still remains: Did Brett Kavanaugh sexually assault Deborah Ramirez? I can't say for certain, seeing as I wasn't witness to the allegations against him. The only parties who know for sure what happened are Ramriez and Kavanaugh.
However, I don't think it's a coincidence that multiple women have come forward describing Kavanaugh's aggressive sexual behavior while under the influence of alcohol. What I can say for certain is that America will continue to turn a blind eye and show forgiveness to men accused of heinous crimes, while shaming those who put their safety on the line to come forward.
"I definitely think that we have work to do when it comes to society understanding the realities of sexual violence and supporting survivors when they come forward," Layden said. "I certainly understand how it is difficult for people to come to terms with the fact that someone they love or someone they admire has caused harm to someone else. And so I think that as a society we need to talk about that."
View Comments (2)