Doug Bruno celebrates 700th win as head coach of DePaul women's basketball
DePaul women's basketball head coach Doug Bruno always talks about treating the next opponent like they are the best team in the country, no matter their record. That's why he rarely gets fixated on looking back at the past, a career that up until Dec. 1 had produced 699 wins at DePaul, his alma mater. 
And with one win standing in his way from becoming the third active coach in women's college basketball to reach 700 wins at a single school, the focus was turned to taking down a city rival: Northwestern. 
On Dec. 1, Bruno, 69, and his team walked into Walsh-Ryan Arena with the intent of winning not just another game — a win that would not only improve the Blue Demons to 6-1 on the season, but give Bruno win No. 700 at DePaul. Forty minutes later, through another hard-fought battle between the two rivals, DePaul came away with a 70-68 win.
"Obviously, it was a little added pressure," senior guard Kelly Campbell said. "But I kinda just tried not thinking about it. Obviously, we wanted to get the win for coach [Bruno]. He does not like Northwestern, so it's great that we did it against them."
While some other coaches will look to take credit for their accomplishments and their wins, Bruno gives the credit to his players and assistant coaches for having a successful career that has now produced 702 wins at DePaul after their win over Notre Dame on Wednesday 
"First of all, the wins are always about the players," Bruno said. "The players win the games, and I've been blessed with great players through the years. I have been blessed with great assistant coaches, and I've been blessed with great administration. So, that's really why we win basketball games here at DePaul women's basketball. 
"The fact that we were playing Northwestern, I don't know if that has [anything to do with it]. When you coach for a living, you just want to make sure you win, you want to put your players in position to win the next game. So, to me, I don't feel like I've ever won a game in my life. I feel like the players win every game."
For a coach to reach such a milestone, they first have to be given a chance to prove their worth to someone. When Bruno graduated from DePaul in 1973 with an English degree and having played basketball for legendary coach Ray Meyer, he was a truck driver when he took an interview at Francis Parker High School, right at the corner of Belden Avenue and Clark Street., to be an assistant coach for the varsity boys team.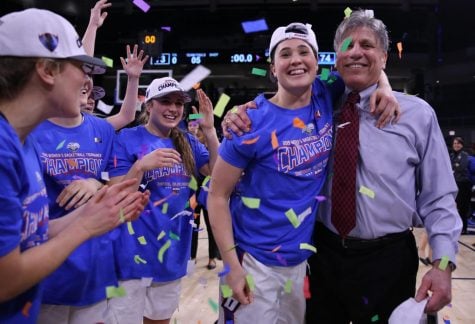 Within a day, he took the offer where his coaching career first began. A couple years later, Bruno got the chance to come back to DePaul to be the assistant athletic director and the women's basketball head coach. But for Bruno, the love wasn't in doing administrative work for 14 hours a day – it was the two hours he spent coaching women's basketball.
"When I was asked to come back to DePaul as the assistant athletic director and then was told I was going to go coach the women's team, I realized the joy of the day came from the two hours of coaching," Bruno said. "Jean Lenti-Ponsetto, Karen Loiacno, those were our players on my first team [in 1976-77]. The joy of the day was the two hours coaching my team, much more joyful than the other 14 hours of administration. So, basically, the players right away taught me that I want to be a coach."
Bruno would spend two seasons at DePaul before he took an offer to coach the Chicago Hustle, a women's basketball team in the Women's Professional Basketball League. The league would only last three years, but Bruno left after two seasons at the helm — in which he took an offer to become an assistant coach for the men's basketball team at Loyola-Chicago. 
After spending eight years at Loyola, the Chicago native returned to DePaul and the university's women's basketball program in 1988. Thirty years later, Bruno has brought the Blue Demons 24 NCAA Tournament and four Sweet Sixteen appearances. 
"Coach [Bruno] getting his 701th [at Green Bay] win is a really big deal, especially to Chicago," Jacqui Grant said. "It really shows to his work every single day; when he comes in, he knows what he wants to get done and he knows what he is doing. He has a great track record and being a part of that is a blessing, and then come back and being part of the 700th at DePaul is just icing on the cake, I guess you could say. And learning from him— not many people get to learn from such an icon in women's basketball. He's done such a great job for the sport, and it's always nice to have a male as like a trailblazer helping myself."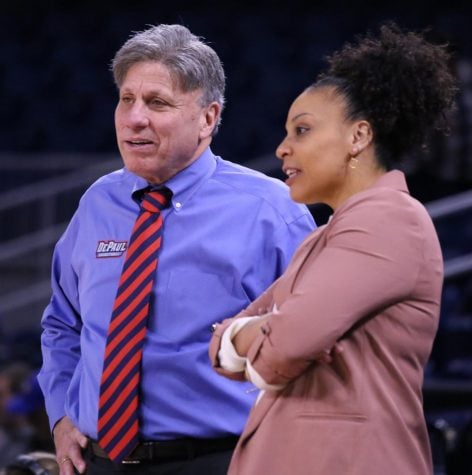 Grant played for Bruno at DePaul from 2015-2017, where she was named the Big East's Co-Defensive Player of the Year in 2017 while starting all 35 games for the Blue Demons. As a senior, she led the Big East in blocks and joined the 1,000-point club for her career. 
After serving as an assistant coach at South Florida for two years, Grant returned to DePaul on June 18 to serve as the video coordinator. She has been given the unique opportunity of playing for Bruno and now working with him. 

"I started out my career somewhere else, but he welcomed me with open arms and that just shows what kind of person he is," Grant said. "He lets things go in the past and then he just, he got me here, and made me better mentally, physically, emotionally, on the court [and] off the court – in every aspect of my life. I think that just the fact that he allowed me to come back and grow as a coach now instead of a player, just shows [the] kind of person he is, and he wants to teach as many people as he possibly can. Like I said before, he knows what he is doing. He is a legend in the sport and being able to learn from him is just an honor."
Fans of DePaul basketball have become accustomed to Bruno standing on the sidelines chirping at his players when they do something wrong in an attempt to perfect DePaulBall. But when he is not coaching, he also has a funny side to him that stands out to his players. 
"I think I've noticed more this year than any other year how funny he is," senior forward Chante Stonewall said. "Like Kelly said, he can be rough around the edges, but he's a very funny guy."
"He's got some really good one-liners," Campbell said. "I'm sure me and Chante know a lot of them because we have been here, but there's a lot of funny sayings."
The tough-minded and funny coach who has led the Blue Demons to 17-straight NCAA Tournament appearances isn't slowing down anytime soon. Over the summer, Bruno signed a six-year extension that would keep him in Lincoln Park through the 2024-25 season.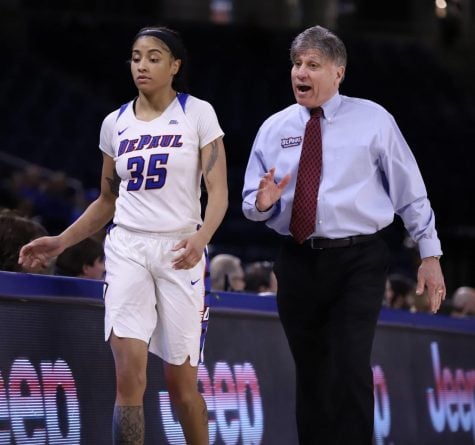 "I never look back; I only look forward," Bruno said. "We are very proud of what we have achieved here. We still have not beaten about 10 programs in the country that are ahead of us. In the food chain of women's basketball, we've beaten just about everybody, but we have not beaten everybody. We have taken this program to a very high place, but we still have not won a National Championship, and there are still some things we have to do here. 
"If I'm going to ask my players to be motivated, to be the best they can be, if I'm going to ask my players to be fearless, then I look at this as what is there still to be done, not what has been done. So, we still have miles to go before we sleep. 'Miles to go before we sleep,' that's a Robert Frost quote from his great poem, 'Death of a Hired Man.' That's really what motivates me."