DePaul fires Dave Leitao after six losing seasons
DePaul has fired men's basketball head coach Dave Leitao after finishing last in the Big East for five consecutive seasons, a source confirmed to The DePaulia on Monday.
Leitao, who signed a four-year contract extension last April, compiled a 69-112 overall record and a 21-84 record in Big East play — including five straight last-place finishes in the conference — in his six seasons in Lincoln Park.
His sixth and final season resulted in a 5-14 overall record and a last-place finish in the Big East, going 2-13 in conference play. The Blue Demons won their first-round game against Providence, 70-62, in the Big East Tournament, but got humiliated by UConn in the quarterfinals, 94-60.
The four-year contract extension that Leitao received last year was given by former athletic director Jean Lenti Ponsetto, who retired last summer, and the contract reportedly has no buyout or guaranteed money. 
DeWayne Peevy was hired on Aug. 24 to replace Lenti Ponsetto. He spent the previous 12 years working at the University of Kentucky while helping to oversee the men's basketball program, which is one the most successful programs in college basketball.
DePaul had issues starting its season in November and December due to multiple Covid-19 pauses. In total, the Blue Demons had to cancel or postpone their first 10 games before starting their season on Dec. 23 against Western Illinois. DePaul was only able to play two non-conference games, winning both of them, before playing 15 of 20 conference games.
Leitao was the Blue Demons' coach from 2002-05 and led the program to its last NCAA Tournament appearance in 2004. Leitao left for the University of Virginia after the 2004-05 season before being brought back by Lenti Ponsetto in 2015. 
In Leitao's introductory press conference in 2015, he promised to turn DePaul into a good defensive team and to reach the NCAA Tournament.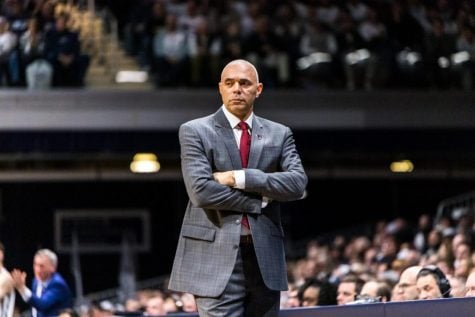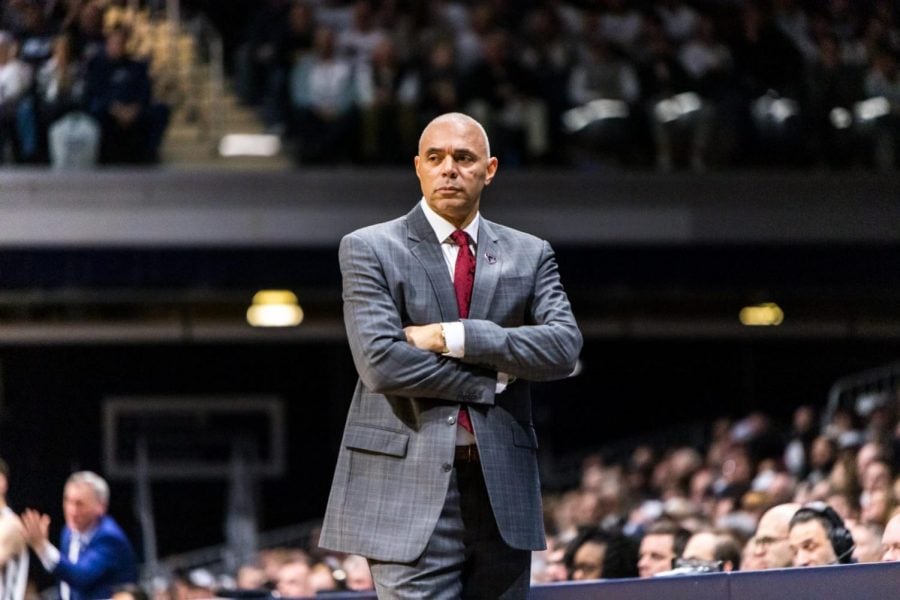 "Defense is in my DNA and it's what I was brought up to teach," Leitao said. "The ultimate goal is to reach the NCAA tournament. And that's what we're going to do. It's going to be really, really soon."
Neither of those things happened in his six years. DePaul has only finished in the top 50 of adjusted defensive efficiency twice, according to KenPom. And the Blue Demons didn't come close to making the NCAA Tournament.
Unlike the success that Leitao achieved in his first three seasons at DePaul, the results were much worse in his second stint with the program. When Lenti Ponsetto announced the hiring in 2015, she said the expectation was to "win now."
"We don't see that as a rebuilding project, but an opportunity to take the next step in the process," Lenti Ponsetto said in 2015. "Our expectation is to win now. We have talent here that needs to be re-engineered. It was clear to our search committee that Dave Leitao was our number one choice."
Instead, DePaul did everything but win in Leitao's first season back at the school. The Blue Demons went 10-22 overall and 3-15 in the Big East but finished in ninth. 
It wasn't until the 2018-19 season that DePaul recorded its first winning season under Leitao and the program's first in over a decade. The Blue Demons finished 19-17 overall and 7-11 in the Big East, the program's best conference record since the 2006-07 season.
The winning record was boosted by a 4-2 finish in the College Basketball Invitational (CBI) tournament following the end of the Big East Tournament. DePaul made it all the way to the championship series but lost in three games to South Florida. The Blue Demons hosted all but one game at the McGrath-Phillips Arena.
"I think we are constantly building, I don't know about a rebuild, I don't know what that means," Lenti Ponsetto told The DePaulia in May of 2019. "We are constantly trying to grow the program. We are hitting a lot of our benchmarks, and I feel really positive about the growth of where we were heading."
DePaul finally started to show improvement in Leitao's fifth season, with the Blue Demons winning 12 of their first 13 games in the 2019-2020 season. They also won their first nine games, beating Iowa, Minnesota and Texas Tech before crashing in conference play. DePaul went 3-15 in the Big East, finishing in last place. 
While the Blue Demons' performances on the court improved somewhat in Leitao's fourth and fifth seasons, that momentum was stymied on July 23, 2019 when the NCAA suspended Leitao for the three first three games of the 2019-20 season for "failing to promote an atmosphere of compliance" because multiple men's basketball staff members knew about an arrangement to "provide impermissible recruiting benefits to a recruit," according to the NCAA. DePaul's men's basketball program was also put on probation for three years for illegal recruiting activity. 
A former associate head coach arranged for the assistant director of basketball operations to travel out of the state to live with the recruit to ensure that he completed NCAA core courses and became immediately eligible to compete, according to the release. 
DePaul agreed to accept the penalties but publicly supported Leitao in a statement it released after the NCAA findings were made public.
"DePaul respectfully disagrees with the COI's findings relative to head coach Dave Leitao under the Head Coach Control doctrine," the statement read. "Coach Leitao is a man of character and integrity, who has the support of the administration in leading our men's basketball program."
In terms of overall recruiting, Leitao has been able to bolster DePaul's roster via both the transfer portal and the high school route. Romeo Weems and Markese Jacobs were Leitao's first two four-star recruits out of high school, with both of them coming to Lincoln Park in 2019.
Leitao has also been able to land several impactful transfers over the years, including Charlie Moore, Jalen Coleman-Lands and Javon Freeman-Liberty.
But the issue has been keeping some of these players in Chicago for more than a couple of years. In fact, Eli Cain is the only player during the Leitao era who spent his entire four years at DePaul. The Blue Demons have seen nearly 20 players transfer out of the program in the past six years. 
DePaul has also seen two highly rated recruits initially verbally commit to the program before changing their minds. In 2017, five-star recruit Tyger Campbell announced he was verbally committing to DePaul to only switch his decision a couple of months later, eventually committing to UCLA. 
Similarly, in August of 2018, local product and four-star recruit Terrence Shannon Jr. verbally committed to DePaul — and then a week later, again opened up his recruitment. Even though DePaul was still in the mix, Shannon Jr. eventually signed with Texas Tech in 2019. 
Leitao also helped guide the program to a stadium change to start the 2017-18 season when DePaul moved from playing its men's basketball games at Allstate Arena in Rosemont, Illinois, to Wintrust Arena in the South Loop. 
DePaul has had trouble filling Wintrust Arena in the three seasons that fans have been allowed to attend games, with the 2020-21 season being played behind closed doors because of Covid-19. 
View Comments (13)