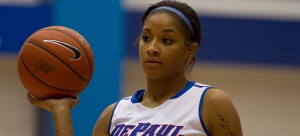 Imagine if right after you graduated high school your first class in college was advanced biochemistry with one of the toughest teachers on campus. That is what freshman forward Mart'e Grays will be experiencing when she steps on the floor against No. 5 Texas A&M at McGrath-Phillips Arena at 6:30 p.m on Nov. 14.
But if her skills are any indication, Grays will be up for the test.
Grays, who finished sixth in the Miss Basketball Michigan race, is looking forward to making an impact at DePaul this season. The 6-foot-3 forward, from Detroit's Martin Luther King, Jr. Senior High School, is a versatile forward who has a combination of skill and athleticism that will make her hard to stop. Coach Doug Bruno tried recruiting the Martin Luther King, Jr. Senior High School student for a while, and was able to get their top player from a team that reached the regional final.
In Grays, Bruno recruited a player who fits the type of athlete who excels in his system. Grays has the ability to fit in perfectly to run fast breaks and can step out of the perimeter to shoot 3-pointers if left open.
However, Grays is also unique in that she can use her size to her advantage — something that DePaul has lacked in the last few years outside of graduated Jasmine Penny. She has an array of post up moves and she models her game after her favorite player, Kevin Durant.
"I love the school, and I love Coach Bruno," Grays said. "Academically, it was the best out of all my other schools."
  Coming to DePaul gave her a strong support system that she can learn from, and will later give her the ability to teach other players like she is being taught now by the older players. Being a young member on a winning team, Grays is very humble when it comes to what happens in the locker room.
"I just sit back, watch, and learn," Grays said. "Whatever (my teammates) tell me to do, I do."
Even though Grays is the sort of athlete who could help boost DePaul, Grays' playing time isn't guaranteed. Jessica January was in a similar situation as Grays last year. January was a highly recruited freshman who received playing time.
"Coach Bruno does not give any promises to players if you play hard you are going to play," January said. "(Grays) has been doing extremely well without advice on her own.  The thing for freshmen is that they need experience, and you can only gain that by playing."
Though Grays has drawn rave reviews coming out of high school, Bruno said Grays still has to get adjusted to the college level.
"She is very competitive on the offensive side of the ball, but we have to get her equally competitive on the defense side," Bruno said. "What makes freshmen play like freshmen is consistency or lack of consistency."
Yet, Grays is in a position to prove herself early. She was in the starting lineup during an exhibition game against St. Xavier, and it looks like she will get a lot of playing time this season for the Blue Demons. With three other forwards on the roster, Grays' size and speed will be needed. With the potential of Bruno starting three guards and rotating the four forwards, Grays has to be able to make an impact immediately.
Grays' season is going to be filled with challenges and learning experiences. The road games against Big East rivals will be a determining factor on how she can handle pressure.
"I don't get nervous," Grays said. "I don't look in the stands. I just worry about the game."