Neck & Neck: As polls narrow, Democrats are fighting to keep control of Senate
With Republicans likely to win back control of the House of Representatives, hopeful Democrats have turned their attention to the Senate, which is still a toss-up just one day before the midterm elections.
The GOP appears to be gaining momentum at just the right time. Polls and forecasts suggest Republicans have approximately a 54% chance of winning the Senate; their best odds since July. This trend is not a surprising one, as the controlling party tends to lose seats in both chambers of Congress come the midterm elections.
"Every midterm election since World War II, on average, the president's party has lost 26 House seats [and four in the Senate]," DePaul political journalism professor Chris Bury told The DePaulia. "The dynamic is that there is always some pushback against the party in power, and the opposing party can do a pretty easy job of communicating that whatever the problems of the country are, they can be blamed on the president."
Considering the Democrats won the House, the Senate and the presidency in 2020, this made it even easier for the GOP to advocate for a change in leadership.
"We're seeing that directly with gas prices and inflation, both of which are largely beyond the president's control," Bury said. "That doesn't matter. In politics, it's Biden's fault."
Even with the GOP favored to win the House and slightly favored in the Senate, current polling suggests that Republican gains in both chambers would be modest by the standards of other midterm elections. Barring extreme polling errors, a "red wave" the likes of 2010 or 2014 is looking unlikely.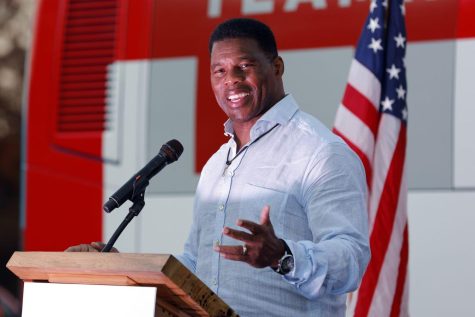 Current forecasts indicate that control of the Senate will likely come down to four key races: Arizona, Georgia, Nevada and Pennsylvania. If this is the case, Democrats have an uphill battle. They will have to win three of these four races in order to retain the Senate's control, while Republicans need just two of those races to go their way.
"It's interesting that some of these Senate races where it seems to be the closest are in the states that Biden did win," said Lucy Moog, Democratic activist and committeeman of Chicago's 43rd Ward. "The Democrats have some really good candidates in these places who are generally moderate, thoughtful, while the Republicans have some of these extreme candidates who are election deniers."
Two of these races feature Republican candidates who are complete political outsiders. Television presenter Mehmet Oz, better known by his TV alias "Dr. Oz," is running in Pennsylvania, while former NFL running back Herschel Walker is doing so in Georgia. Both candidates were endorsed by former president Donald Trump.
"They've never worked in government," Moog said. "They've had incredible careers and are celebrities in their own realm. But have they ever worked on inflation? Do they know anything about prescription drugs and trying to reduce costs?"
The races in Pennsylvania and Georgia also happen to be the closest contested, with polls from each falling within the margin of error. Walker's race in Georgia against Democratic incumbent Raphael Warnock has been close since the beginning of his campaign. The Walker campaign briefly took a hit in polling after the anti-abortion candidate was accused of paying for at least one woman's abortion in the past. Forecasts have swung back in Walker's favor in recent weeks.
"The idea that a truly underqualified candidate is poised to unseat an incumbent senator, even though [Warnock] has only been senator for two years, is shocking," Bury said.
Meanwhile, Oz gained significant ground on his Democratic opponent, lieutenant governor of Pennsylvania John Fetterman, following Fetterman's stroke in May that dissuaded some Pennsylvania voters.
With both races still a coin-flip and several others nearly as close, Democrats like Moog are preparing for the possibility of a Republican-controlled Congress.
"It's a very real possibility," Moog said. "I just don't think Mitch McConnell is open to working with President Biden for any sort of compromise or any sort of change."
If this was to happen, however, the GOP's power to further their own agenda would still be limited with Biden controlling the presidency.
"They won't have a veto-proof majority in either chamber," said Oren Jacobson, reproductive health activist and founder of Men4Choice. "They're not going to be able to do any more damage, but they can write bills that are going to feed their base,… maybe try to pass something like a national abortion ban. But even if they pass it through both chambers, the president's not going to sign off on that."
In fact, Jacobson believes that Republicans are actually underperforming their expectations. One reason for this, he says, is the Supreme Court's overturning of Roe v. Wade earlier this year.
"We've seen when people have gone to vote recently is that pro-choice voters are showing up to vote," Jacobson said. "They're showing up to vote young. More women are showing up to vote."
Still, the race for the Senate is neck and neck. As the country awaits tomorrow's election results, fixed to their TVs, Jacobson wants voters to know that the most important races are not the ones getting the most media attention.
"Focus on your own backyard first," Jacobson said. "Everybody wants to focus on the United States Senate or some House district in some other part of the country. Job number one is in your own backyard… They're the most important races in America."