Demons thump Xavier by 45 to end four game skid
In a dominating overall performance, DePaul put their four game skid behind them picking up their largest win margin of 45-points in a 93-48 defeat, over Xavier Saturday afternoon. 
The Blue Demons capped off the win shooting exactly 50% from the field. They combined for 29 assists as a team which was a game high for the season. 
Bruno was missing both senior Anaya Peoples who suffered a concussion against UConn on Jan. 23 and freshman Maeve McErlane, who was in a walking boot on her left foot, but her official injury was released to the public. 
DePaul turned to freshman Tara Daye to replace the void that Maeve McErlane left. Daye logged 28 minutes on Feb. 1 against Creighton off the bench. She added 10 points in the loss, but her strong performance placed her in Saturday's starting lineup. 
Although she only had a four-point game, Daye had a career high 12 assists and four rebounds on Saturday.
"Tara has been amazing," Morrow said. "To be a freshman, and just come in with not playing as many minutes throughout the season [she has taken] on a big role. I feel from our  last game against Creighton to now, she's done a great job distributing the ball and playing to her strength." 
DePaul commanded the game entirely. They forced the Musketeers into nine first quarter turnovers holding them to 20% from the field. That defensive pressure continued throughout the course of the game, with the Blue Demons forcing 30 turnovers – the second highest of the season creating 43 points from the turnovers.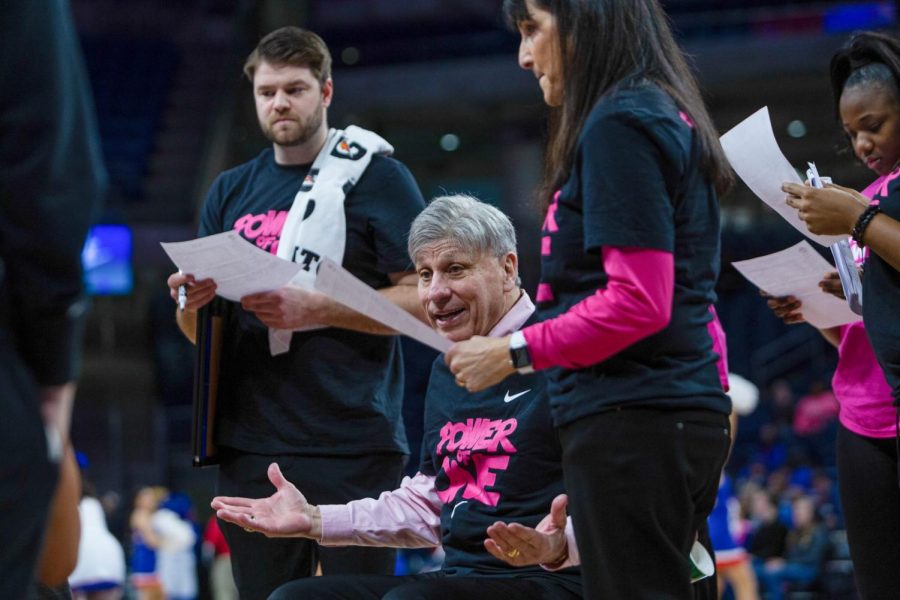 Morrow had one of her more efficient shooting performances of the season. Her sixth 30 point game of the season had her nearly adding the programs seventh triple-double. She finished with 30 points, 11 rebounds and seven steals, while going 13 of 19 from the field. 
This was Morrow's 18th double double on the season with her averaging 25.4 points and 11.6 rebounds per game.
Defensively for DePaul, the 48 total points allowed were the fewest given up this season. For a Blue Demon team who leads the Big East in points allowed per game, Bruno emphasized the team's best performance. 
"What I love about it was the number of turnovers forced by being in the quarter court," Bruno said. "It wasn't like we were up pressing the whole game to force that many turnovers. That is something that is impressive. But you also have to make stops, you have to hunker down and stay in front of people and guard people." 
As the fourth quarter got underway, DePaul opened their largest lead of the game at 40 and junior Kendall Holmes rained down two threes tying her season total of 21 points. 
Holmes has been DePaul's best, and most reliable, three pointer this season. She is currently fourth in the conference shooting 41% and has made 54 threes this season. 
"I definitely look for the three the most," Holmes said. "My teammates do a good job of finding me when I am open." 
DePaul and Xavier both played in support and remembrance of the late head coach Sandra Kay Yow. The Hall of Fame coach from NC State lost her battle to breast cancer in January of 2009. 
NCAA women's teams across the nation each have a game themed around Play4Kay, an opportunity for teams and the world of basketball to do something for the greater good which far exceeds the wins and losses of basketball. 
"Coach Kay was a very close friend," Bruno said. "She was just a great woman, a classic great coach, [she was] a rare coach that could be as successful as she was, as strong as she was, make her players as accountable and still be so sweet and nice. She was a great woman and a great person. 
The great Jimmy Valvano and Kay Vow both coached at NC State at the same time during their tenure and have left the basketball world with remembrance and perseverance to let others know that cancer is not something you have to go through alone. 
Next up for Bruno's squad is Butler, on Wednesday, Feb. 8 at 7:00 p.m. at Wintrust Arena. The Blue Demons hope to potentially flip the script on the season with eight games remaining.
"People have gotten an image of what our past records are with Butler, but they are a lot stronger," Bruno said. "This is going to be a tough game for us on Wednesday, and I think [this game] will prove that we got a chance to turn this thing around."
View Comments(1)