DePaul Urban Gardeners: environmental club offers community, ecological learning opportunities
Between moments of moving dirt to the garden beds and planting potatoes and radishes, Grace Gallant, the DePaul Urban Gardeners (DUG) head of operations and senior, said the scene looked like "a heavenly place."
Gallant said the garden has become a safe haven for many DUG members, but most importantly, it is a place where people can experience community and bring plants to life.
Peter Dziaba, DUG treasurer and DePaul graduate student said the members, totaling 50 to 60 people who come and go as they please, get to experience a community that is like family at every meeting. 
Zoharia Drizin, DUG president and graduate student, said one word that represents DUG is energy. She said when members and newcomers walk in, they are greeted with smiling faces, and something is always going on "whether it be arts and crafts, planting, turning the compost or deep conversations about the linearity of time." 
"DUG is perfectly imperfect," Drizin said. "We are constantly learning and growing, but also because we have a community of people from different places, cultures, experiences and a multitude of identities. For these reasons, we can't help but create an educational, silly, engaging and semi-chaotic environment."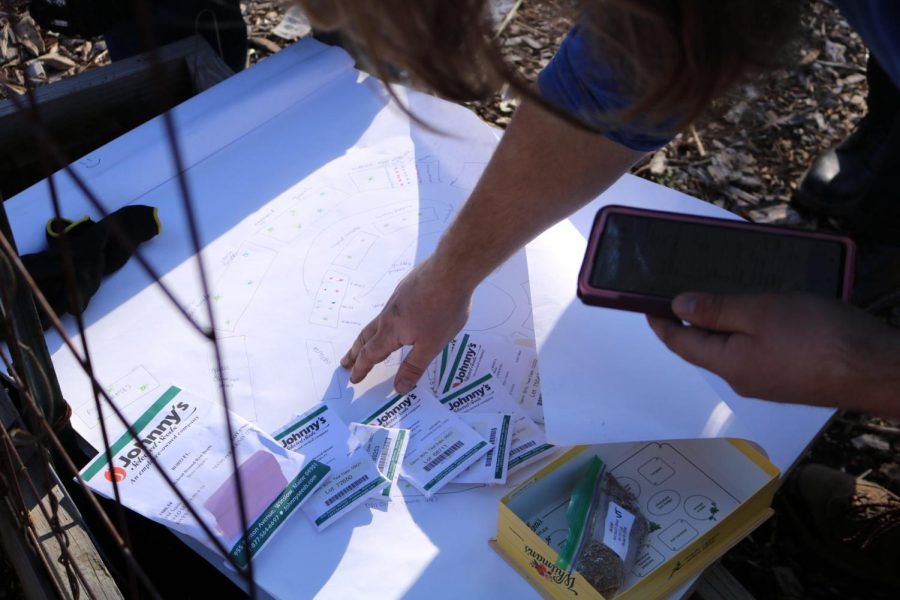 Since Covid-19 hit, the executive board of DUG has been trying to grow their membership. With that, Dziaba said they have been working to make sure the environment is very welcoming. He said with this comes ensuring there are no cliques inside the club.
"We make sure we actively not being that way so that students feel that they are a part of this family and not just orbiting this central group," Dziaba said. "We're all together in the constellation."
Drizin said that last year, there were about five people at each meeting, but this year it has increased to around 15 to 20 and the club is always looking for more people to help with the gardens or just to hang out.
However, with more people attending, Gallant said the club needs more resources. Recent budget cuts will affect the environmental science program, according to Gallant. DUG purchases its seeds and equipment with the program's leftover money. Because of the cuts, Galland said it is unlikely DUG will be able to afford as many seeds as they need unless they host a fundraiser.
Gallant said they want the university administration, who can push resources into different campus life areas, to know that the club is "completely student run." The board members meet three times a week to plan out the beds, give updates on the plants, see how to improve the plants' growth and set watering schedules. 
Members water the plants on their own with a hose, as there is no embedded irrigation system provided by the university. This includes needing people to go in person to water the plants over the summer. The board and volunteering members are not paid for their extra work.
"In the future, we're looking for more support from the university so we can get a lot more done and connect with our community more," Gallant said. 
Gallant mentioned that DePaul President Robert Manuel was supposed to visit the garden and greet the members within the first couple of months of being on campus, but Gallant said he canceled their meeting and has not tried to set one up since.
With more resources, Gallant said the garden can continue to flourish. With these resources, they would like to have more visibility on campus. Gallant said the board is working to see if they can get windows in the big brown fence that surrounds the garden so people can actually see inside the garden instead of peering through the slits in the barrier.
"Do not let the big brown fence scare you," Drizin said. "The garden in the summertime is an idyllic Eden-esque place, despite the consistent rumbling of the Brown and Red Line, and we want as many people to enjoy it as possible."
Dziaba said DUG's meeting times change every quarter to fit the schedules of the majority of members. This quarter, the club meets in the garden across from Wish Field on Mondays from 3-5 p.m. and Thursdays from 4-6 p.m.
Drizin said students do not need to register in advance to attend meetings. People of any ability can come and they will accommodate the amount of work people can do based on what their abilities allow. Gallant also said people can just sit in the garden and be a part of the community if they prefer not to do physical labor. 
"DUG is a magical place with really awesome people," Gallant said. "It's a place for everyone, introverts, extroverts, gardeners and nongardeners, every major and [people] from all over the country. It's a place for everyone, that's what makes it beautiful."