Research team seeks to expand access to environmental data in Chicago: NASA grant provides funding for research, expansion of ChiVes database
Chicago is home to 24 industrial corridors comprising about 12% of city land. According to city data, the largest corridor is located on the Southeast Side.
Industrial corridors are areas of land designated by the city for manufacturing and other industrial uses. However, it has come to light in recent years that the communities residing near these areas experience negative environmental and health impacts caused by heavy industry. These communities are historically home to mostly Black and Brown residents.
Last September, two DePaul researchers, geography professors Winifred Curran and Michelle Stuhlmacher, were awarded a two-year, $250,000 NASA grant to work on an online data dashboard called ChiVes. The dashboard would provide information useful for fighting environmental injustices in Chicago's many environmentally burdened communities. 
This grant will fund research on tree coverage, plant diversity and air quality serving as a public mapping tool for anything seeking environmental data on Chicago's neighborhoods. 
"We know, historically in the United States, that it is communities of color, who are overwhelmingly burdened with negative environmental outcomes," Curran said. "And so providing a source that people can get the kind of information that they need to advocate to, you know, make planning decisions, that's what the build out of this ChiVes database is all about.
Amalia NietoGomez, executive director of Alliance of the Southeast, said in an interview with The DePaulia in October 2022 that many community organizations are coming together to resist industry permits trying to further permeate areas on the South Side of the city.
"We are not in this alone," she said. "And it is not just the Southeast Side community that is being affected by this. There are a lot of communities. The South and West Sides of Chicago are heavily impacted by toxic industry and not coincidentally, those are also minority neighborhoods."
The project, called "Designing for Just Green Enough: A Data Integration Tool for Informing Community Green Space Planning," is a "data integration project [that] will expand the capabilities of ChiVes — an open source geospatial web dashboard prototype — in order to advance green space and environmental remediation initiatives in environmental justice (EJ) communities like Pilsen," according to NASA.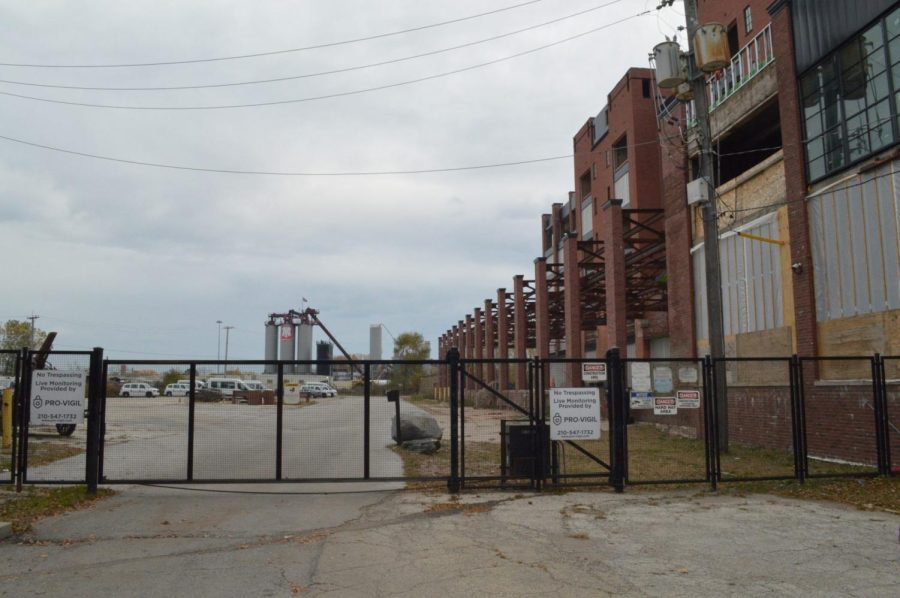 The ChiVes database is a multi-institutional project released in late 2021 through a partnership between researchers, community organizations and civic groups primarily led by Marynia Kolak, an assistant geography professor at University of Illinois Urbana-Champaign. 
"We kind of really envisioned ChiVes to be a data mapping collaborative, where the goal is to have shared ownership," Kolak said. "The whole idea is to keep on making it available, so that researchers can have their data … and it becomes this kind of depoliticized place that is just about data sharing for [the greater] good."
Curran said this project builds on research she has conducted since 2004 when she first came to DePaul. According to Curran, the 25th Ward is the community partner for the grant and will assist the research team in collecting data for ChiVes and other communities burdened by environmental injustices. 
25th Ward Alderman Byron Sigcho-Lopez along with residents in Chicago's Pilsen neighborhood have been influential in the process to build-up this database, she said.
Because Pilsen is home to one of the largest industrial corridors, the neighborhood is an ideal example of how industrial pollutants are negatively affecting city residents, Curran said. 
"[Pilsen] is just such a clear example of the kind of neighborhood that needs this data to make informed policy choices," Curran said. "Pilsen is a really interesting case study, because it has a whole host of environmental issues [including] legacy industrial pollution issues."
According to Curran, the project is still in its first six months and the current goal is to begin compiling data for ChiVes.
"So it's a database of environmental data," Curran said. "But what we're doing now is adding on that kind of socioeconomic data, to provide a fuller picture, and trying to do it in a way that is very accessible to the community."
Kolak said her team is in the process of identifying what data needs to be added, assessing what data they already have available and determining how people might want to use it.
"If it's not actually useful to the people who need it, it doesn't really matter," Kolak said. "I think a big part of the NASA goal is to learn from the community instead of the other way around."
According to Curran, one of the concerns surrounding improving environmental burdens in areas like Pilsen is that this will also increase the desirability of the neighborhood, and therefore increase gentrification in areas that are already gentrified. 
"There's also the issue of environmental gentrification, where environmental improvements can potentially contribute to increasing housing prices and prices of everything that can lead to the displacement of existing residents," Curran said. "People are particularly concerned about that in Pilsen."
However, NASA claims the risk of gentrification is the reason the project focuses on the "just green enough" framework.
"[This] posits that real environmental improvements can be realized in a community while keeping the risk of gentrification low if the improvements are driven by the needs and values of the community," NASA said. 
For Kolak, this project gives researchers the opportunity to listen to community needs and determine which data will be most useful for them because they are the ones impacted by environmental burdens everyday. 
"Those closest to the problem are closest to the solution," Kolak said.