A celebration of Earth Day and demand of green space in Little Village
Little Village residents gathered at the community garden Semillas de Justicia to celebrate their annual Earth Day event with music, food, painting and plenty of laughter. 
The event was held by the Little Village Environmental Justice Organization (LVEJO) in light of Earth Day, providing residents with an opportunity to beautify their neighborhood by cleaning up, planting in their garden beds, coloring and helping paint a mural that helps tell LVEJO's history. 
Manu Gámez, who recently moved to the neighborhood, said he has wanted to learn how to grow his own food for years and never thought that when he left the event, he would leave behind a garden bed for him to continue to nurture. 
"I just want to make it more a part of my life … reciprocity, like tending to the Earth and then taking whatever it's willing to give to me," Gámez said.
Sergio Ruiz, one of the organizers of the event, said the event not only marks the first day of the season for the garden, but also is a way to remember how the community garden began. 
"We always tend to take this day just to commemorate the actions that are going on around us since this neighborhood is surrounded by industrial areas," Ruiz said. "So there's a lot of air contamination. It's just a fight that the community has always known, and it's still going through."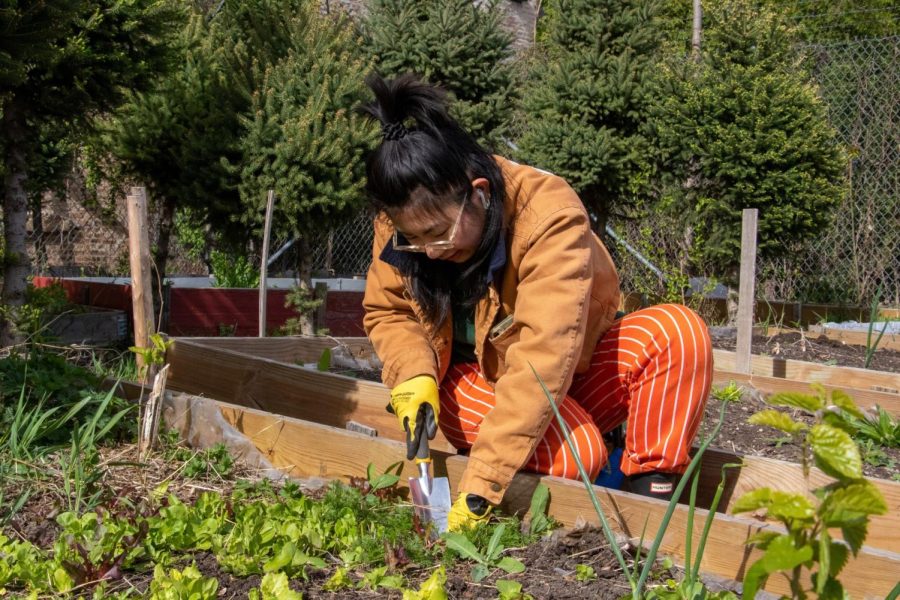 In 2012, neighbors across the street from the site went to LVEJO, complaining about a stench that they later found was emanating from an industrial site that had been used to deposit oil barrels. According to their website, LVEJO and the community fought with the city, and in 2014 they were finally able to transform the lot into a community garden.
When it first was created, 20 to 30 families tended the land and had their own flower beds to grow plants, but now they have expanded the space to include flower beds for 60 to 70 families.
According to LVEJO's website, Little Village "has the least amount of green space per capita in the city of Chicago." There was an explosion that happened in April 2020 by Hilco Development Partners at the site of the old Crawford Coal plant left the neighborhood in a cloud of dust and caused an uproar among community residents. 
Leslie Cortez is a youth organizer with LVEJO and has been organizing with others to fight for answers after the demolition. They went to Philadelphia to talk with other people who have experienced toxic waste from projects by Hilco Development Partners in certain neighborhoods. The city knew about the demolition, and she asked that the city listen to the needs of the community.
"Making sure that community members get to decide, you know, whether or not we want big businesses or if we want local vending," Cortez said. "It's that right to self-determine."
Jac Vázquez, a park organizer for LVEJO, helped clean up trash thrown around the garden, and she said she enjoyed the conversations that she had with other volunteers as they discussed why people may think it is acceptable to litter.
"It could be ignorance, or it could also just be the assumption that the city will clean it and that's not the case," Vázquez said.
At a previous Earth Day Event, Vázquez remembers cleaning up around the garden when a city sanitation truck stopped to ask her and the other volunteers what they were doing. When she told him they were cleaning up for Earth Day, he drove right by.
"Proof right there that the city isn't doing all they could," Vázquez said.
However, the community is making sure to grow and invest in their own neighborhood. Her sister, Jocelyn Vázquez, who is also an organizer with LVEJO, is excited to have her own garden bed this year, where she will be able to plant herbs, tomatoes, jalapenos and more with her mom. 
She said that Earth Day is a way for the community to take time away from work and heal themselves by growing with the land.
"For Earth Day, it's a time to just spend time connecting to the land, growing our own food, touching the wet soil, knowing that the food that we're gonna grow is for good use," she said.
View Comments(1)