Fullerton food truck fuels community
On the corner of Fullerton and Kenmore avenue, the El Azteca food truck opens its window to five hungry customers, ready to serve delicious street tacos, tortas and burritos. The truck cemented itself as a community staple two years ago by reliably parking near the Fullerton train station and offering quick service to those passing by. 
The original El Azteca restaurant opened 12 years ago in the Belmont Cragin neighborhood and their other food truck is near Millennium Park. Now, they are planning on expanding their food trucks with one parked at Loyola University. Owner Oscar Sanchez said he appreciates the college atmosphere. 
"Every student is really respectful," owner Oscar Sanchez said. "As a business, it's nice because we already know the orders of students and they know us."
The El Azteca restaurant experienced an electrical fire in 2019 and closed during remodeling. The truck, nicknamed "El Coronao," which translates to "The Crown," was parked outside to help fund the estimated $500,000 building repairs. The restaurant reopened in September 2020.
"It's really nice when someone comes to eat at the restaurant and they're so happy we finally reopened," Julissa Sanchez, the owner's daughter, said. "It's nice to tell the story of what happened to us. We didn't lose our customers."
Warren Solochek, an adjunct professor at the Driehaus College of Business, said the city's food truck culture thrives on entrepreneurs finding their way into the restaurant industry. He said operating a food truck in the city can be difficult though because of lobbying from restaurateurs who do not want to compete for business and the consequent regulations from this.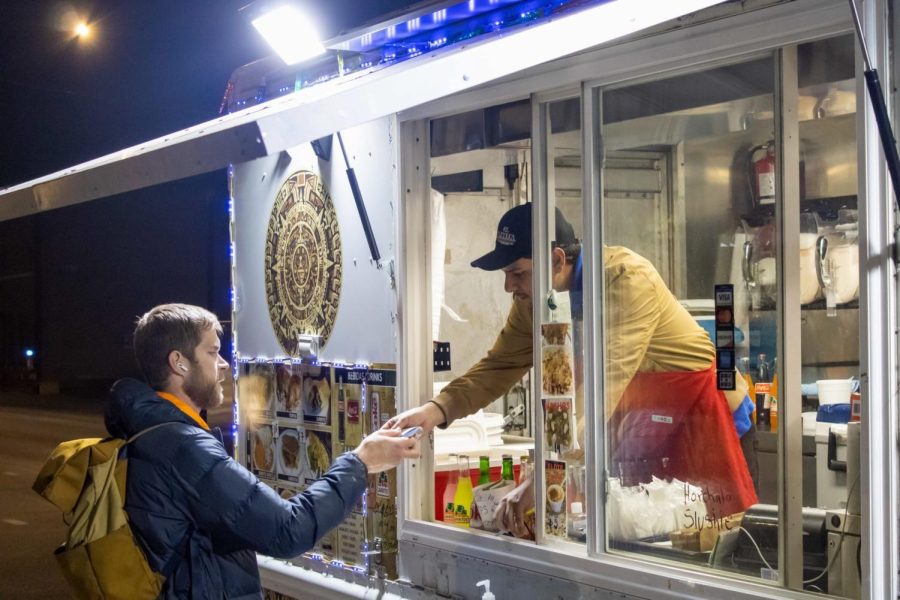 Oscar Sanchez said there is enough demand for Mexican food that he is not worried about business amid competition. 
"Food trucks are essential for the restaurant industry," Solochek said. "The city doesn't do a great of supporting them though so the key is you want to be in a high traffic area. You have to be where people are."
Julissa Sanchez said being a family business makes managing their various locations easier. The Sanchez's kept prices low and the business open during Covid-19 because family members were willing to take small pay cuts.
"Remodeling during [Covid-19] wasn't that bad because I still had family," Julissa Sanchez said. "We've always been together. Even when we were a little more crowded without the space of the restaurant, it was still manageable."
Oscar Sanchez moved the food truck to its current spot last year after passing DePaul on his way to the restaurant. He saw foot traffic from students and no other food trucks in the area so he asked the city's permission to park there. 
"The food truck has the ability to travel, which builds demand for the brick-and mortar location," Solochek said. "You put your best foot forward, and it's almost a form of advertising. The brick-and-mortar restaurant helps provide revenue to support a second, mini kitchen."
The food truck relies on regular customers that Oscar Sanchez said have helped make them feel part of the DePaul community. 
Prices and menu items differ between the restaurant and food trucks. A two taco dinner at the restaurant is $10.99. A three taco dinner at the food truck is $12.99.
"It's kind of far, but we see students come to the restaurant too," Oscar Sanchez said. "It has even increased business there a little bit."
The business lost about 75% of its profits during the pandemic but has seen an increase in the past two years, according to Oscar Sanchez.
Oscar Sanchez said they are expanding the food trucks due to cheaper costs and fewer employees required to maintain them. He hopes to have the licensing for the third food truck by summer.
"We got the opportunity to stay [at DePaul] and I feel it's a nice place to be," Oscar Sanchez said. "It's really peaceful. The school is somewhere I thought would be a really good place to start again and it has been."