Sitting by an altar, Latrice Butler picked up the picture of her mother with a smile on her face to show how beautiful Eva Butler, her mother, is. She teared up as she recounted how she felt seeing her mother after serving 30 years in jail. 
Butler embraced her, finally being able to hold her after not having seen her in seven years because her mother could not visit her in jail.
"It meant everything to me, and I do mean everything… that I was able to come home and see her laugh and her waiting for me," Butler said. "The way she looked at me and held me, the way I held her. The way we told each other we love and miss each other, and I told her I'm never going back to jail. She said, 'I know.'"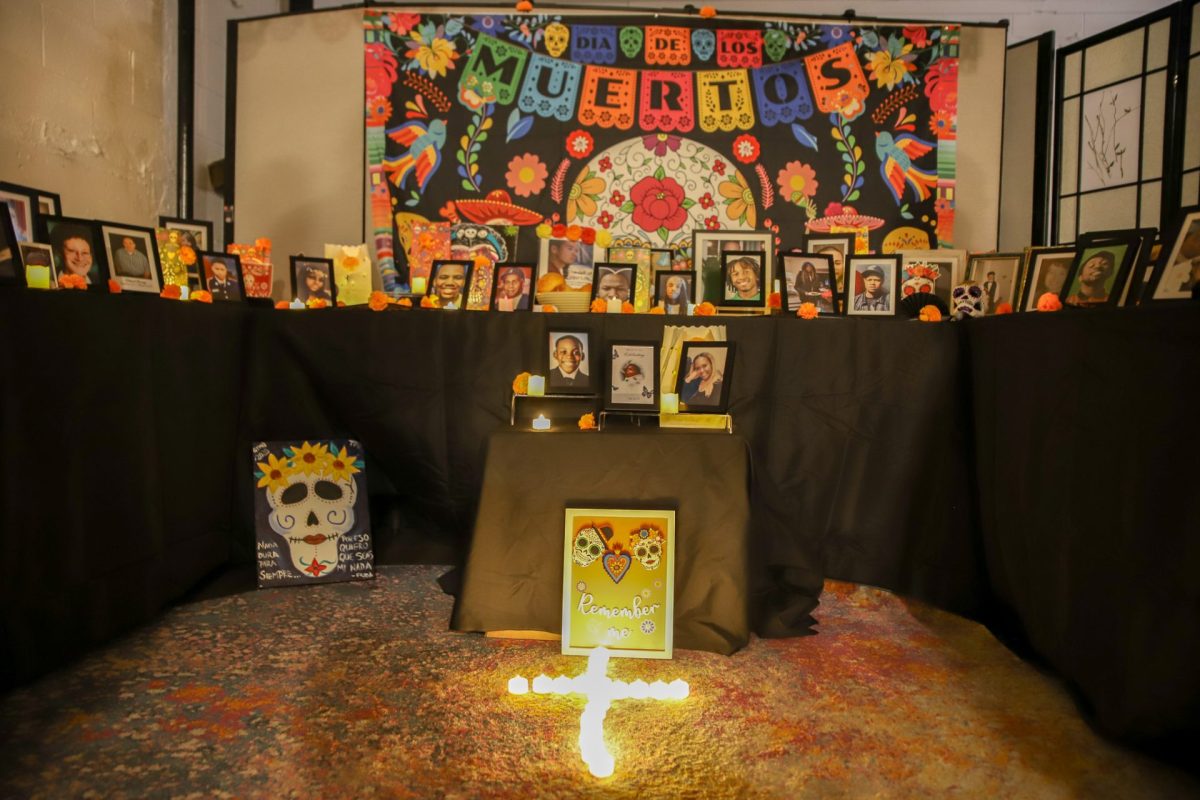 Butler lost her mother on June 7, but on Nov. 1, she was able to celebrate the life of her mother and many other loved ones with the community through the Día de Muertos event in the Back of the Yards neighborhood at Front Porch, a community center in the neighborhood. The event was organized by Chicago Survivors and Precious Blood Ministry of Reconciliation. 
While Butler had never celebrated Día de Muertos before, this space, Butler said, is healing for the community.
"Some things are hard for people to talk about or deal with," Butler said. 
The space was surrounded by ofrendas, colorful and vivid altars created to honor a loved one that has passed. They had pictures of those who they loved the most; there were sons, daughters, mothers, fathers and so many others surrounded by marigold flowers, salt to purify the souls and papel de picado.
About 20 families participated in the event and a majority of those on the altar had died from gun violence across the city.
Alberto Alaniz started to spread the word about the event through the art classes he teaches at Precious Blood Ministry and Reconciliation, a non-for-profit organization that serves young people and families most impacted by violence, incarceration and structural inequity in Chicago's Back of the Yards and Englewood neighborhoods.
While at first people were hesitant about the event because he said "they weren't really exposed to the tradition," he began to talk with his students, and many wanted to participate. 
"We're celebrating the life of this loved one that was with us. Tragically, we lost them in different ways, but we remember them," Alaniz said. "And we live with their memory, their love, and we remember their smiles. We try not to focus on the sadness of it. We try to focus on the joy that they brought to our lives."
Alaniz wanted to show youth that when they pass, they leave behind great pain for everyone who loves them. Many of the youth he works with struggle with poverty and systemic issues, but Alaniz said his mission is to show the youth how worthy they are. 
"I ask them all the time, just make the right choice because we need you here," Alaniz said. "Even though we're struggling, we need you out here."
Ever since losing her fiancé, Jonathan Price, in July of 2021, Anderson has found it hard to go outside and live life, she said.
"When people lose certain loved ones or certain family members, they go to a dark place," Anderson said. "They want to be alone. We don't want to be bothered. We don't wanna be around nobody."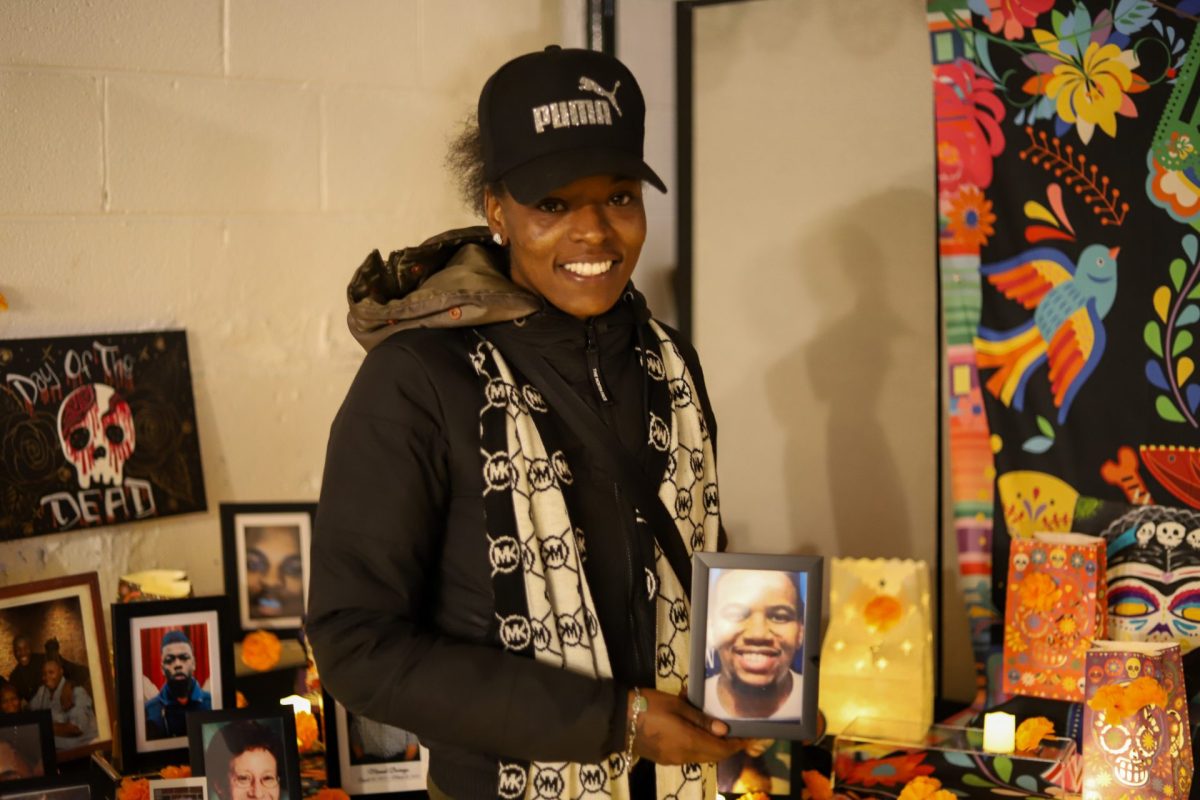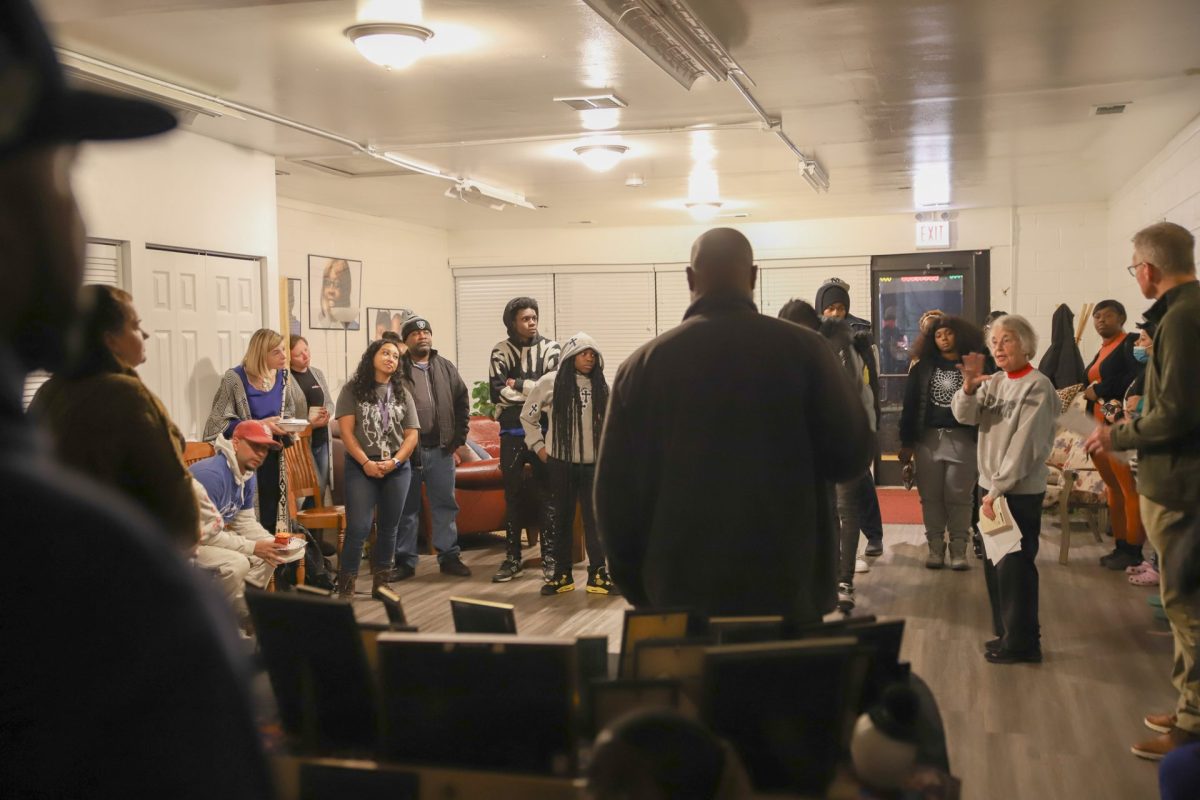 This year, she finally started to go out, and the space helped her to feel a sense of healing. She said that the event is a "big huge step" for the community to redefine death.
Anderson brought in a picture of Price when he first started working a security job at Sephora. She laughed as she remembered how Price always had two jobs, and she "had to pay him to sit down." 
"I still can hear it now, his laugh, that little funny laugh. I hear it. I see it," Anderson said. "When I walked up in the room today and I saw his picture, I just immediately started talking about his laugh because he was smiling in the picture."
While she said this event does not take the pain away, she felt surrounded by love.
"The past two years he's been gone, I feel like I was alone, but not today," Anderson said. "I don't feel like I'm alone anymore."
Abby Ortiz is the community of survivors manager for Chicago Survivors, who provide services to family members of Chicago homicide victims. She is Mexican American and said that she wanted to bring her tradition of celebrating Día de Muertos to the neighborhood as a way for people to come together and heal. 
"Even though a lot of the families that we serve are predominantly African American, it was something that I wanted to share with them because it comes from my culture, and it stems from my traditions," Ortiz said. "I just felt that it was kind of a beautiful way to celebrate the life of their loved ones."
Beyond sharing this tradition with people who do not usually celebrate the holiday, Ortiz also wanted to bring together the Latine and Black community in the healing space.
"Latinx members also lose people, but again, with cultural differences, sometimes they're not as engaged in the services, or they don't always show up to events," Ortiz said. "I was trying to reel that interest in for our community."
Ortiz said that she felt "community" that night, when people talked and shared stories with one another.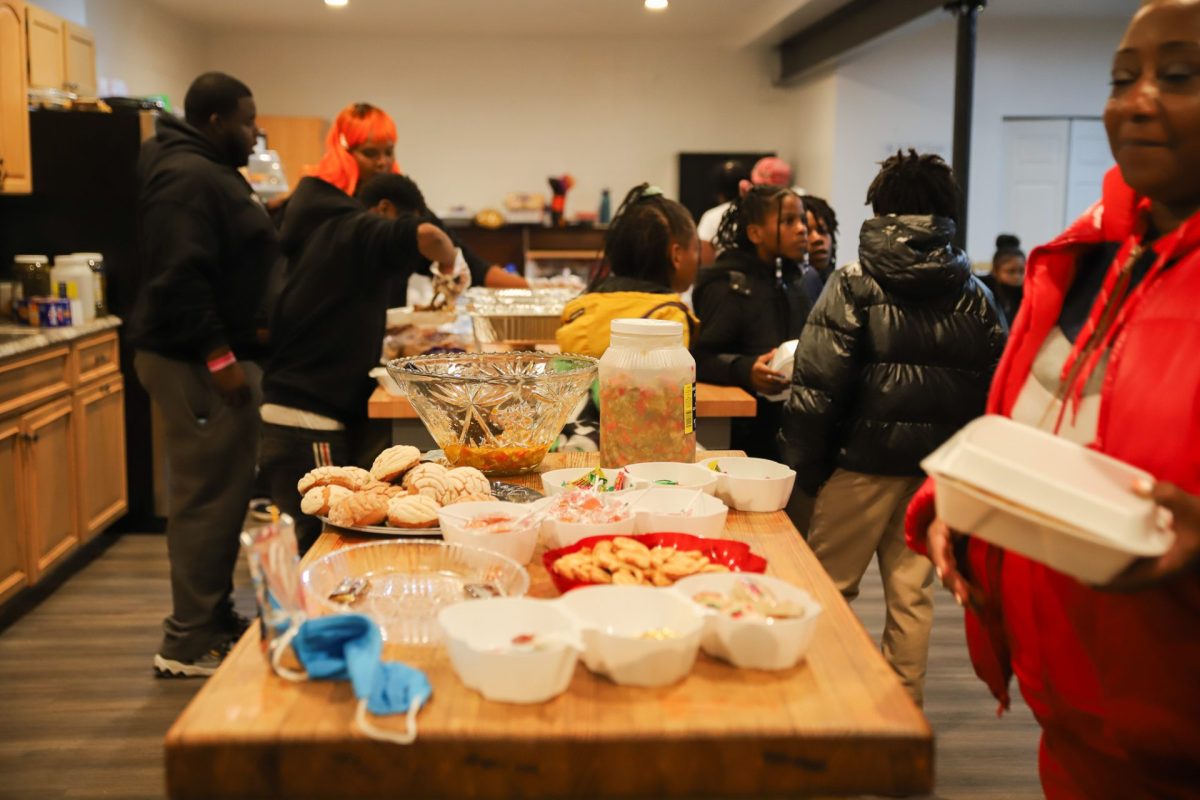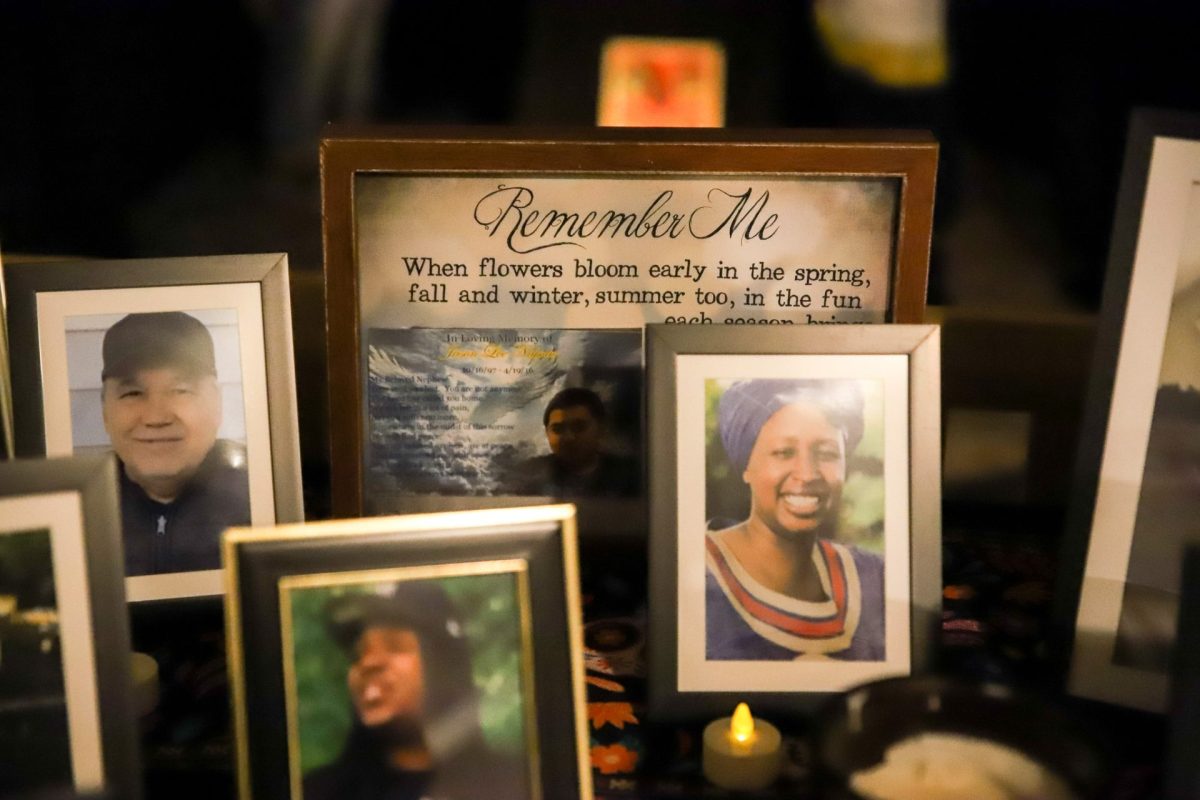 Next year, she wants to better explain the history of Día de Muertos during the event. She only had less than one month to get everything together this year, but she thinks it could be much more impactful in following years when she is able to explain the history and meaning of the items on the altar.
Sister Donna Liette, who is the director of Precious Blood's Family Forward program, works with about 65 mothers who have lost their children due to gun violence. She said that tonight was a way to grieve and heal but also to come together as a whole community and support one another. 
"So many of these people never knew each other before tonight," she said. 
People sat together to eat, laugh, draw, cry and pray. It may have been the first time people celebrated Día de Muertos, but so many felt supported by the community.
"It feels like I got people, like I got family…" Anderson said. "This experience, it feels like love."
The altar will be up for about two weeks at the Precious Blood Ministry of Reconciliation's Front Porch, 1130 W 51st St.