Women's basketball releases 2015-16 schedule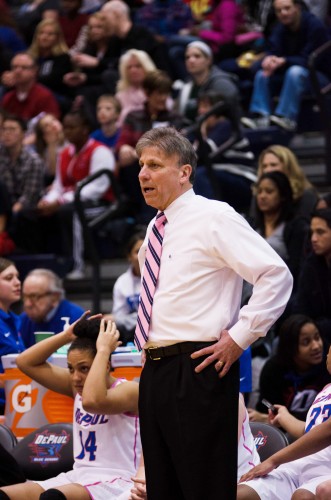 DePaul women's basketball announced their full schedule concurrently with the Big East, announcing their conference schedule Thursday, releasing dates, times and a tv schedule after the Blue Demons' opponents were announced over the summer.
DePaul announced that they will have two exhbitions games to start the year, the first against St. Xavier on Nov. 2 and then against Lewis on Nov. 7. Both games will be at McGrath-Phillips Arena. They then will open the season with the preseason Women's National Invitational Tournament, where they will open against Southern Illinois. In the quarterfinals, they will either play St. Bonaventure or Siena, then their opponents for the third and fourth rounds are to be determined. The first two games will be at McGrath-Phillips Arena. Following the WNIT, DePaul will host four straight non-conference games, highlighted by defending NCAA champion Connecticut.
After that is a four-game road trip, where DePaul will face the team that ended their 2014-15 season at Notre Dame on Dec. 9. DePaul hosted the Fighting Irish last December and lost in overtime.
The game after will be a trip to Texas A&M on Dec. 12 in another game that DePaul came close to winning in 2014-15. They played close to the Aggies in their season opener but could not close the deal. They end the road trip with a cross-town matchup with Northwestern.
Big East conference play will start for the Blue Demons on Dec. 29 when they host Marquette. They have a road trip to the New York area as they take on St. John's on Jan. 3 and then Seton Hall on Jan. 5. There will be no four-game road trip in conference play for DePaul like there was in 2014-15.
Their biggest stretch of home games will come at the end of January when they host Creighton, Providence, Seton Hall and St. John's all in a row between Jan. 22 and Jan. 31.
The end of the season could be tough for DePaul as they end with three straight road games at Providence, Creighton and Marquette. Following that will be the Big East tournament, to be held at McGrath-Phillips Arena and, if they qualify, a postseason tournament.
DePaul won the Big East regular season and tournament the past two seasons and made it past the first round of the NCAA tournament in both of those seasons. 2013-14 was the first time they had won the Big East tournament.
2015-16 Season Schedule
Exhibitions
Nov. 2, 2015 vs. St. Xavier
Nov. 7, 2015 vs. Lewis
Preseason WNIT
Nov. 13, 2015 vs. Southern Illinois
Nov. 15, 2015 Quarterfinals
Nov. 19, 2015 Semifinals
Nov. 22, 2015 Championship
Nov. 24, 2015 vs. Chicago State
Nov. 27, 2015 vs. Colgate
Dec. 2, 2015 vs. Connecticut
Dec. 5, 2015 vs. Illinois State
Dec. 9, 2015 at Notre Dame
Dec. 12, 2015 at Texas A&M
Dec. 15, 2015 at South Dakota St.
Dec. 19, 2015 at Northwestern
Dec. 21, 2015 vs. Loyola
Dec. 29, 2015 vs. Marquette
Jan. 3, 2016 at St. John's
Jan. 5, 2016 at Seton Hall
Jan. 8, 2016 vs. Georgetown
Jan. 10, 2016 vs. Villanova
Jan. 15, 2016 at Butler
Jan. 17, 2016 at Xavier
Jan. 22, 2016 vs. Creighton
Jan. 24, 2016 vs. Providence
Jan. 29, 2016 vs. Seton Hall
Jan. 31, 2016 vs. St. John's
Jan. 5, 2016 at Villanova
Feb. 7, 2016 at Georgetown
Feb. 12, 2016 vs. Xavier
Feb. 14, 2016 vs. Butler
Feb. 19, 2016 at Providence
Feb. 21, 2016 at Creighton
Feb. 27, 2016 at Marquette