Women's basketball's success driven by tempo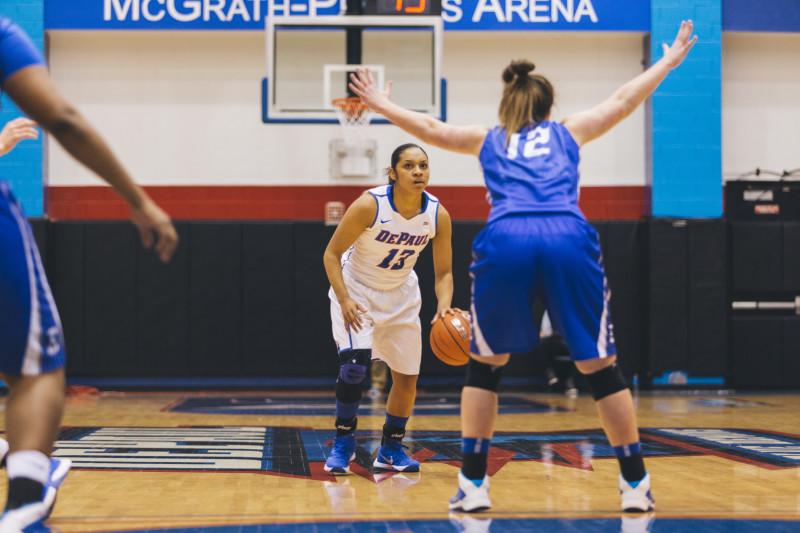 The Blue Demons took until the second quarter to really separate themselves from the Creighton Blue Jays, but DePaul's high-paced offense was able to put up a lot of points quickly. Creighton and DePaul played close in the first, with DePaul nursing a two-point lead at the break, but in the second quarter the Blue Demons put up a lot of points quickly.
From there it was DePaul's ability to simply outplay the other team in terms of speed and pressure; a recipe for success that has led the Blue Demons to an 8-1 record in the Big East.
Teams like Creighton try to slow the game down, make every basket and possession more important in the overall scheme of the game. DePaul has success when they are able to play a fast tempo.
"We knew Creighton wanted to play slower," junior guard Jessica January said. "We wanted to speed them up and wear them out. We haven't done that well with the running game, and we were looking to get our wings going."
Full-court pressure and tempo go hand-in-hand. Fast defense creates turnovers in the back court and, when all goes well, does not allow the opposing team to set up an offense coming down the court. They have to run a press-break style offense that can feed well into the Blue Demons' defense.
"We were able to apply full-court pressure without giving up easy layups," head coach Doug Bruno said. "We've been feast or famine with our pressure this year, and it's nice to see pressure that didn't automatically give up layups and threes."
One of those instances when the pressure came up "famine," was against Villanova, DePaul's only loss so far in conference play. Villanova's slow tempo and good possession of the ball could change some of the ways that DePaul approaches a game.
"I don't concern myself with pace with Villanova because they're not going to turn the ball over," Bruno said. "But they also executed offensively and defensively, and we didn't. That's why they beat us."
A game where DePaul has to rely on traditional basketball means that they have to play a style where they do'nt necessarily put on full-court pressure. They have to force turnovers in the lane or pick up rebounds after forcing bad shots.
"If you just let them pass it and go where they want to go, they're going to make baskets," Bruno said. "It's easy to create pace, it's not easy to create pace and take away the other teams' layups and threes."
In a game like DePaul's win over Creighton, they were able to apply pressure and not allow the Blue Jays to go for easy layups or threes. DePaul created the pace after the first quarter and kept the Blue Jays away from easy buckets.
The Blue Demons are a team good enough to control most games they're in. And as they continue to roll through the Big East, they're a good enough team to control the conference too.