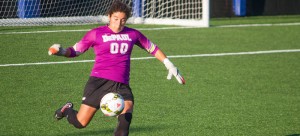 The clock ticks down to zero, the scoreboard reads 3-1, and DePaul's women's soccer team walks off the field victorious against the Cincinnati Bearcats, extending their unbeaten streak to nine.
The lone goal by the opposing team is only the ninth given up by the Blue Demons this season. A huge part of that stingy defense is the anchor in the backline, the last line of defense, goalkeeper Alex Godinez.
Godinez is last year's Big East goalkeeper of the year, but don't think for a second that Godinez is content with accepting individual achievements without giving praise to her teammates.
"The defense last year was amazing," Godinez said. "Without them, I don't think I would have gotten (the award)."
Godinez doesn't think the success ends here.
"I'll always remember that moment when I received that, but it's time to keep working for bigger and better things," Godinez said.
It's Godinez's modest, team-first attitude that makes her an ideal teammate. She pushes her colleagues to excel not through words but  through her actions on the field.
"Every play she's always focused, she's always ready for it," said teammate Elise Wyatt. "She's not very vocal, but when she does have something to say it impacts us."
Godinez's success and leadership on the pitch is not an overnight attraction and can be traced back to her youth.
Raised in Fredrick, Colorado, Godinez was surrounded by soccer from the moment she was born, thanks to her father who was an avid soccer player.
"Watching my dad play, he would go to, like Wednesday, Sunday leagues and take me with him," Godinez said. "He's one of my biggest role models, so that's when I decided, 'Wow, I want to do exactly what my dad does.'"
Godinez is a prime example of a soccer prodigy born and bred.
By age 4, Godinez could tell her passion for soccer was unlike the other kids wrapped in knee high socks and shin guards at her local YMCA.
"A lot of my teammates would just go around picking their nose or like playing with butterflies. And I do remember there always being something about me being on the field, I was so focused on the ball," Godinez said. "I just kind of knew it's what I wanted to do."
What Godinez didn't know at a young age was she had natural talent as a goalkeeper. Like baby birds leaving the nest, it took a little push for Godinez to realize her true potential at the position.
"He started just training me as a goalie. I don't know why, he just did," Godinez said of her father.
Godinez said her decision to play goalie was less about her talent and more about comfort.
"When I was about 12, I realized I hated running," Godinez said. "I didn't want to run anymore and I was like, 'You know what? I'll just be a full-time goalie' and it worked out."
Godinez's talent at goalkeeper got her a scholarship at DePaul University, but an unfortunate season-ending injury to teammate Megan Pyzr forced Godinez into the starting position early her sophomore year.
"I wasn't even expecting to play last season," Godinez said. "It was bittersweet. I was upset for my teammate, but I guess I was excited for myself because I got my opportunity."
Godinez burst onto the scene last season leading the conference in save percentage, ranked sixth in the nation, and shutouts.
Godinez quickly became a big piece of the puzzle that helped push the Blue Demons to a 14-6-3 record (8-1-2 at home), their best season in over six years.
"She's stepped in and embraced our new team and has done what she's needed to do to earn the starting spot," said DePaul women's soccer head coach Erin Chastain.
This year is more of the same as Godinez received early season praise, earning the title of  Big East Preseason Goalkeeper of  the Year.
"She is so incredibly quick," Chastain said. "Her reactions and quickness help her make some big-time saves."
The quickness Chastain talked about is one of the main reasons  women's soccer is undefeated so far this year.
Though there are still plenty of games left before Godinez's collegiate career is done, she is already thinking ahead to what she hopes will be a bright future in the sport.
"I would love, love, love to play pro, that has been the dream since I was little," Godinez said.
Godinez, an exercise science major, is certainly on the right path. At this pace she may have teams knocking on her dorm room door before she ever graduates.
Until then, Godinez will continue to be a staple in the backfield for the Blue Demons.
"Right before the game is about to start I run out to my goal and kiss both posts," Godinez said. "I just feel like if I give them love, they're going to stop a shot for me. They're going to be on my side."