Fall fashion trends on the rise as temperatures drop
The temperature is now dropping below 40 degrees, our clocks are turned back, the sun is setting in the late afternoon, and fall fashion trends continue to develop .
Red, yellow, green, and brown tints of nature beautifully mark the time for fall fashion trends that inspire a maroon, olive, and khaki colored wardrobe. It's time to bust out the fuzzy and fluffy coats, thick leather boots, military style jackets, knitted beanies and various cozy fall accessories that seem to accompany every autumn.
Although these fall staples always seem to be popular amongst students annually, this year what is changing is how students are purchasing their fashion necessities– thrifting or buying first-hand.
Amy Meadows, a fashion studies professor at Columbia College Chicago teaches a variety of courses that seek to inform students about the fashion industry in the contexts of trend forecasting and consumer behavior.
Meadows said that during this fall season she has noticed fashion trends in students that are less about aesthetics and style, but more of an emphasis on messages on sustainability and ethics.
Many students are participating in fall fashion, not only in the way they dress, but in the way they act as consumers in the fashion industry. Dana Connell, another  fashion studies professor at Columbia College Chicago, agreed  that trends this year are not typical fashion trends such as "everybody is wearing a leather jacket," but are more focused on "combating fast fashion" and "spending a little bit less or spending differently in order to support brands and products that are environmentally sound."
The fashion industry, while  upholding one of the biggest roles in revenue in the global economy, is also one of the most resource-exhausting industries in the world. As many may know, the world is in a climate crisis, and this is causing many consumers within the fashion industry to change where and how they shop.
Many students and consumers counteract this climate crisis by thrifting their clothes from secondhand shops that donate much of their revenue to charities, rather than supporting and giving money to major corporate retailers that produce environmental pollution and waste resources.
With Chicago being filled with numerous thrift stores, it is no secret that many college students are buying their clothes second hand this fall in order to combat this climate crisis.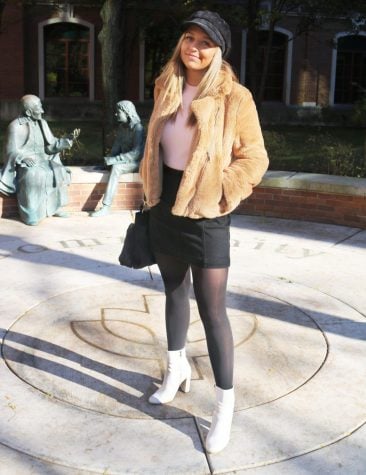 DePaul senior Jack Stevens is one of those environmentally aware students that often thrifts for his clothes and looks for new ways that he can save money, "My friends and I thrift, exchange clothes or raid our parent's closets," he said.
Undoubtedly, thrifting isn't the same as buying clothes brand new off the shelves of designer stores, but college students often easily find affordable and popular fall necessities like fuzzy coats, flannel shirts, pom-pom beanies, and scarves ready to wear with just one wash or two for less than 20 dollars while being sustainable, saving money and not partaking in consuming from unethical major fashion corporations.
Although thrifting seems to be the new fall fashion trend in terms of consumerism, there are many new  trends on campus in terms of how students particularly dress themselves, regardless of where they purchased their clothes.
This season, fuzzy and furry zip-up coats are popular, army green military style jackets are commonly worn with a pair of dark denim jeans and thick leather boots, and lastly, flannels still haven't fallen from the fall fashion radar. Whether students are buying these clothes firsthand or secondhand, they seem to be worn amongst the masses at DePaul.
Meadows also said that trends and merchandise that are in autumnal fabrics and styles like wool, woven and knitted textures, are forecasted to be worn by consumers as well as the classic fall colors like camel, gold, rust, maroon, green, and accents of "spices" this season.
She said that she also expects to see the common accessory of the "pom-pom" beanie becoming popular again. And she's right–those little puff-balls are happily flopping around on the heads of students at DePaul.
DePaul sophomore Maddie Schaafsma shared what she believed what fashion trends were popular on campus. "Fuzzy and furry jackets are super in right now even all different colors, a lot of different black ones and this beige color is really popular," she said.
Whether they seem to come in black, pink, white, or your typical tan or beige color, fuzzy "teddy coats" are popular amongst many at DePaul no matter the color, length and price.
If you don't know what a "teddy coat" is, just imagine wearing the softness and comfort of your childhood teddy bear around your body–but it zips!
These coats can either be dressed up with your best dress or skirt and high heeled boots, or perhaps even dressed down for your leisure, paired with a set of thick leggings or sweats and your most comfy boots or sneakers, topped off with a knitted "pom-pom" beanie or a "baker boy" cap.
Many different designer brands featured on the Nordstrom website such as Free People, UGG, and Topshop each sell their own rendition of this jacket, with prices ranging between  $150- $400.
But these seasonal teddy coats and other various warm and furry jackets can definitely be purchased at a lower,more affordable price for a college student. A range of military style jackets and teddy coats can easily be purchased for less than 60 dollars from TJ Maxx or Marshalls in all colors, styles, and lengths.
Although there seems to be a mixed trend between students that thrift and students that buy their clothes firsthand for this fall, all students look autumnally trendy. Very few of us can tell the difference between something new and old–something designer or generic.
This fall, whether thrifting or buying your Dr. Marten leather boots and knitted Carhartt beanie brand new, you're either dressing for sustainability or trendiness, or perhaps both.