DePaul women's basketball already focused on opening game against Texas A&M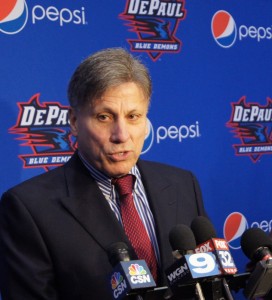 DePaul women's basketball head coach Doug Bruno put on the tape recently of the 84-65 loss to Texas A&M in the Sweet Sixteen of the NCAA tournament suffered in March. He wanted the team to see the multitude of mistakes that were made, but also the areas they could capitalize on.
"(Bruno) really had some strong critiques about it," DePaul guard Chanise Jenkins said. "It was really a learning lesson. Hopefully that will transition into the next game."
DePaul won't have to wait long to get another shot at the Aggies.
The Blue Demons open the season with Texas A&M Nov. 14 at McGrath-Phillips Arena. With less than a month out, DePaul has already shifted their attention to Texas A&M.
"It's not about winning or losing, but it's about playing well," Bruno said. "As well as we played at Duke last year, I don't think we played our best basketball with A&M. I don't think our team is thinking about revenge at all, but they're motivated to get back to the way they can play."
Bruno said his team wasn't focused and ready to play the high-tempo style that got the Blue Demons to the Sweet Sixteen for the second time since 2011. Against Texas A&M, DePaul had 18 turnovers and shot just 20 percent (4-20) from 3-point range.
On the defensive side of the ball, the Blue Demons weren't much better. The Aggies shot 60 percent and guard Courtney Walker had 25 points.
Despite the large margin of victory, Bruno said the game was closer than it appeared.
"Unless you do this for a living, people don't understand how close a game is when you're down by 20," Bruno said. "It's five trips each direction. Five to 10 neglected trips out of 200 is still a small percentage of trips that are given up. We just need to pay small attention to those details.
"And our players are human," he said. "We just didn't get it done coming off the Duke victory. Plus, Texas A&M is really good. Courtney Walker and Jordan Jones are both back. They're a good team."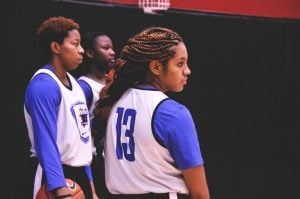 The matchup will be a strong test for the Blue Demons to begin the season. In a preseason poll, Lindy's Sports' basketball preview ranked Texas A&M No. 4 while the Blue Demons were No. 15.
Even with a tough opponent out of the gate, Jenkins said she is excited.
"There is nothing better than playing the team who put you out the season before," she said. "We have to stay grounded. We bring a lot of experience back from last year and some new-experienced talent to the team this year. We just have to stay focused on what we want to accomplish this year and not get ahead of ourselves."
Experience is something that could be a big boost for the Blue Demons this upcoming season. Of DePaul's 15 players, 10 — as well as four of the five starters —were on the roster last season that included a Big East title and an upset over Duke at home to advance to the Sweet Sixteen.
Jenkins said the team's strong guard play is a factory that should repeat itself this season.
"There's definitely familiarity for another year," Jenkins said. "We all know where we're going to be, and that plays a key part in our success."
But before there's success, there's a lot of work that has to be put in, Bruno said. Bruno and fans got a chance to watch this year's team scrimmage Saturday, and Bruno took positive and negatives from the action.
"We're still a long way away," Bruno said. "You don't want to panic because we still have four weeks and 15 practices. But you also don't want to think you have that much time. We're in a good place, but we still have work to do."
Bruno said it's really important to get off to a fast start in the team's non-conference schedule. In addition to playing Texas A&M, the Blue Demons also play Notre Dame and Connecticut, the two teams who played in the national championship last year.
Bruno sees all three of those games as building blocks to help build his team's foundation.
"I like to call these games make-us games rather than make-us-or-break-us games," Bruno said. "Those are games that can really help make us. I don't think they will be the type of games that could break us."