The Theatre School costume sale continues this week
A sparkly jacket here, a feather cape there, a shark hoodie over there. If you have seen people wearing more statement pieces on campus than usual, the costume sale at The Theatre School (TTS) could be why.
For the first time in years, TTS is selling costume memorabilia from previous productions to make space in its Costume Shop. The costume sale started on Oct. 4 and will continue this week on Oct. 11-13 from 1 p.m. to 5 p.m. in the Watt Theatre Lobby of TTS.
Students can buy jackets, period costumes, nightgowns, suits, scarves, hats and more at the sale. Furs are one of the more expensive items, priced at $25 each. On the other end of the price scale, accessories, shirts and hoodies are $5 or less.
As the Wig and Makeup Shop supervisor, Jennifer Lightfoot works in tandem with the Costume Shop. According to Lightfoot, the proceeds of the sale are used to buy anything the Costume Shop needs, from raw materials to new machines to cabinets for the dye room.
"We go through our costume stock from shows periodically and clear out some stuff that we just don't need anymore, whether it's old or it's just we have too many things, and then we sell it and support stuff we need in the Costume Shop with what we make from it," Lightfoot said.
Because the sale hasn't happened since before the start of the pandemic, Lightfoot says that this stock of costumes is larger than what they normally sell.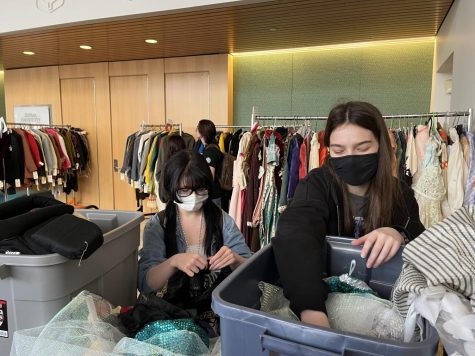 Those who have been around DePaul might recognize some of the items being sold.
Alix MacDonald, a stage management major who was working at the costume sale, said she enjoyed watching students' reactions as they sort through the clothing racks.
"It's fun to see a lot of students see costumes that they've seen in shows before," MacDonald said. "They're going through things and they're like, 'Oh I saw that in a show that I did recently' or whatever it might be."
Many of the items still have the costume tag attached, indicating what show it was used for or who wore the item. According to MacDonald, some students walked out of the sale with costumes worn by famous alumni.
"Some Joe Keery tagged stuff was sold, which was really cool," MacDonald said.
Keery is a notable alumnus of TTS. After graduating from DePaul in 2014, he went on to star in one of Netflix's biggest original series, "Stranger Things."
One might expect a Joe Keery costume to be expensive, but his old theater duds were standard price. The most expensive item at the sale was a $200 set of band suits with matching hats, jackets and pants from a production of "The Kid Who Ran for President."
Some students were drawn to unique clothing items that made them stand out.
Trey Allwood purchased a pink bomber jacket with a turquoise feather print overlay and pink sewn-in armpit wings. His friend bought a matching jacket so they could show up to class in coordinating outfits.
"I plan on wearing this basically any time that I actually can," Allwood said about his purchase. "I don't know what the dress code is for most of the events that go around here, but I will wear this if it is permitted. I'm going to get a lot of mileage out of this jacket."
There are more jackets available if other people want to match with Allwood.
"If anyone wants to join me, there's a bunch of these feather jackets," he said. "Purchase one!"
Theater student Joseph Walsdorf scored a great find on the first day of the sale. Walsdorf bought a shark hoodie on the first day of the sale and started wearing it the very next day.
"I mean, there's so much good stuff here because everything that The Theatre School has made or put on a stage, they work really hard to get together," Walsdorf said.
Other students noticed people wearing their newly purchased costumes and hoped to find something for their own closets.
"I saw a girl with a sparkling jacket in one of my classes and I knew I had to check it out," Sofia Mota said.
Students enjoyed the first week of the sale and encouraged others to check it out when it opens again this week.
"I'd say just go for it," student Hao Ha said. "There's a lot of really interesting stuff. Personally, a lot of it isn't for me, but you know, I think there's something here for everyone with the diversity of pieces that they have, and prices are good too."