What to wear: Halloween costume edition
While Halloween may be scary, the stress of finding a unique yet sexy costume at a reasonable price does not have to be.
Although many Halloween enthusiasts have known their costume since Nov. 1 of last year, don't fret if you remain just as stressed at the notion of finding something to wear as you did last year. Without further ado, here are eight costumes that will not break the bank while always meeting their mark!
Popular films & TV shows 
Rhaenyra Targaryen – House of the Dragon 
With "Game of Thrones" spinoff, "House of the Dragon," averaging 29 million viewers each week, it's unlikely you'll encounter someone unfamiliar with the iconic high fantasy drama. Maybe I love Rhaenyra more than the average television watcher, but let's be honest, a blonde wig, plush dragons and skimpy dress never miss. 
Carmy – The Bear
Want something easy yet unflinchingly iconic? Look no further than chef Carmy from Hulu's latest drama "The Bear." All you need to complete this look is a dark blue apron and white T-shirt, allowing for the tasteful image of a chef who is weighed down by guilt and grief and does his best not to drown. If you're looking to take this costume to the next level, I suggest adding the best kitchen shoe of all time, the Birkenstock Boston Soft Footbed. 
Current event costumes
The Queen 
Too soon? Well, that's what she gets for ruling over 15 sovereign nations until her death. To separate this look from the traditional older women, I recommend sticking to monochrome colors and acquiring a plastic tiara. Feeling too covered up? Add fishnets and a bra beneath your blazer, and you've got a look strong enough to cause even more scandals than Prince Andrew. 
The FBI's raid on Mar-a-Lago
While this costume isn't a singular figure, I still believe it perfectly encapsulates the state of American politics while creating the perfect opportunity for a matching look for multiple people. All you need is a dark blue or black jacket bearing the letters "FBI" in yellow and a handful of storage boxes marked 'classified.' 
Chicago themed 
The Brown Line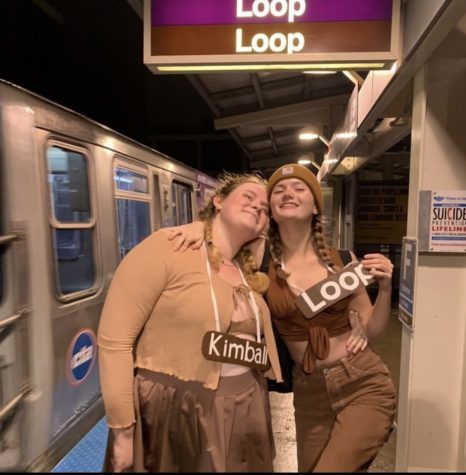 I'm not saying you can't dress up as any other train line, but you'll never be as classy and unreliable as the Brown Line. The best aspect of this look is the leeway it allows. From dressing solely in brown to making your own cardboard train car, the world is your oyster through this costume. 
The Bean 
While this one may be a little out there, designing your bean costume doesn't have to be intimidating. From painting an inflatable avocado costume silver to a metallic bodysuit combined with beaned-themed accessories, I have no doubt you'll be recognizable by everybody who encounters your shiny exterior. 
Couples' costumes
Liz Truss and a head of lettuce 
As we all know, a head of lettuce has outlasted Britain's most recent Prime Minister, Liz Truss. This costume is for you if you're looking for something trendy yet intellectual for you and your partner. For Truss, a bobbed wig and egregious-looking pantsuit will do the trick, while an all-green outfit or pull-over lettuce costume will make you simply unmistakable. 
Johnny Cash and a ring of fire 
Maybe I'm biased since I love Cash, but I think this costume has the potential to be iconic while also coinciding with the most recent Tik Tok trend. With one partner dressing up in all black (bonus points if you carry a guitar) while the other dons a literal flame costume or opts for an outfit with hues of red and orange, you'll be the hottest couple on the block.