Paul Vallas, Brandon Johnson qualify for April runoff
Paul Vallas and Brandon Johnson will meet in a runoff election on April 4 to determine the next mayor of Chicago.
The nine-way race gave way to these top two candidates, neither of which achieved the 50% majority required to win outright, and ended the tenure of Mayor Lori Lightfoot.
Vallas, who received the most votes on Tuesday night, was the first to qualify for the runoff. He is the former CEO of Chicago Public Schools, and won the endorsement of Chicago's conservative Fraternal Order of Police.
Public safety was a major issue of emphasis for Vallas throughout the campaign. He's called for adding more police officers to patrol Chicago, and has been touted as the "law and order candidate" of the race. Vallas, who said in 2009 that he is "more of a Republican than a Democrat," was criticized on the campaign trail by opponents for being too conservative. 
He reiterated his priority of public safety during his victory speech.
"We will have a safe Chicago," Vallas said. "We will make Chicago the safest city in America."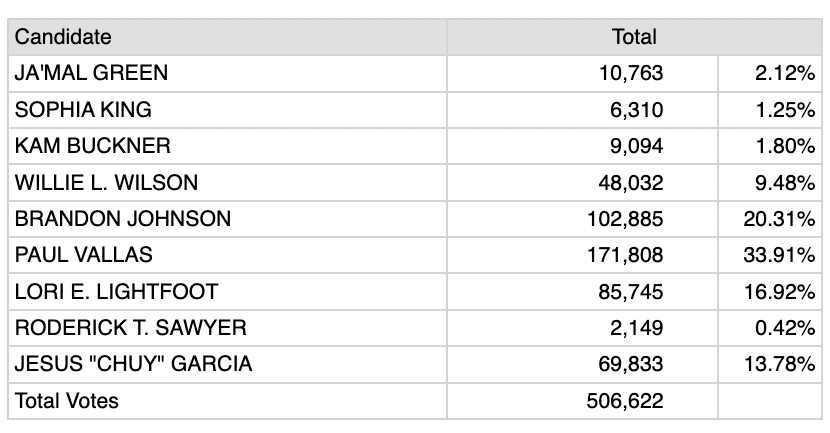 Johnson is a Cook County commissioner who was endorsed by the Chicago Teachers Union. He garnered support from several progressive organizations, including United Working Families and Grassroots Illinois Action.
He is a former teacher and union organizer, whose platform is based more on investment in mental healthcare, education, jobs and affordable housing than policing. 
Johnson went on the attack during his victory speech Tuesday night, criticizing Vallas' record.
"If you are not familiar with Paul Vallas, let me tell you a little bit about Paul Vallas," Johnson said. "Paul Vallas is someone who is supported by the Jan. 6 insurrectionists. He switched parties when president Barack Obama became president of the United States… This is the truth about Paul Vallas, he has literally failed everywhere he has gone." 
As Vallas and Johnson move forward to the runoff, Lightfoot's mayoral tenure will officially end. Lightfoot gave her concession at about 8:45 p.m. after finishing third in Tuesday's election.
"Obviously, we didn't win the election today, but I stand here with my head held high and a heart filled with gratitude," she said during her concession speech.
At the time of publishing, there is just a 32% citywide turnout so far, according to the Chicago Board of Elections. An estimated 99,000 outstanding Vote By Mail ballots will be processed and counted Wednesday morning.