Coach Doug Bruno of DePaul women's basketball selected again for Olympics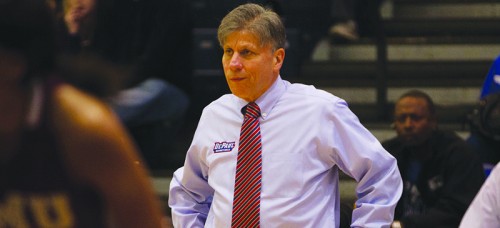 For the last 28 seasons the DePaul women's basketball team has been led by head coach Doug Bruno. His passion for the game and for his players is clear by the way he runs his tight-knit team and the time he takes to build players throughout their years at DePaul. Bruno's coaching talent and passion for women's basketball has been honored in many different ways throughout his career. However, one of the highest honors in sports was bestowed upon Bruno this week for a second time: Bruno was asked to represent the United States as one of the Women's National Team Assistant Coaches for the 2016 Olympic Games.
Bruno recently helped lead the Women's National Team to a Gold medal at the FIBA World Championship in Turkey this past October. In addition to this, Bruno helped the national team to their fifth consecutive Olympic gold medal in August 2012.
"It's just a great honor to be the national team assistant coach. But it's also a reflection," Bruno said. "The honors is for my DePaul players, my DePaul assistant coaches, my DePaul administration. I would not be in a position to be the National Team Assistant Coach if it weren't for DePaul."
Bruno has definitely gained experience at DePaul since the last Olympics games. In the last two seasons, and thus far in the current 2014-2015 season, the women Blue Demons ha
ve won a total of 69 games and made it to the Sweet Sixteen in last years NCAA tournament.
Bruno returns as an assistant coach along with Minnesota Lynx' Cheryl Reeves and University of South Carolina's Dawn Staley. The three will once again serve under head coach Geno Auriemma (University of Connecticut).
The returning group of coaches was selected by the USA Women's National Team Steering  Committee and each played a role in the recent Gold Medal won in Turkey.
"Obviously I've known Doug the longest but I've had coaching relationships with Dawn and Chweryl too and we've worked rewally well together," Auriemma said in a press release. "The more time we spend together, the relationships are going to grow and we are going to be even more effective than they were in the World Championships."
Bruno reaffirmed this describing the process as "cumulative" and agreeing that each coach continues to get better at what they do. However, Bruno said that this coaching job comes with its own unique set of challenges.
"Unfortunately we don't get two years and three years and four years and seven years of training time. That's what makes our jobs difficult," said Bruno. "They throw us together and then we get to be with our players for two weeks and then we all expect to win Gold."
This "gold or nothing" mentality will be what drives Bruno and the National Team players through the training camps that will be held this year and in 2016. Bruno will use his experience and passion for the sport as he represents DePaul and the United States at the Olympic Games at Rio de Janeiro, Brazil next August.