Former Blue Demons reflect on 2014 Tournament game against Oklahoma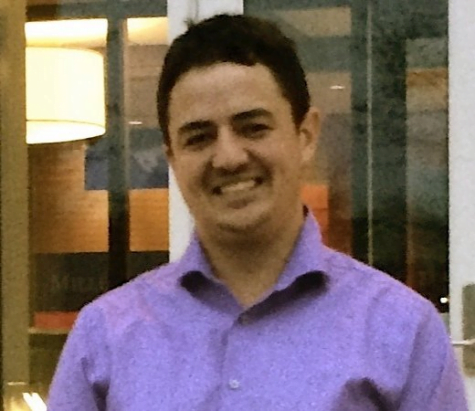 More stories from Andrew Hattersley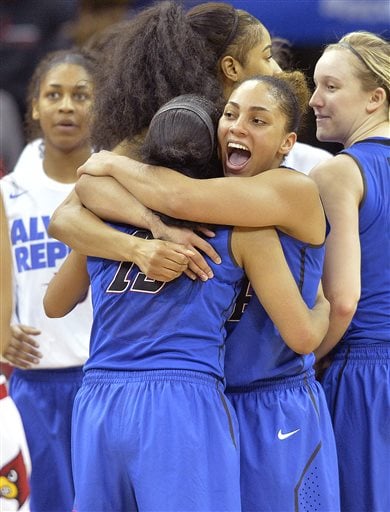 Each game and each season tell their own story, but recent matchups between DePaul and Oklahoma have told a familiar tale. Close, high scoring, and down to the wire.
The two sides will meet again in the first round of the Women's NCAA Tournament, just like they did in 2014 when the Blue Demons survived a furious Sooner rally to hold on for a 104-100 victory.
The Blue Demons raced out to a 50-34 halftime lead, before the Sooners scored 66 points in the second half as both teams went up and down the court. Tied at 97, former DePaul guard Brittany Hrynko found Megan Rogowski on a no-look pass for an open three that put DePaul ahead 100-97 with 41 seconds remaining. It was a lead they would never surrender. Former guard Megan Podkowa said this moment has stuck with her from the game, but the team still couldn't celebrate until the final buzzer.
"We were all pretty excited obviously, but I think there was still some time left so we had to get back and play defense at the same time," Podkowa said. "I think coach Bruno was screaming at us to get back so there wasn't much time to celebrate until the buzzer went off."
The Sooners weren't going away quietly after two free throws from Rogowski gave DePaul a 102-97 lead, Oklahoma guard Aaryn Ellenberg hit a three to pull them back within two. The Blue Demons finally put the game away with two free throws from former guard Chanise Jenkins to give the Blue Demons four-point lead with six seconds to go.
"My emotions going to the free throw line was just to relax and to clear my mind," Jenkins said. "I was simply focused on shooting my free throw in an empty gym, and completely blocking out my surroundings. It was the best way for me to think; to not think at all. There was no pressure."
Jenkins added with the way Ellenberg had played, finishing with 36 points, the Blue Demons couldn't even relax those last six seconds until the buzzer went off, even though it was a two possession game.
Heading into halftime with a 16-point lead, it looked like DePaul was well on their way to a convincing first round win, but an Oklahoma team that had come back from 31 against Baylor earlier in the season, had one more second half comeback in them. Jenkins credited Oklahoma coach Sherri Coale for making halftime adjustments, and said they knew Oklahoma was capable of making comebacks based off their performance against Baylor.
"Coach Sherri Coale is an awesome coach, and she was able to go into the locker room at halftime and adjust the game plan," Jenkins said. "That is just what good coaches do when they see something isn't working. I'm not sure exactly what was done so differently, but obviously we struggled defensively and offensively for a certain stretch during the game."
Coming down the stretch, Jenkins said she was reminded of what makes the NCAA Tournament so special with every possession potentially being the difference between advancing and going home.
"The adrenaline rush, the atmosphere, it's an amazing experience that sort of makes you reminisce on all the hours you put in during the preseason," Jenkins said. "You reflect back on the goals you and the team set at the very beginning of the season. You realize that everything you have done up until this point, is exactly for that moment. So you're either going to rise to the occasion or fall."
The game still stands as the highest-scoring game in the history of the NCAA Women's Basketball Tournament. Former DePaul guard Jessica January said to be a part of a game like that was memorable and great for women's basketball.
"It felt special to have been a part of such a historic game and to replicate a similar game of our scoring firepower years later," January said. "I think these games put on a great display of the talent and skill within women's basketball and I was happy to be a part of that. Both teams always have players that can flat out score the ball and when they get matched up it becomes a game of good defense, better offense."
Although the Blue Demons of course would rather have hosted the first two rounds, getting to play in Cameron Indoor Stadium is something players can always take with them, especially upsetting Duke in the second round to advance to the Sweet 16.
"I think that is one of the top gyms to play in, even if it's not that crowded you just feel like there is a huge crowd, you know right on top of the court," Podkowa said. "I was glad I was able to play there a few times and get two wins on it, so it was a lot of fun."
Now all three players will watch eagerly as the Blue Demons play in their 16th consecutive NCAA tournament, once again beginning with the Sooners.