DePaul crew club takes to the Chicago River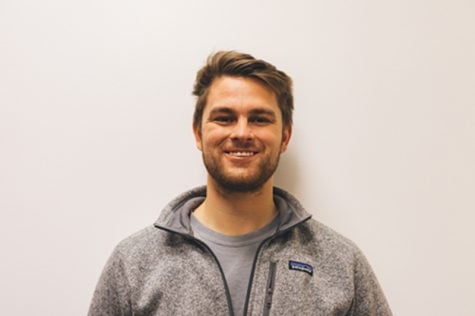 More stories from Jonathan Ballew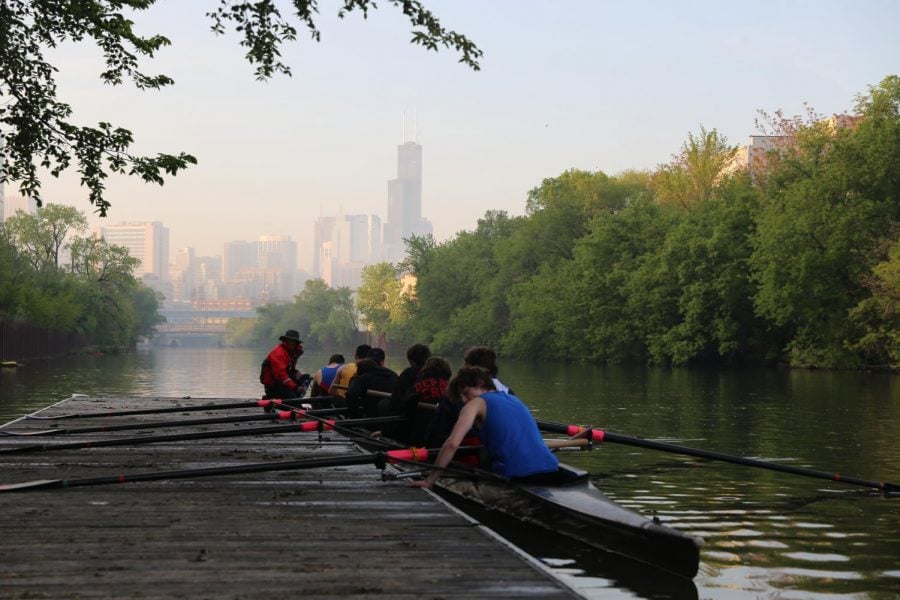 While most college students are fast asleep after a night of studying — or, more likely, a night out at the bars — Hayes Kennedy can be found waking up at 5 a.m. to make it to a small blue boat house on the edge of the Chicago River.
He is a member of the DePaul Rowing Team, and together they practice each morning in order to compete with other rowing teams nationwide. The program has slowly grown at DePaul and now the club fields both a men's and women's varsity and novice team.
"Waking up early is definitely the worst part," he said. "But I'll probably suffer through it again next year because I love the team."
Kennedy says that a nine-man rowing crew cannot function without working together, and each member is a vital part of the whole.
Christian Talbot is the coach of the men's novice team and says that finding motivated college students willing to spend their mornings struggling up and down the river can be a real challenge.
"Recruitment is a key part of our off-season," he said.
Talbot said that currently the team has exactly enough members to field a full crew, which is not what he was hoping for. Ideally, rowing teams have more members than necessary in order to have substitutes and to foster a higher level of competition.
"It really handcuffs us," he said. "If one member is sick, or can't make a race, we are basically just out of luck."
Rowing at DePaul is still relatively new and this is only the program's sixth year. Talbot said that the goal is to establish a quality program to eventually attract a high level of interest and talent. He said that skill level and participation have continued to grow since the program's inception.
"Right now, we have a lot of inexperienced guys," he said. "But they have come a long way and are great athletes and hard workers."
One of the most important positions on a rowing team is the coxswain. The coxswain does not row the boat, but instead sits facing the rowers and helps to steer and motivate.
"Having a solid coxswain is everything," Talbot said.
Kaartikeya Gupta, or "KK" as his teammates call him, is the team's current coxswain. He had no experience before joining the DePaul team, but Talbot says the crew was lucky to find him.
"I'm the guy who yells at them," Gupta said. "Or, at least, I'm supposed to yell at them."
Gupta and his teammates laughed at the idea that he would be the kind of coxswain to constantly yell at his rowers.
"A great coxswain is able to find ways to motivate the rowers," he said. "Yelling just isn't really my style, but sometimes I have to."
Currently the team is getting ready for their final race — or regatta — on Saturday. They have already faced a bit of adversity because their trailer wasn't available. Teams need a trailer to load up the 60-foot-long boats in order to transport them to competitions.
On Wednesday, the team had practice as they usually did, only this time they rowed three miles north in order to solicit assistance from Northwestern University's Rowing Team. Talbot said the team worked out an agreement for the clubs to share a trailer so that they would be able to row in the final regatta of the year.
"We used to have to ask Northwestern or University of Chicago for a space on their trailer before every regatta," he said. "It's nice that we have our own trailer now and this is just an isolated incident."
Even after Saturday's final race, Talbot said the season is "never really over." The team practices throughout the off-season, and when weather does not allow for rowing on the river, they practice at indoor facilities in Lincoln Park.
"We are always working, always recruiting and always trying to improve in order to build a better program," Talbot said.