A student was struck in the face with a gun and several were robbed late Saturday night and early Sunday morning on DePaul's Lincoln Park campus, Public Safety reported. Since the start of the academic term, five public safety alerts have been issued in connection to robberies on campus.
According to Chicago's Violence Reduction Dashboard, robbery victimizations — reports of robberies — are up 43% compared to last year. In Lincoln Park, where DePaul's LPC campus resides, the jump is 56% compared to last year. 
This fall, several DePaul students have been impacted by this rise in crime.
The first incident this weekend was reported at 10:07 p.m. at the Quad near Seminary and Belden Ave. DePaul Public Safety sent a university-wide DPU alert at 11:27 p.m., later amended at 11:37 p.m. to denote the correct incident time. According to Public Safety, two male offenders wearing black hoodies and gray pants approached several people sitting near the Quad.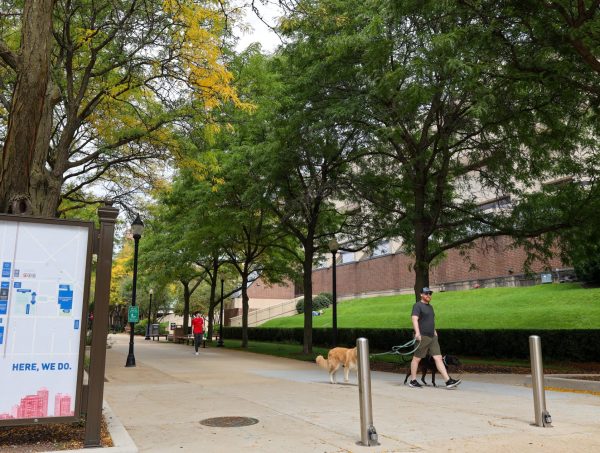 The offenders demanded two of the student's cell phones before fleeing southbound on Seminary Ave. 
Public Safety reported another armed robbery and battery at 2 a.m. Four offenders wearing dark-colored clothing, hoodies and masks approached three students on the corner of Belden and Racine. The perpetrators jumped out of a vehicle and demanded the students' cell phones, wallets and purses. 
One of the students was struck in the face with a gun. The offenders fled southbound on Racine Ave. in a silver-colored Toyota prime. 
The alerts for these offenses were sent close to two hours after each incident occurred respectively.
President Robert Manuel, VP for Student Affairs Eugene Zdziarski and Public Safety Director Robert Wachowski released a joint statement on Sunday, Sept. 24. 
"We are taking action at DePaul and with the City of Chicago to address ongoing challenges the city is facing with armed robberies," the statement said. "Last night and throughout the week, the city has experienced a spike in robbery crime sprees targeting individuals for their belongings."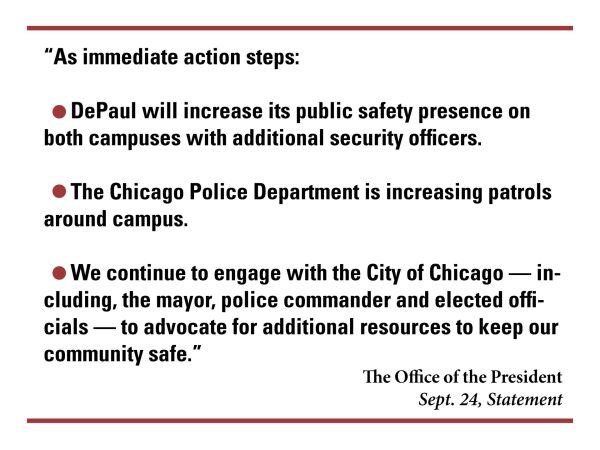 DePaul's statement also listed immediate actions the university plans to take to combat this sudden rise in campus robberies, including increased Public Safety presence, Chicago Police Department patrol around LPC and engagement with city leaders in how to address safety concerns. 
DePaul hosted a campus safety summit Sept. 14 to address concerns about ongoing crime. Chicago police also attended the meeting.
In a statement, the president said the commander of the Chicago Police Department that includes DePaul has noted that most robberies citywide occur between midnight and 4 a.m. "Especially during evening hours, students are encouraged to access DePaul's safety resources," the president's statement said.
DePaul offers students safety services, including an inter-campus shuttle, emergency call boxes around the LPC and a safety escort on the Lincoln Park Campus from 6 p.m. to 6 a.m.