Preckwinkle brings ambition, experience to mayoral race
When Toni Preckwinkle was a teacher with Chicago Public Schools, one of her students was killed in a drive-by shooting while standing on their front porch.
It's moments like these that Preckwinkle says have influenced her decision to go into public service, including alderman of the 4th Ward, Cook County Board president and, now, candidate for mayor of Chicago.
In fact, Preckwinkle says she considers education and public safety two of the most important aspects of her platform.
"As a mother and grandmother, I envision a city where all of our children can get a great public education at their neighborhood school and can feel safe in their homes and communities," Preckwinkle told the DePaulia in an email.
The Hyde Park resident began her political career by running for alderman in 1983 and 1987 before finally winning in 1991. Before that, while she was still a teacher, she became involved with the Illinois Council Against Handgun Violence in reaction to the student she lost in a shooting. She went on to get elected to the Cook County Board as president in 2010, becoming the first African-American woman elected to the role, according to her website.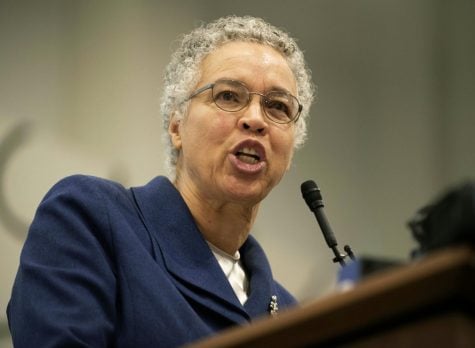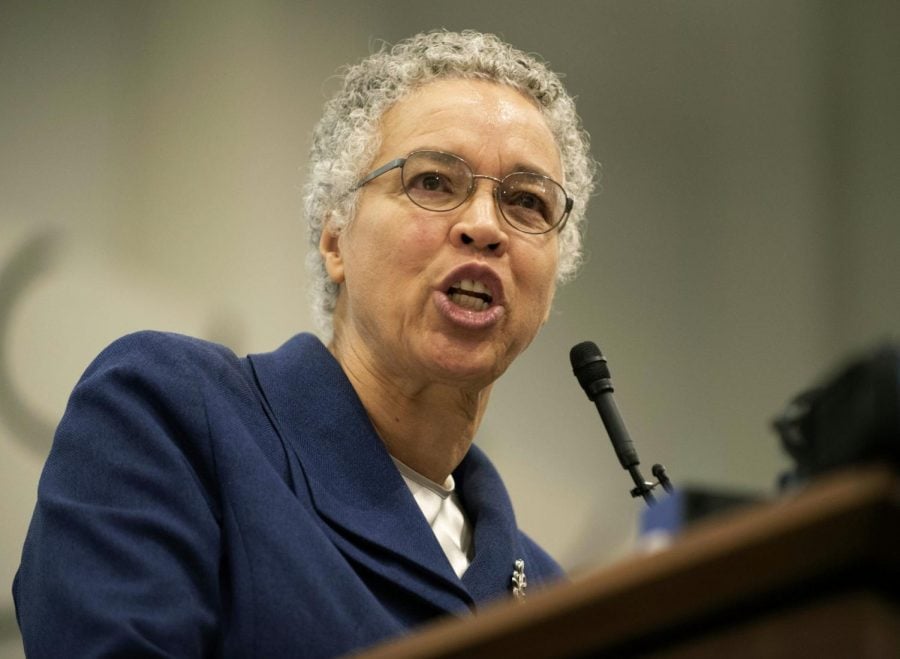 Preckwinkle declined to comment on why she did not enter the mayoral race until after current mayor Rahm Emanual announced in September that he would not be seeking a third term.
Some of her other priorities that she lists on her website include raising the city's minimum wage to $15 per hour, environmental justice, economic opportunities and more justice and inclusion for transgender Chicagoans.
"I am committed to being a mayor for all of Chicago," Preckwinkle said. I have proposed ideas and policies that would to bridge and reduce inequity across neighborhoods in terms of economic opportunity. While we made great progress this week as Governor [J.B.] Pritzker signed a bill to implement a statewide $15 minimum wage, I believe we can do this in Chicago much sooner than the statewide plan."
Preckwinkle's proposal would increase Chicago's minimum wage to $15 per hour by July 2021. She has also proposed having the city invest in small business microloans.
Like most of the 14 candidates running for major, Preckwinkle has also seen her share of controversy.
She recently came under fire for her previous ties to Ald. Ed Burke, who is under federal investigation for alleged extortion. Burke had donated about $116,000 to Preckwinkle at a fundraiser held in his home, according to the Chicago Tribune.
Despite being tied to Burke and her past political experience, however, Preckwinkle doesn't consider herself an insider to Chicago politics or part of the political machine.
"In fact, I beat the machine to become alderman in 1991 after two unsuccessful campaigns in 1983 and 1987," she said. "I was a co-founder of City Council's progressive caucus and was one of just five aldermen to vote against Mayor Daley's parking meter deal. I have remained true to my progressive values as Cook County Board president, championing criminal justice reform measures and expanding the CountyCare program to more than 350,000 residents."
John McCarron, an instructor in DePaul's College of Communication who focuses partly on Chicago politics, said Preckwinkle's past political experience actually makes her "nicely positioned" in the mayoral race.
"She wasn't invited in," he said. "But I think she learned quickly that in order to get things done, you kind of have to become an insider."
Not everyone thinks Preckwinkle can afford to entirely treat her previous experience with Chicago politics as completely beneficial to her campaign, however.
"I think she's in big trouble," said Bruce Newman, a professor at DePaul who specializes in political marketing. "We live in an era of constant suspicion. Anyone who is tainted will get skewered."
Both McCarron and Newman said that Preckwinkle's biggest concern now should be if any last-minute revelations about her show up in the news right before the election. Otherwise, they do not think her connections to other politicians will be her downfall.
Although he's concerned for her because of some of her ties, Newman also said that every candidate has issues of their own.
"It's Chicago politics – we expect this kind of thing," Newman said. "It's about figuring out who's the least tainted."
Now, the race is largely about who can collect the most endorsements and donations, Newman said.
Preckwinkle currently has endorsements from the Chicago Teachers Union, SEIU Local 73 (a union primarily for public service professionals), the Daily Herald and the Chicago Maroon.
Newman said that in such a crowded field of mayoral candidates, Preckwinkle will need to differentiate herself by focusing her advertising more on herself versus her opponents and what's wrong with them.
She'll also need to connect emotionally with her voters, have a positive view of the future for Chicago and a plan for how to get there, Newman said.
As of publication, polls show Preckwinkle among the top five candidates in the race. Her biggest competitors are candidates Bill Daley, Susana Mendoza, Lori Lightfoot and Gery Chico. The largest group of voters is still undecided, however, according to NBC.
If none of the candidates receives more than 50 percent of the vote on Tuesday, which appears likely given the small percentages each candidate has been polling, a runoff election will be held April 2 between the two candidates who received the most votes.
Some say Preckwinkle would win if the race ending up being between her and Daley, who is polling a close second to her. Chicago Tribune columnist John Kass recently wrote that in a runoff between the two, Preckwinkle would emerge the winner.
McCarron agrees with that prediction, saying that Preckwinkle is well-positioned to win the election.
"In a runoff against an old white guy like Bill Daley, she'd probably get those votes," he said.
McCarron expects a lot of "white, lakefront progressive types will like up behind Toni."
Chicagoans will see if that's true on Tuesday night, when results will show if Preckwinkle will move on to the runoff in April.
View Comments(1)